Facebook (NASDAQ:FB) has established itself a trading range since its last earnings report. It's bounced between $57.25 and $62, actually, since the beginning of April. Before then, it was as high as $72 this past March.
As investors flee momentum stocks in favor of value stocks, and mired by the lackluster earnings of other momentum stocks this past quarter, Facebook has been unable to make a short-term move to the upside.
However, the company's stock remains in a long-term uptrend as you can see by the 6 month chart below.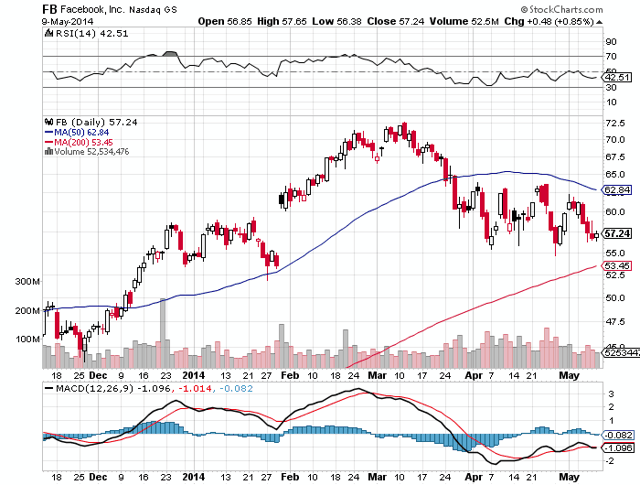 If you take a look at Facebook's chart, you can see that $57.25 has acted as support for the company over the better part of the last 6 weeks.
Earlier this month, Facebook reported earnings that beat the Street on both lines, a headline that didn't do much to move the stock. Ex-items, the company posted $0.34/share compared to non-GAAP estimates of $0.12/share - that's a considerable beat. On the top line, the company posted $2.5 billion in revenue - which demolished analyst expectations of $2.36 billion.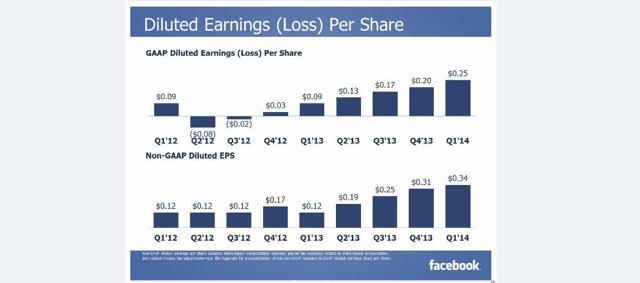 There wasn't too much about Facebook's earnings that I didn't like. In a previous write-up, I noted the one bearish item I found:
The only bearish items I could possibly see coming out of Facebook's report were that it was perhaps a bit behind in the monetization of Instagram and video ads. If the market thought these being monetized were an integral part of Facebook's financial plan for the coming year, they may not have been amused by Facebook's COO saying that there's no spot for them in 2014, but rather in 2015.
My last article about Facebook detailed why I think the company could be on its way to $100/share. This technical level here seems to be of some importance to that. I'm not sure if my confidence won't hold up for the short term if the stock can't hold this level. I might be a seller on a move downward only to try and get back in at a lower price.
Long term, I continue to contend that the company could easily be a $100 stock due to having the working model in social media right now, its ability to monetize, its dabbling into virtual wallets, and Zuckerberg's willingness to be super aggressive and continue to grow.
Additionally, the company is doing away with items it seemingly cannot monetize, as we found out with "Poke" and "Camera" last week:
To Facebook, Poke was always "more of a joke" than anything else - so why did the company leave it in the App Store for more than a year after its troubled debut? We may never know, but today, Facebook finally put an end to Poke. If you check the App Store for Facebook's famed Snapchat clone, you won't find it. Facebook also took the opportunity, seemingly, to remove Camera, its photo uploading app.
As long as the macro markets hold up over the coming week, this week should let us know how Facebook is going to trend. If $57.25 can hold on Monday, it's likely Facebook could continue to fight upwards and try the resistance at $62 once again. Should Facebook lose $57.25 on Monday, the short term long trade could be off the table. The 200DMA at $53 could be the next level of support I'd consider buying in at.
For now, I continue to hold my position in Facebook but will be watching the stock closely this coming week.
Best of luck to all investors.
Disclosure: I am long FB. I wrote this article myself, and it expresses my own opinions. I am not receiving compensation for it (other than from Seeking Alpha). I have no business relationship with any company whose stock is mentioned in this article.