Things are certainly looking well for AstraZeneca (NYSE:AZN) these days. In its upward trajectory, the British pharmaceutical company has attracted the attention of Pfizer (NYSE:PFE).
So far, Pfizer is engaged in a high-profile effort to acquire AstraZeneca. In January, Pfizer's generous first offer represented a 30% premium over AstraZeneca's share price. Although AstraZeneca rebuffed the offer, Pfizer has come courting again and looks to be rolling out every possible persuasion.
On May 2, Pfizer made a generous new offer of $106 billion in cash and shares.
A Hostile Takeover?
This past Monday, Pfizer CFO Frank D'Amelio revealed that every option remains on the table when it comes to buying AstraZeneca. A hostile takeover might prove a boon for shareholders in Pfizer and AstraZeneca alike. Even in 2014, however, hostile takeovers are fairly controversial in Britain and could inspire deeper regulatory scrutiny. Presumably, Pfizer will work to avoid resorting to a hostile action. Nevertheless, it is clear that Pfizer will stop and nothing to access the fresh insights and innovations that AstraZeneca represents.
AZN Continues To Gain Respect
Recently, disappointing indicators, including the decline of PFE stock (shown below), illustrated the company's need for new direction.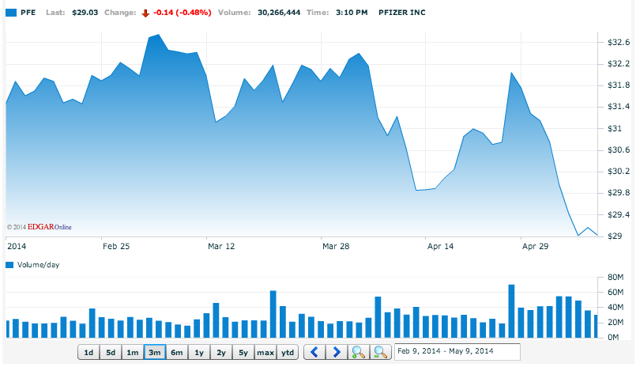 (Nasdaq.com)
However if Pfizer's gambit plays out, AstraZeneca should continue to gain even more respect from the investment community. On May 1 alone, AZN rose 2.4% to reach $80.95.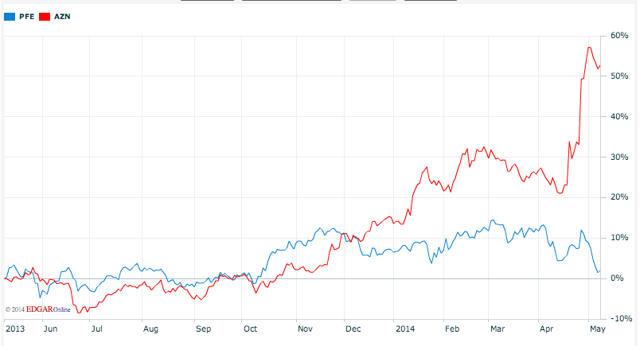 (Nasdaq.com)
Publicly, AstraZeneca's management has been cool on Pfizer's advances, even brusque. Of course, this is a time-honored negotiating tactic, and AstraZeneca shareholders can benefit, if Pfizer is made to work hard for this deal.
Low Debt-to-Equity, Relative To Industry
Though not all of its key indicators are equally promising, AstraZeneca's debt-to-equity ratio is respectable at 0.45, which represents a responsible management culture. This is below average for the industry in question.
As illustrated below, AstraZeneca's stock has risen over 30% in the past year, beating overall market growth.
Outstanding R&D
In the pharmaceutical industry, inherent dynamics make corporate fortunes wax and wane more than one might expect. Like all pharmaceutical companies, AstraZeneca is burdened by the constant pressure of seeing patents expire on top-selling medications. However, AstraZeneca has proven more than able in assembling an outstanding R&D team. After making a number of promising R&D deals, AstraZeneca's developmental experiments are garnering plenty of praise.
Even though major franchises like Seroquel and Nexium are facing stiff competition from generics, AstraZeneca's developing products are likely to boost the brand for many years to come. See the extensive product pipeline below.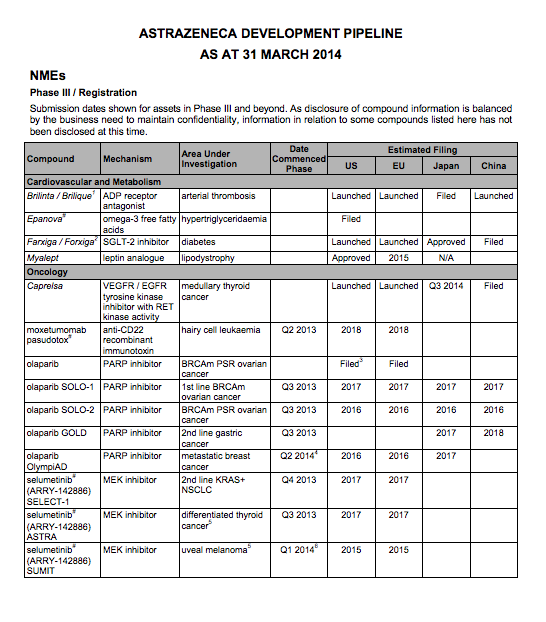 (http://astrazeneca.com/Research/Our-pipeline-summary)
Conclusion For AZN Investors
Pfizer's positive attention toward AZN, combined with outstanding R&D, solid fundamentals, and exceptional market performance YTD all suggest that AZN stock will continue its upward trajectory in 2014.
We recommend investors buy into this rocketship before a likely Pfizer acquisition.
We invite readers wishing to join the discussion on AstraZeneca and the broader biopharmaceutical industry to click the +FOLLOW button above the title of this article.
Disclosure: I have no positions in any stocks mentioned, and no plans to initiate any positions within the next 72 hours. I wrote this article myself, and it expresses my own opinions. I am not receiving compensation for it (other than from Seeking Alpha). I have no business relationship with any company whose stock is mentioned in this article.