Despite the relatively muted action in the major market indexes, something big is happening beneath the surface. While the Dow and S&P are within striking distance of their all time highs, many of the leading stocks from last year have suffered a beating in the last couple of months. A chart from Bespoke Investment Group shows many of these stocks down 20%, 30%, even 40% from recent highs made just a couple of months ago. In fact, it is not too much to say that we are witnessing a crash in these stocks.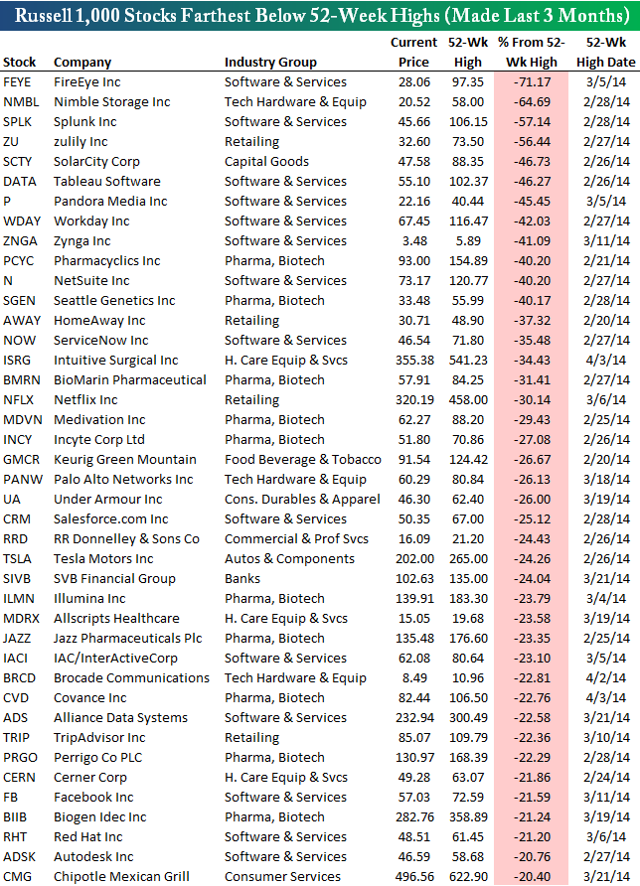 Source: Bespoke Investment Group
After yesterday, high-flyer Ubiquiti Networks (NASDAQ:UBNT) can now be added to this list. A seemingly solid earnings report was met with massive selling, sending shares down 24%. Shares are now down more than 40% from recent highs in mid-March.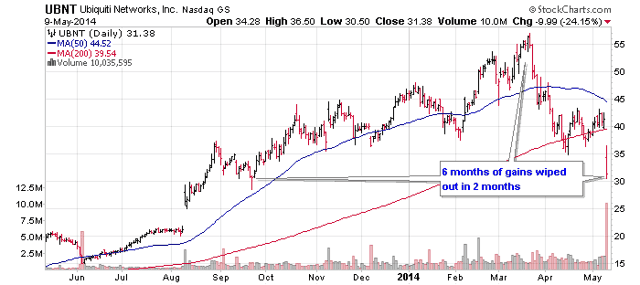 Source: StockCharts.com
This divergence also shows up in the Advance/Decline Line of the NYSE compared to the NASDAQ over the last couple of months. The A/D Line cumulatively measures the number of advancing minus declining issues on each index on a daily basis. A rising A/D line means that more stocks are rising than falling suggesting strong breadth. A falling A/D line means more stocks are falling than rising suggesting weak breadth. Because so many of these high flying stocks are listed on the NASDAQ, their breakdown is reflected in its declining A/D line.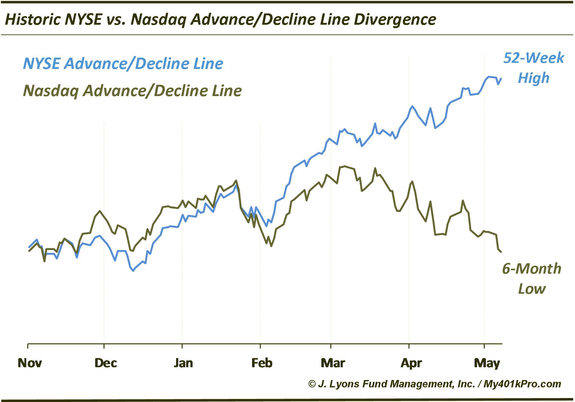 Source: My401kPro.com
This divergence is the key issue for the market and its resolution may well determine whether the bull market lives or dies. If the momentum stocks catch a bid that may well be the catalyst for a new leg higher to all time highs for the major indexes. However, should they continue to breakdown, that failure is likely to be contagious to the major indexes as well.
Disclosure: I am long UBNT. I wrote this article myself, and it expresses my own opinions. I am not receiving compensation for it. I have no business relationship with any company whose stock is mentioned in this article.