Advanced Micro Devices (NYSE:AMD) only receives a Hold recommendation from my favorite valuation tool, Alpha Omega Mathematica (AOM). However, the latest announcement that AMD is focusing on marrying the best parts of 64-bit x86 with ARM core ecosystems is a game changing development.
AOM's Hold recommendation for AMD is mainly due to the company's excellent Growth indicators. Looking at the chart below, AMD has delivered growth performance that can only get better from now on. AMD, the innovator in 64-bit computing and Accelerated Processing Unit is extending its expertise to semi-custom ARM SoCs for high-growth products.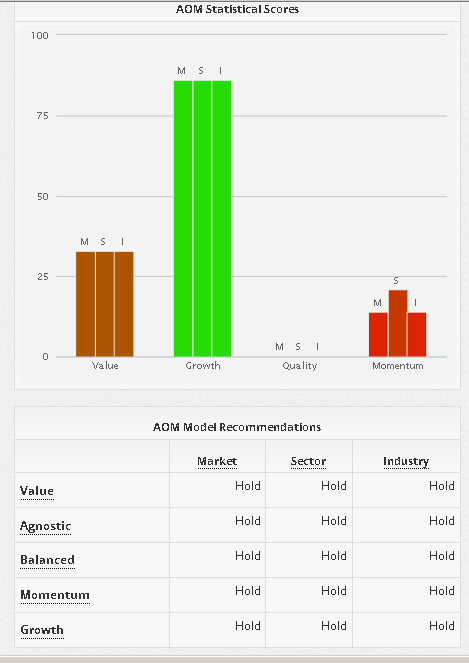 Source: getaom.com
AMD's Terrible Decade in x86
AMD's new license from ARM Holdings that will allow it to create custom ARM-based SoCs for high-growth devices should help the company regain much of its former glory. Looking at the company's 10-year performance, AMD has suffered from Intel's domineering business practices. OEM companies, intimidated by Intel's heavy-handed partnership policy were (and still is) forced to relegate AMD x86 chips to low-ASP computer products.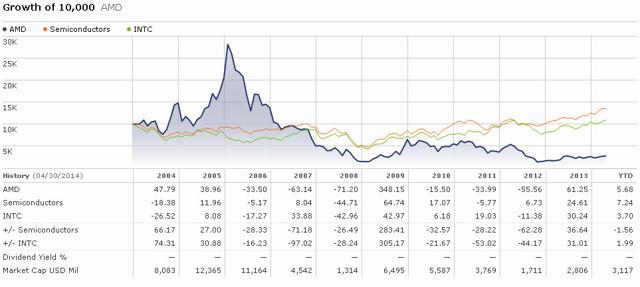 Source: Morningstar.com
AMD's glory days of 2005/2006 faded gradually due to Intel intimidating OEMs, which eroded AMD's sales. Fewer sales meant AMD did not have enough money for research & development. Intel eventually outperformed AMD's desktop and server processors, which led to further decline in AMD's revenue streams. As you can see in the chart above, AMD had a terrible decade.
AMD's winning the PS4 and Xbox One semi-custom x86 chips deal and improvement in APU/GPU sales helped the stock recover in the stock market.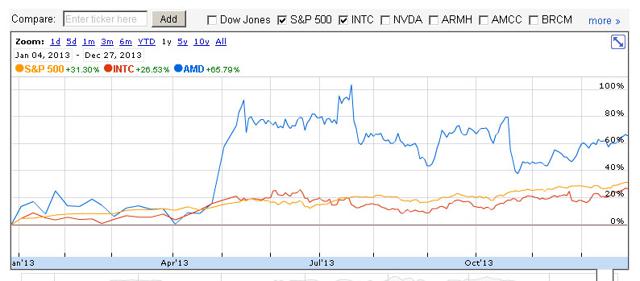 Source: Google Finance
However, AMD is still struggling towards profitability and full recovery. The x86 CPU and GPU business is faced with serious competition from Intel and Nvidia (NASDAQ:NVDA). When AMD took a license for 64-bit ARM-based server chips in 2012, the shift towards mobile computing meant AMD had to eventually abandon its sole reliance on x86 processors.
The gradual shift towards mobile and non-x86 computing means the release of low-power gaming powerhouse x86 Mullins and Beema will not seriously help AMD post record sales this year. Even x86 behemoth Intel is losing big money pushing x86 SoCs as mobile alternatives to ARM.
Mobile computing is now the de facto standard. ARM architecture is the dominant standard among smartphone and tablet manufacturers. Rory Read is therefore right in seeking out the new 64-bit ARM Core architecture for non-server purposes.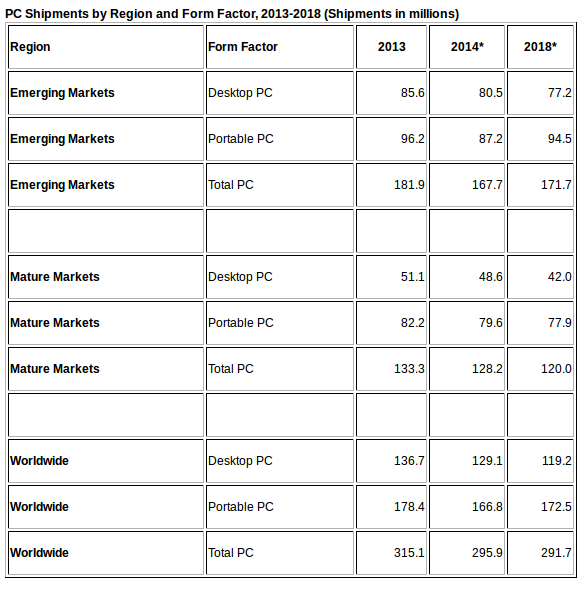 ARM Is a Shortcut Towards Success in Mobile
The old x86 platform has difficulty getting accepted by mobile OEM companies. AMD's bet on ARM is judicious because the more people who use tablets and smartphones, the better it is for AMD's future survival.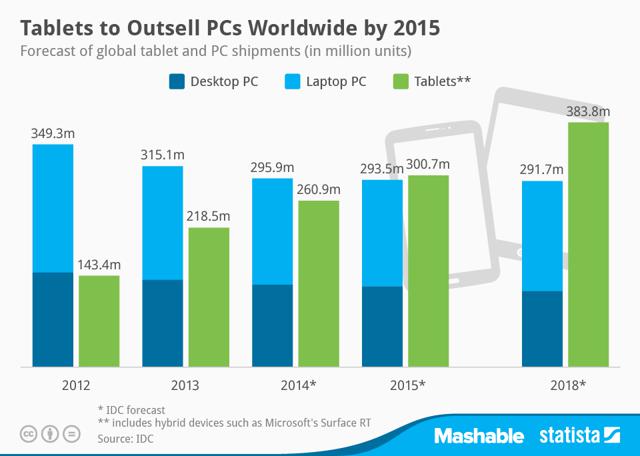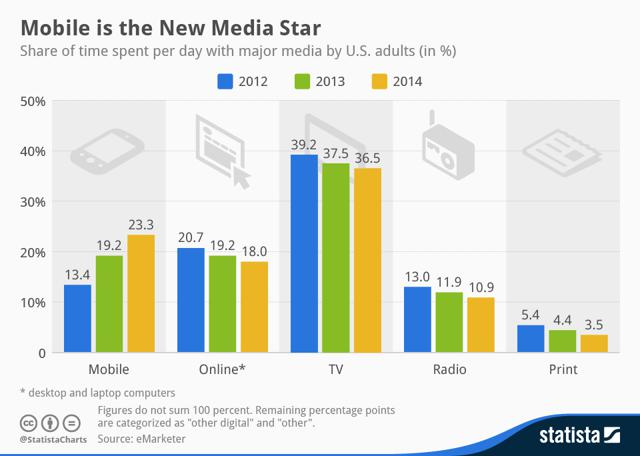 The Android OS's dominance also calls for chip manufacturers to use ARM. Making an ARM-based SoC is cheaper and easier.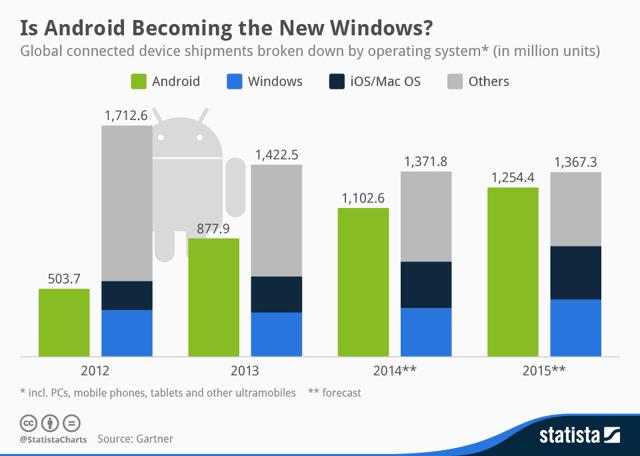 Apple's tremendous success since 2007 is due to its ARM-powered iPhones and iPads. Samsung, Qualcomm, and MediaTek took the shorter path towards mobile success via ARM architecture.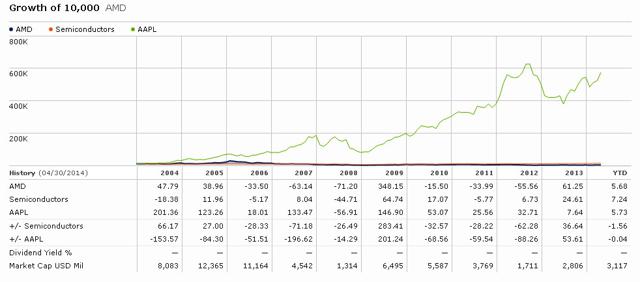 Source: Morningstar.com
Putting HSA and GCN inside ARM SoCs
AMD can fast track its transformation as a mobile chip player. Embedding HSA and GCN technology inside ARM-based SoCs makes AMD attractive to higher-ASP tablet and smartphone manufacturers. Limiting HSA and GCN inside the x86 platform where AMD is being bullied by Intel is no longer feasible.
The power of HSA and GCN are perfect for Android or iOS smartphones and tablets that are geared towards the high-end market. Most popular premium smartphones and tablets are using ARM-based processors. AMD's 64-bit ARM SoCs have a good chance of market success if they deliver superior gaming/entertainment performance.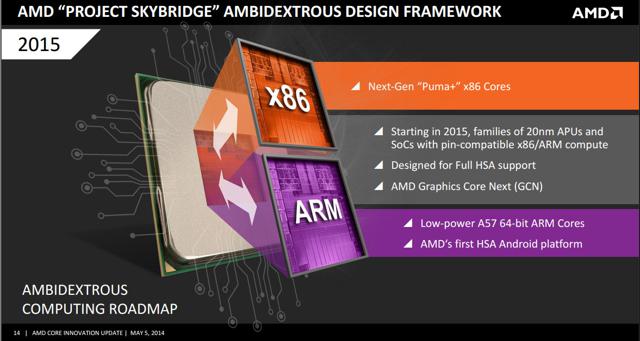 Source: AMD
The Project SkyBridge is also AMD unifying x86 and ARM cores. Making these two competing chip architecture pin-compatible benefits the manufacturers and end-users. AMD is wisely hedging its bets on both x86 and ARM. Starting next year, the company will be well positioned to benefit from these two markets.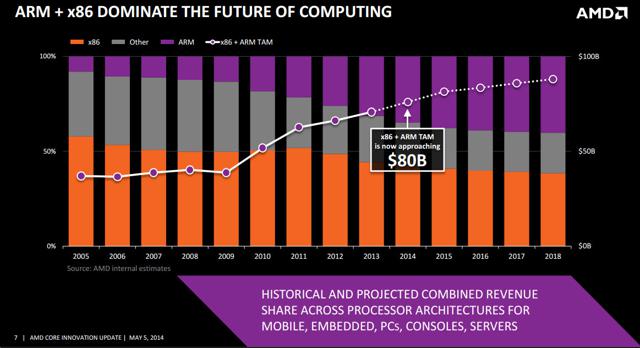 Source: AMD
The total addressable market (TAM) for x86 and ARM is now around $80 billion and AMD's new 64-bit ARM Core Architecture license is its ticket to this huge market. GCN and HSA inside an AMD ARM-based SoC makes it perfect for new products - high-density microservers, smartphones, tablets, 2-in-1s, wearables, consoles, and Smart TVs.
AMD calls this new x86/ARM approach as "ambidextrous computing" and it's like lefty Manny Pacquiao also getting a killer knockout power in his right arm. Pacquiao's earlier career was hampered by his lefty killer moves because opponents quickly adapted their defense towards it. AMD's reliance on the x86 platform has also kept it from fully recovering.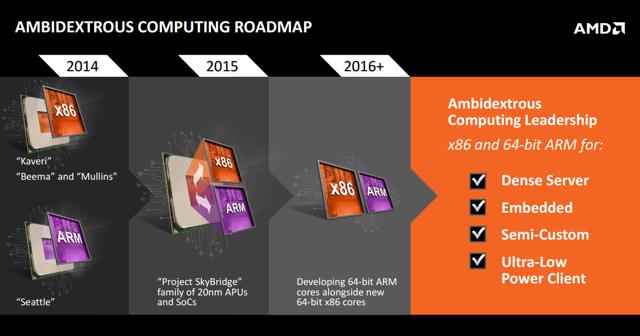 Intel is too proud to surrender its x86 crown but AMD is smart enough to ride the new wave of computing. Mobile + ARM = success. The lucrative server processor market might also welcome AMD's future 64-bit Seattle Opterons. Internet of Things and wearables are also new high-growth industries that AMD's ARM-based SoCs can saturate into.
Conclusion
The path towards a $15 price target for AMD for 2016 is passable and highly possible. Getting on the ARM shortcut fast tracks the company's journey towards profitability and growth. AMD's fight for survival is now much better because of its ambidextrous x86/ARM approach. Despite its long struggle in the x86 market, AMD has proven itself as an innovator in 64-bit computing and semi-custom chip design.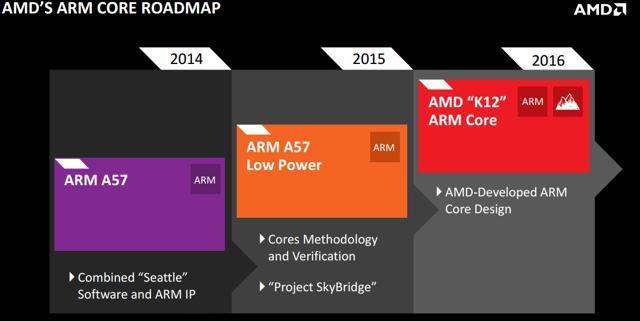 AMD's ARM core assault is also being led by Apple's former mobile SoC chief architect, Jim Keller. Even if AMD doesn't offer any contra revenue like Intel is doing now, it still has a good chance to steal a decent market share in smartphone and tablet chips.
Buy AMD for the long term. The company's growth potential is highly improved by AMD's x86/ARM focus.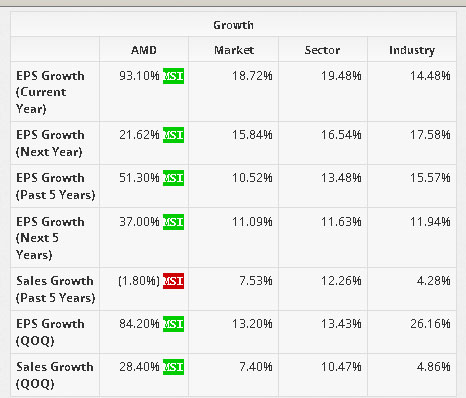 Source: getaom.com
The road to $15 by 2016 is built on AMD's bedrock strong blocks of core IP assets.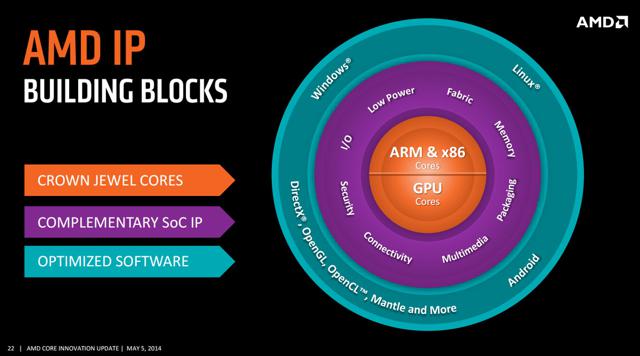 Disclosure: I am long AMD, INTC, AAPL. I wrote this article myself, and it expresses my own opinions. I am not receiving compensation for it (other than from Seeking Alpha). I have no business relationship with any company whose stock is mentioned in this article.