Shares of Arcam AB, NASDAQ OMX (ARCM.ST) and American Depository Receipt (OTCPK:AMAVF), have dropped 52% from January highs.
Investors in 3D printing stocks are now (fortunately) taking fundamentals into consideration and the companies with the strongest growth in 2014 will rightfully be the best performers going forward.
I believe Arcam shares are now undervalued and have begun reentering my position based on the following:
Arcam's 70% organic revenue growth reported in Q1 with a strong outlook for continuation of the same
Strategic acquisition in February of a high-grade titanium powder supplier expected to increase sales of both materials and ultimately, machines
Current launch of the Arcam Q-20 for aerospace market
European Union-funded R&D from which Arcam is the patent assignee and ultimate beneficiary
Arcam & EBM Technology Overview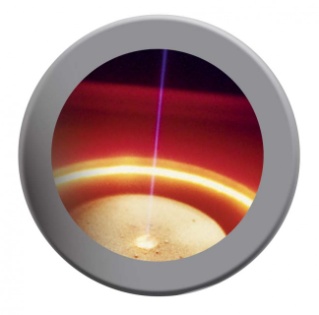 Based in Sweden, Arcam AB has developed patented EBM (Electron Beam Melting) technology which results in metal components that are more dense than 3D printed parts using Direct Metal Laser Sintering (DMLS). Arcam's EBM printers are used in primarily in the aerospace, defense, and orthopedic implant markets.
In their report "3D printing: A potential game changer for aerospace and defense," PricewaterhouseCoopers notes that:
"Electron Beam Melting (EBM) has emerged as a higher quality alternative to laser melting. The very high-energy density of the electron beam technology enables it to produce fully dense, void-free parts."
PwC also writes: "The biggest hurdle to mass adoption is processing speed. Because of its intricate, layer-by-layer nature, current 3D printing technology takes hours to days to complete jobs. This cycle time is sufficient for prototypes and very small production quantities, but it quickly becomes untenable at higher production volumes. However, advances in electron beam and powder feedstock technologies may enable higher speeds, making EBM a viable production technology suitable for many more applications, including those for most aerospace and defense programs."
Following a 4:1 share split in January, Arcam has 18.3 million shares outstanding.
Higher Organic Revenue Growth Than 3D Systems and Stratasys
Arcam reported an impressive 43% organic sales growth in 2013, a much healthier rate than the 30-36% organic growth reported last year from both Stratasys (NASDAQ:SSYS) and 3D Systems (NYSE:DDD).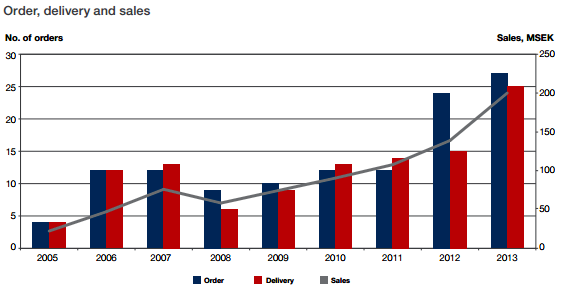 (Source: Arcam 2013 Investor Presentation)
Q1 2014 Growth Accelerated to 70%
In their Q1 release, Arcam's sales growth (almost entirely organic) increased to an impressive 70%, a figure any other 3D printing OEM would love to have. Also recorded in Q1 was Arcam's cash acquisition of high-grade titanium powder supplier Advanced Powders and Coatings. According to management's Q1 conference call, this strategic acquisition is expected to increase machine sales going forward due to Arcam's supply and control of the highest grade titanium powder on the market today. Arcam ended Q1 with a cash balance of 368 million SEK ($56 million USD) and no long-term debt.
By comparison, 3D Systems reported 45% revenue growth and Stratasys reported 54% revenue growth.
The forward looking statements from Q1 report were strong:
"In addition to the acquisition of AP&C we are in rapid organic growth. We thus continue to recruit qualified employees in order to meet the expectations from our customers. During the quarter we have strengthened our service office in China and the support organization in Sweden. Through the acquisition of AP&C and through recruitment the number of employees has increased from 55 to 109 since March 2013."
and:
"An order book of 13 systems, increasing aftermarket sales and a positive business situation lays a solid foundation for a continued strong growth in 2014."
Q2 Starting Strong
While sales (recorded at time of delivery) can be choppy, Arcam is off to a strong Q2 for their first half 2014 report scheduled for July 18th. In the first half of 2013 Arcam delivered 11 printers. In the first quarter of 2014 alone, Arcam delivered 7 printers with a backlog of 11 more printers. Since the Q1 report Arcam also announced orders from China, New Zealand, United States, and a major manufacturer in the aerospace industry.
Canaccord Genuity stated in a January article that:
"We believe Arcam's revenue growth will be well above that of the 3D printing industry, driven by penetration of tier-one orthopedic implant customers and a ramp to volume production by aerospace customers."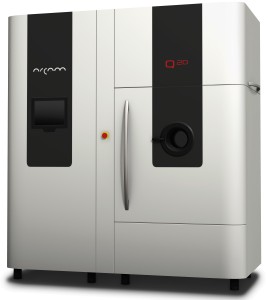 Arcam Q20 Launch
Launched in December, the new Arcam Q20 is aimed squarely at the aerospace industry and features improved resolution, larger build envelope, and inline part quality verification. Process speed has been greatly improved to the point of "manufacturing" capabilities, according to an article covering the Q20 launch in TCT Magazine.
Updating the Q20 launch in their Q1 conference call, management expressed they have "several large customers positioning themselves for large volume production" from which they expect to announce sales of multiple units per order this year.
Fast EBM Project Commercialization
"Fast EBM" is a completed 2 year project funded by governments of the European Union. The project's goal is to increase printing speeds in high-grade metal components using enhanced EBM technology by a factor of 5X. Arcam AB led the project and is the recipient of all intellectual property and commercialization rights.
The recent project update on the Cordis website indicates:
-High productivity EBM machine: Designs have been produced and parts are being manufactured
- FastEBM pre-qualification for aerospace components manufacture: These tests will commence once the testbed equipment is established
- High power EB gun design: A 10kW gun design has been made and this is under manufacture
- Low-aberration deflector system: A number of deflection systems have been analysed and a design developed. Drive electronics have been considered and a design proposed. This is now being manufactured ready for test.
- Manufacturing process model: Software has been developed to enable beam powder interaction to be modelled
Full scale commercialization is expected next year of this new high-speed EBM printer.
TiAlCharger Project- Development of 3D Printed Titanium Aluminide Automotive Turbochargers
The TiAlCharger Project, (also funded by governments of the European Union), aims to create a cost-effective, mass producible, low inertia titanium aluminide (TiAL) turbocharger using Arcam's EBM technology. Expected outcomes of the project are:
Weight savings of 60%
A reduction on mass moment of inertia of 36% (compared to Nickel super alloys that are the current state of the art)
Operation at temperatures >950°C
Increased fuel to air ratios thereby improving vehicle efficiency by an additional 5% and reducing CO2 emissions by 8%
Arcam's EBM will fabricate a hollow, lightweight, low-inertia titanium aluminide rotor-wheel. The TiAl wheel turbine will be joined to the steel shaft using electron beam welding. This fabrication method provides the possibility to manufacture turbocharger wheels from TiAl, which (if of the required quality) retains its strength at high temperatures, expanding the usage of turbochargers to a broad range of engine types.
While potential commercialization from this project is farther off (project completion date 1/2015), Arcam should realize a healthy percentage of the "revenues worth an estimated 58 million euros" ($80 million US) from this new market.
Risk Analysis
This article assumes management delivers on their guidance for both increased sales in 2014 as well as orders consisting of multiple Q20 printers for the aerospace market. As neither of these assumptions are predestined, there is risk that they will not occur and share prices will remain under pressure.
The article also assumes that the cash acquisition of Advanced Powders and Coatings is accretive to full year 2014 earnings as management has guided, another unknown at this time.
Lastly, the 3D printing sector remains under pressure from the parabolic move they made as a group in late 2013 which climaxed in January. Should 3D printing stocks continue their precipitous downtrend, investors should assume shares of Arcam will remain under pressure as well, despite having higher growth rates and margins than the better-known equities in the space.
Conclusion
3D printing stocks made a parabolic move last year that could not be sustained by their fundamentals. They've since given up that move and investors are focusing on revenue growth, particularly organic growth that's free from integration costs and share dilution.
Based on Arcam's higher growth rate than 3D Systems and Stratasys, their strong balance sheet, launch of the Arcam Q20, cash acquisition of Advanced Powders and Coatings, strong order book, strong forward-looking statements, and position in the high growth industrial metals segment, I believe shares are oversold and should soon see a move to the upside.
Disclosure: I am long AMAVF. I wrote this article myself, and it expresses my own opinions. I am not receiving compensation for it. I have no business relationship with any company whose stock is mentioned in this article.
Additional disclosure: This article was also published on 3DPrintingStocks.com on 5/9/14.