By Ivan Y.
Silver Standard (NASDAQ:SSRI) fell 10.3% on Friday after the company released its 2014 Q1 earnings report. I made the case for investing in SSRI last June when the stock was trading around $8. At that time, the stock was appealing due to the company's large cash position and its 100% interest in the Pitarrilla silver development project in Mexico. Though I sold the stock at $9 in February because I didn't believe it was worthy of a double-digit price, the stock managed to soar to a high of roughly $12 in March, but it has now made the roundtrip back to under $9.
A Broken Investment Case
In my opinion, there are several reasons why the case for investing in SSRI is broken, and why I have moved it from my shopping list to my watch list. The big news in the earnings announcement was not the reported revenue or earnings. Yes, SSRI missed earnings by several pennies, but I believe the main cause of the selloff was the announcement that the EIA for Pitarrilla was not approved by the Mexican authorities.
On February 14, 2014, we were advised that the Mexican Ministry of Environment and Natural Resources did not approve the environmental impact assessment ("EIA") for the Pitarrilla open pit mine, primarily because sufficient water rights had not been secured. Our ability to secure water rights is currently limited due to the temporary moratorium on subterranean water exploitation imposed in April 2013 in connection with uncontrolled and over exploited aquifers located throughout Mexico.
In addition to that, management plans to suspend all major project activity on this mine indefinitely. The Pitarrilla mine was considered to be the crown jewel of Silver Standard. It was expected to produce 15 million ounces of silver a year beginning in 2016 and have a 30-plus year mine life. Due to several factors, but mostly the dramatic fall in silver prices last year, the development decision was
delayed and advancement on the project was scaled back last year. Now, advancement on the project has basically been halted and the monetary value of this project going forward is now a big question mark.
Some other news in yesterday's earnings announcement was also not encouraging:
The company announced that they were still in negotiations with the local union in Argentina and that 3 total days of production had already been lost due to work stoppages. I'm sure that this is not another situation like the platinum miners strike in South Africa and that negotiations in Argentina will eventually be settled, but wage costs for SSRI will definitely be rising in the coming year. Price inflation in Argentina last year was reported to be about 10%. That was the government's number, but the real inflation rate measured independently was more like 20-25%. With such a high increase in the price of goods and services, you can bet that the local unionized workers are demanding a wage increase that at least matches the real inflation rate.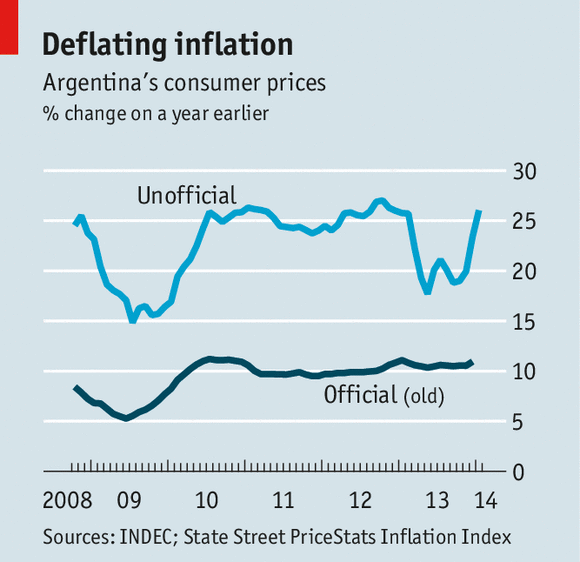 The Marigold mine acquisition which was finalized in April was Silver Standard's attempt to diversify its production by adding gold production. It came at a high cost and has consumed most of the large cash hoard that Silver Standard used to have. In the earnings report, the company reported that it had $396.4 million in cash and cash equivalents. That number is close to the cash level from last year, but unfortunately it did not include the $275 million cash payment to Goldcorp (NYSE:GG) and Barrick (NYSE:ABX) for the Marigold acquisition in early April after Q1 had already ended. Subtracting the $275 million would leave the cash level at around $121 million as of today.
Marigold's 2014 cash cost is expected to be $1000-1100 per ounce of gold. In 2013 Q4 and 2012 Q4, cash costs were $969 and $847, respectively, according to Goldcorp. The cost trend is going in the wrong direction, and with gold trading below $1300, Marigold is barely profitable at this time. Actually, it may not be profitable at all considering that $1000-1100 is the cash cost and not the total all-in production cost, which is guaranteed to be higher. It should be noted that the all-in production cost includes exploration and development costs, which have already been paid by Goldcorp and Barrick in the past.
Conclusion
A great investment case in SSRI can no longer be made in my opinion, even with the stock back below $9. The stock appears to be broken because of the indefinite suspension of the Pitarrilla project, the higher production costs at Marigold, as well as the increasing likelihood that the company overpaid when it made its acquisition of Marigold.
Disclosure: I have no positions in any stocks mentioned, and no plans to initiate any positions within the next 72 hours. I wrote this article myself, and it expresses my own opinions. I am not receiving compensation for it (other than from Seeking Alpha). I have no business relationship with any company whose stock is mentioned in this article.