By: Craig Bowles
Overview
Cisco Systems, Inc. (NASDAQ:CSCO) is slated to report 3Q 2014 earnings after the bell on Wednesday, May 14th. The earnings release is expected at approximately 4:05 p.m. EST with a 4:30 p.m. conference call webcast available through Cisco Investor Relations. The company represents the networking equipment industry on the S&P 500 Index.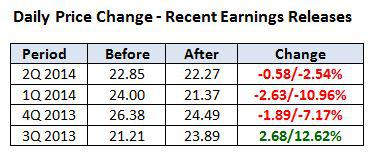 Outliers & Strategy
Key measures:
Non-GAAP Earnings Per Share: The current Street estimate is $0.48 (range $0.47 to $0.54). (Source: Yahoo! Finance). Cisco has beaten estimates by 1-2c over the last four quarters.
Revenues: Analysts expected a decline of 7.0% y/y to $11.38 bln (range $11.25 bln to $12.21 bln).
Cisco's trailing P/E of 15 compares to a five-year average of 16 and industry average of 39. The Price/Book is 2.1 versus a five-year average of 2.4 and industry average of 2.6. The dividend yield is 3.1% vs an industry average 1.7%.
Insiders have sold 3,139,480 shares the last six months. The company announced a $15 bln buyback in November and sold $8 bln of bonds in February to help fund repurchases.
Cisco shares have a 1-day average price change on earnings of 6.20%. Options are pricing in an implied move of 4.76% on earnings.
Recent News
05/06: Cisco and Citrix Systems (NASDAQ:CTXS) are teaming up to power mobile workspaces.
04/30: Cisco will add another $150 mln to their $2 bln venture investment group in an effort to speed up the development of new technologies, according to a post on Bloomberg.com.
04/28: CEO John Chambers plans to retire in two to four years and puts a timetable on moving the company away from its declining core networking business to software, services, and security products, according to a post on Forbes.com.
04/08: Wunderlich Securities downgraded Cisco to Hold from Buy and lowered the price target from $25.00 to $24.00 due to valuation given the dilutive effect of alternatives for network automation/software defined networking prospects, according to a post on Benzinga.com.
Technical Review
While Cisco doubled from 2011's low to 2013's high, the stock has generally been flat for the last decade fluctuating around $20. The stock has ranged from $13-$26 since 2008. The recent balance area is the 200-day moving average at $22.50 up to $23.25. So a positive earnings report would likely retest $23.00 area and possibly target the top of the range at $26. Conversely, a negative report could pull the stock back down to $21.50 support and possibly tests December's $20 low or the larger support area below. (Chart courtesy of StockCharts.com)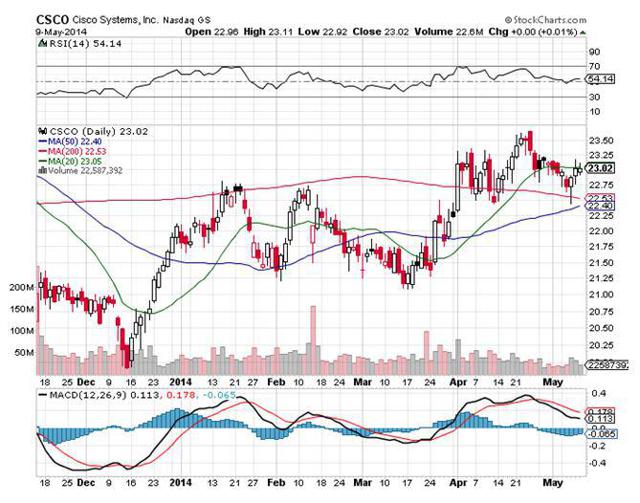 Summary
Cisco's revenue decline is expected to turn around in fiscal year 2015 and analysts have shown more conviction over the last three months with subtle increases in earnings estimates. The stock has support from a large stock buyback program which has been partially funded by selling bonds. The company has been beating estimates by 1-2c, so probably needs to beat by at least 2c with revenue above $11.43 bln for a favorable market reaction. More favorable year over year revenue comparisons could bring increase investor optimism in the coming quarters while speculation will increase around possible replacements for the eventual retirement of CEO John Chambers.
DISCLAIMER: By using this report, you acknowledge that Selerity, Inc. is in no way liable for losses or gains arising out of commentary, analysis, and or data in this report. Your investment decisions and recommendations are made entirely at your discretion. Selerity does not own securities in companies that they write about, is not an investment adviser, and the content contained herein is not an endorsement to buy or sell any securities. No content published as part of this report constitutes a recommendation that any particular investment, security, portfolio of securities, transaction or investment strategy is suitable for any specific person.
Disclosure: I have no positions in any stocks mentioned, and no plans to initiate any positions within the next 72 hours. I wrote this article myself, and it expresses my own opinions. I am not receiving compensation for it (other than from Seeking Alpha). I have no business relationship with any company whose stock is mentioned in this article.