Cowen Group, Inc. (NASDAQ:COWN) is a diversified financial services firm that provides alternative investment management, investment banking, research, and sales and trading services. Cowen is comprised of two main segments: Ramius LLC which makes up the company's alternative investment management segment, and Cowen and Company, LLC which represents the broker-dealer segment.
Q1 Results
The first quarter of 2014 was the most profitable quarter for Cowen group since the Cowen/Ramius combination in 2009. Performance was driven by record revenue from the broker-dealer segment while growing Assets Under Management (AUM) through Ramius. Ramius AUM grew $1.1 billion from January 1, 2014.
GAAP Revenue grew prodigiously increasing 59% from the 1st quarter of 2013 to $106.7 million. Expenses did not grow at nearly the same rate growing at only 28%. This divergence resulted in net income of $9.8 million vs. a loss of $2.6 million a year ago. The positive quarter led to book value per share growing from $4.41 to $4.61. Moreover, tangible book value increased from $3.99 to $4.19.
The proceeds from securing $149.5 million of 3% cash convertible senior notes due in 2019 (convertible at $5.33) provides capital to repurchase shares and reduces the risk of a secondary offering. The company expects to use $340,000 for share repurchases which reflects the notion that shares are undervalued. $20.5 million of the net proceeds were used to purchase a cash convertible note hedge and warrant transaction which already increased the effective conversion price to $7.18. It is interesting to note that in the event of a share buyback, the conversion price will be higher than $7.18. ($21.4 million in share buyback is remaining under the current approved program). The rest of the money will be used for working capital.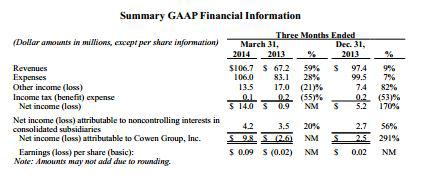 Source: 2014 First Quarter Financial Results
Cowen and Company (Broker-Dealer Segment)
The broker-dealer segment for Cowen has been performing well as the economy has been improving. Brokerage revenue was $34.3 million in the first quarter of 2014, an increase of $6.3 million or 23% compared to the first quarter of 2013. Investment banking revenue was $49.6 million which represents an increase of 189% from the prior year period.
Investment banking was driven by equity underwriting revenue growth. Cowen had 41 transactions resulting in $46 million in revenue compared to 12 transactions and $10.7 million in the comparable prior year period.
The Dahlman Rose acquisition 1 year ago helped to grow this segment's footprint. The company covered about 400 companies before the transaction and now covers about 700. This has resulted in their equity research products market share doubling year over year. A more renowned name in this segment will allow for further growth.
Ramius Segment
Although AUM grew exceptionally since January, management fees remained steady at $14.1 million. Revenue growth in this segment was stagnated by a decrease in the average annualized management fee in the first quarter of 2014. The average management fee was .59% as compared to .67% in the prior year period. Fee reductions were a result of asset flows to private equity structures with lower fees as well as increases in tiered management schedules.
Investors may be disappointed that the management fee revenue is not increasing despite AUM growing. However, it is important to consider the long-term implications of an increase in AUM. Ramius has several investment vehicles and gaining investors allows for the cross-selling of other products. Also, an ancillary effect of more AUM is an increase in incentive income if the fund performs well. Incentive income is typically 20% of net profits above high water and 10% for alternative products.
Incentive income decreased to $4.7 million as compared to $5.1 million in the prior year period. Furthermore, investment income subsided to $8.2 million from $10.9 million a year ago. The reduced revenues was related to a decrease in the performance fees from the credit and activist funds.
Many products offered by Ramius provide a hedge to negative economic environments. Recently, the stock market and economy as a whole have been improving which has led to unfavorable performance for Ramius products and lower incentive income. Despite the lackluster results, the fact that AUM has increased is a remarkably positive sign. Ramius provides more income when the economy languishes which is a great hedge as the Cowen and Company segment performs in a thriving economic climate. This hedge between segments allows for stability no matter how the economy is performing.
Source: Cowen Website
Conclusion
Cowen Group provides an interesting investment opportunity as it stands to perform well in any economic climate. The Cowen and Company and Ramius segments each perform in different climates which mitigates risk for the company and ultimately for investors. The broker-dealer segment is growing tremendously and recorded record revenue and Ramius is expanding AUM despite lackluster performance. The fact that Cowen currently trades below book value and below tangible book value provides a compelling buying opportunity for this improving business. Cowen is undervalued and expect much upside from these levels.
Other positive catalysts can be found in this article.
Disclosure: I have no positions in any stocks mentioned, but may initiate a long position in COWN over the next 72 hours. I wrote this article myself, and it expresses my own opinions. I am not receiving compensation for it (other than from Seeking Alpha). I have no business relationship with any company whose stock is mentioned in this article.