UGI Corp (NYSE:UGI) is a midcap gas and electric utility with a rich history of dividends and dividend increases. Based on the list of Dividend Champions offered by David Fish, UGI has the highest dividend growth rate for a utility over the past 10 years. UGI management has increased its dividend an average of 6.9% over the previous decade and has a string of 27 years of increases under its belt. Even more impressive, UGI has paid a dividend for the past 130 years.
UGI operates four separate operating units. The largest contributor to FY2013 operating net earnings was UGI Utilities, the electric and natural gas regulated utility subsidiary. Other operating segments are International Propane, Energy Services, and UGI's interest in AmeriGas Propane LP (NYSE:APU).
UGI spun off AmeriGas in 1995 as a Master Limited Partnership, retaining a 25% interest via ownership of partnership units, and is the General Partner of the Partnership.
The table below outlines the net income contributed by each of the operating segments for the year ending Sept. 30, 2013:
| | | |
| --- | --- | --- |
| Operating Segment | FY2013 Operating Net Profit $ Million | FY2012 Operating Net Profit $ Million |
| Utilities | 80.5 | 99.3 |
| Int'l Propane | 65.1 | 41.2 |
| AmeriGas | 15.9 | 39.5 |
| Energy Services | 36.4 | 52.5 |
Source: UGI 10-k
UGI Utilities offers natural gas service to 600,000 customers and electrical service to 60,000 customers. UGI is the largest gas utility in the state of Pennsylvania. Below is a map of its service area, from its investor presentation (pdf) of last Sept: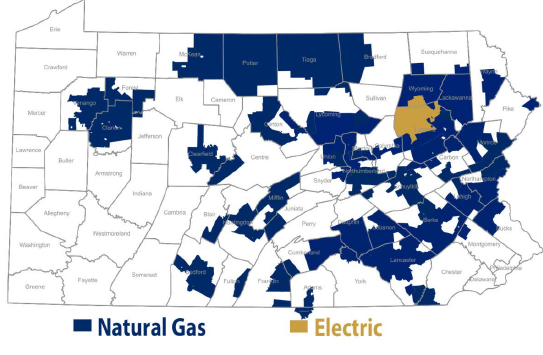 UGI is the largest natural gas utility in PA. While customer count grew by about 2% in 2013, there are an additional 250,000 potential customers within hook-up range of their gas main pipelines. This pool of potential customers represents a 41% expansion of customer count. With new home construction still below pre-recessionary levels, the focus of the utility has been converting other home heating fuels, such as oil heat, to natural gas. From a regulatory environment viewpoint, Pennsylvania regulators are considered as "Credit Supportive" by S&P, which is a neutral rating.
International Propane operating segment encompasses the distribution of propane in Europe. Countries served include France, Belgium, Netherlands, Luxembourg, Austria, Poland, Czech Republic, Hungary, Slovakia, Romania, Switzerland, Norway, Sweden, Denmark, Finland, and England. Fifty-eight percent of propane volume is delivered in bulk. Poland represents the largest potential opportunity with two major acquisitions, Shell Gas in 2011 and BP Propane in 2013. Poland currently represents about 35% of UGI's European propane volume.
Energy Services consist of marketing natural gas, a network of natural gas pipelines and storage facilities, along with combined cycle and coal-fired electric power generation. UGI markets natural gas in nine eastern states. While a small player in the merchant power business, UGI operates 235 MW of fossil fuel and 17 MW of renewable generating capacity. With its base in the Marcellus shale, UGI is well positioned to continue a build out its natural gas pipeline and storage assets.
The most interesting aspect of UGI is their retained ownership of APU units and designation as the General Partner. As with many General Partner arrangements, UGI received Incentive Distribution rights, IDRs, during the formation of APU as a MLP. The step-up of IDRs is based on the following table of quarterly distribution by APU:
$0.55 per share base line distribution
$0.55 to $0.64 - 85.8% to limited partners and 14.2% to General Partner, UGI;
$0.64 to $0.905 - 75.7% to limited partners and 24.3% to General Partner, UGI;
Over $0.905 - 49.5% to limited partners and 50.5% to General Partner, UGI.
In other words, once APU's quarterly distributions reach $0.905, UGI will earn 50% of all distributions above this level. At the current quarterly rate of $0.88, APU is almost at the level that would reward UGI with a substantial cut of future distribution growth. IDRs are a mostly overlooked aspect of owning MLPs that favor increasing payments to General Partners. Since General Partner's costs to manage the MLP assets do not appreciably increase with higher MLP profitability, these higher payments to UGI contribute to the firm's earnings and dividend growth.
How important is APU to UGI shareholders? With a current market cap of $4.5 billion for APU, UGI's 25% interest is worth almost $9.10 a share to UGI shareholders. This represents about 20% of UGI's current share price of $46. With its 25% ownership, UGI collects about $0.71 per share in annual MLP distributions and the MLP distribution represents about 61% of UGI's own dividend payout.
UGI recently announced both its fiscal 2nd quarter results and its quarterly conference call (registration required and is available until 5/15). Adjusted earnings results were 28% above prior year and its detailed press release can be found here. The FY2nd quarter earnings slide presentation (pdf) of results is found here.
In addition, management raised its earnings expectations for the full year. Also from their press release:
Based upon our results to date and our assessment of business conditions for the remainder of the fiscal year, we now expect fiscal 2014 adjusted earnings in the range of $2.95 to $3.05 per diluted share versus our previously-stated range of $2.60 to $2.70 per diluted share.
For the capital-intensive utility sector, UGI management has generated above average return on invested capital ROIC. Below is a 13-yr ROIC graph courtesy of fastgraph.com.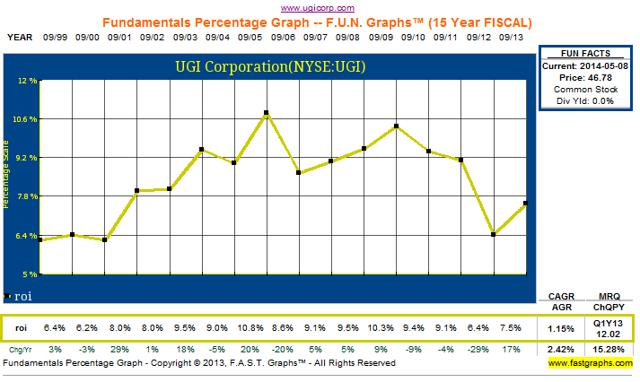 This higher ROIC has driven great investor returns. As the table below indicates, based on the annual ROR plus dividends declared but not reinvested, UGI has provided investors 4 times the return of the S&P 500.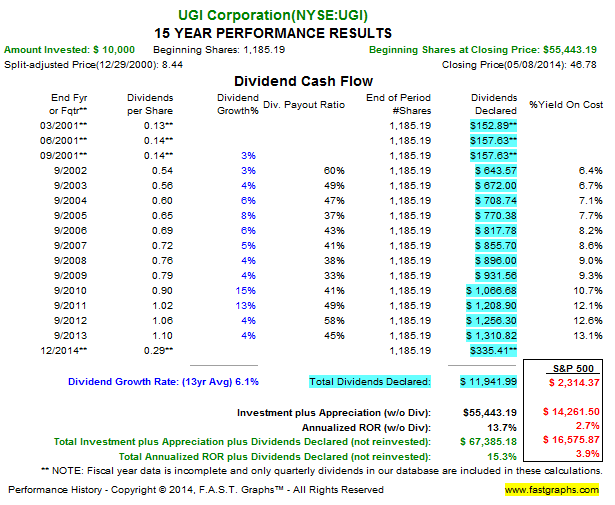 UGI has a diverse base of assets and is well position for continued growth in the Marcellus shale. The midstream and marketing assets are becoming large enough to begin contributing meaningfully to investor returns. UGI is trading at about a 14.3 P/E to FY2015 earnings, which is a discount to its natural gas utility peers. Using Hennessy Gas Utility Index Investor fund (MUTF:GASFX) as a comparison, UGI is currently valued at a substantial discount with GASFX trading at a 19.6 forward P/E.
The icing on the UGI cake is a quality ranking of A- by S&P for consistency in earnings and dividend growth over the previous 10 years.
Utility investors looking for a stable natural gas utility with growth prospects outside the traditional business should review UGI. I am big fan of General Partners and the benefits of IDRs for General Partner's owners, and UGI should continue to grow its earnings and dividends beyond the performance of its regulated utility business. UGI is very worthy of further due diligence by utility investors.
Author's Note: Please review important disclaimer in author's profile.
Disclosure: I have no positions in any stocks mentioned, but may initiate a long position in UGI over the next 72 hours. I wrote this article myself, and it expresses my own opinions. I am not receiving compensation for it (other than from Seeking Alpha). I have no business relationship with any company whose stock is mentioned in this article.