When it comes to the stock market, the goal of almost all investors, money managers and traders revolves around one idea: beat the return of the overall market. Professionals in this industry define themselves by this metric: if you beat the S&P last year, you are probably getting more business and a reputation as a superior manager. If you didn't, potential investors and clients may take their assets elsewhere.
So if beating the market is so important to participants, how do the experts do it? Luck? Cheating? For people who play by the rules, and for people who have a well-defined strategy, they have to take into account the use of dividends in their portfolio when choosing stocks. The managers who have had success and are willing to share their insights, such as Jim Cramer or Peter Lynch, talk about dividends as more than just a boring, retiree strategy to preserve wealth. They say that a stock with a safe, bountiful yield can turn into a portfolio's top performing asset over time. This occurs through taking those dividends and reinvesting them into the name, buying more shares and, therefore, accumulating more distributions over time. While this idea might not be the most exciting way to outpace the S&P 500, it's certainly been verified through historical performance. Below is a chart dating back to 1988 showing the S&P 500 index compared with its total return - the performance of the index with dividends reinvested. As you can see, the total return index outperformed the S&P 500 over the entire time period, and as of July 2013, was almost double the index's value: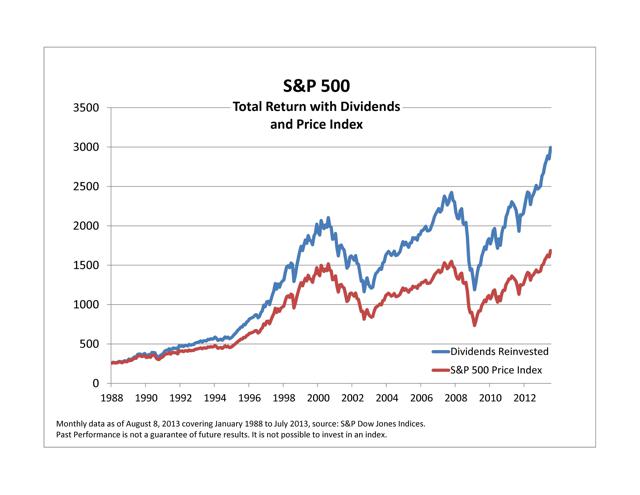 When looking at the Dow Jones Industrial Average, the same ideas can be applied to outperform the index. For decades, investors have devised theories around using dividends and the safety they provide to outperform. This includes strategies like the Dogs of the Dow - choose the 10 highest yielding stocks each year in the Dow Jones industrial Average and stick with them for 12 months. Other theories revolve around permutations of this strategy, but involve the idea that dividend stocks can outpace the overall market.
With this idea in mind, how can we stick with dividend paying stocks in the Dow without following the pre-defined mantra of a specific theory? Stocks within the index can provide both the safety of an above average yield as well as organic business growth to grow their dividend over time. Below are stocks that make up the Dow that fit this profile and can give buyers the aggressive qualities of a well-managed company as well as the defensive qualities of a safe and consistent yield to cushion prices in tough times:
| Name | Yield (%) | Payout Ratio |
| --- | --- | --- |
| Microsoft (NASDAQ:MSFT) | 2.8% | 41 |
| Travelers (NYSE:TRV) | 2.4% | 21 |
| AT&T (NYSE:T) | 5% | 54 |
| Wal-Mart (NYSE:WMT) | 2.4% | 39 |
Microsoft
Microsoft is a diversified technology company that develops hardware and software products to change the way businesses work and communicate. The company licenses its software and hardware in over 100 countries and provides services to complement these installments. Microsoft's product range covers a wide area of sectors, from operating systems used in consumer products to online advertising to video games. Cloud computing has become a major focus of Microsoft's management as of late, and has seen cloud-based products added to its portfolio. This includes Microsoft Office 365, which is being offered as an online service to customers through subscription and provides office tools such as Word and PowerPoint through its site. This development is a positive for MSFT because subscribers can have seamless access to the latest Office updates and can communicate with support more easily. This also allows the Office brand to spread to areas where physical sales have been soft, like India and other emerging markets. This growth is materially important to Microsoft's earnings going forward, as the company's Business Division, which includes Office 365, accounts for over 30% of overall revenue.
Another big positive for investors is the impressive amount of insider ownership the company touts. As of this month, MSFT has 8.3% of its shares owned by insiders, which is phenomenal for a company of this size and magnitude. Strong insider ownership shows that management has skin in the game just as much as investors do, and are materially interested in the performance of its shares. Buyers of the stock can feel confident in the fact that they're owning shares alongside people that are not only affected by the success of the stock but have the power to influence its future. When talking about insider ownership at Microsoft, one can't be taken seriously without mentioning Bill Gates, who owns close to 4% of the company. For the past 12 years, Gates has sold 80 million shares annually to help fund the Bill & Melinda Gates Foundation, which has dwindled his holdings to 330 million shares. If this divesting continues, Gates is expected to own no shares in his former company by 2018. This plan to sell his shares seems purely personal and not related to the performance of the company, so investors shouldn't have cause for concern as long as selling doesn't intensify. Even with Gates gone, former CEO Steve Ballmer, as well as other insiders, still own a sizable stake in the company, which validates the reason to stick with insiders and buy more alongside them.
In addition to these strong business developments, Microsoft has been complementing its growth with a strong, consistent dividend. The company sports a yield of 2.8% at current prices, and has this distribution covered handily with its earnings. Its annual payout ratio of 41% means that Microsoft could effectively double its current dividend and still have earnings to operate its business. This flexibility has allowed distributions to increase rapidly over the past five years, with an average increase of 23% across each of these years. If this trend continues, MSFT would pay out around $1.38 next year, which would give it a future yield of 3.4%. This payout should help give investors comfort as Microsoft takes the time it needs to invest in both its entertainment and cloud divisions to keep earnings increasing down the road.
Travelers
Travelers Companies Inc. is a financial company that provides property and casualty insurance to businesses and consumers in the United States. The company comes into this year off a very successful 2013, with earnings up 55% over the year prior and its stock price up over 27%. When the company reported earnings on April 22, this successful trend continued: although revenues came in a bit under expectations, EPS crushed analyst estimates by over 37%. This was due to business insurance improving profitability as well as a proactive strategy adopted by management to stay ahead of its competition. Jay Fishman, the company's Chairman and CEO, said that Travelers was "firing on all cylinders" and is poised to continue its success into 2014. The impact of TRV's acquisition of Canadian insurance company Dominion is having a material effect on its performance, which was validated by management's very positive outlook on expanding outside the United States.
The quarter also came with a 10% dividend increase, which marks the 10th consecutive annual raise since 2004. Travelers has consistently raised its payout by an average of almost 17% over the past five years, and has the financial capability to not only continue this pace, but accelerate it. The company currently pays out only 21% of its earnings in the form of dividends, which means that management can easily raise the stock's distribution and still have enough money to make acquisitions or grow its existing assets. This also assumes that Travelers has no earnings growth going forward, which, judging from the results given last quarter, is not an issue. While TRV's 2.4% yield might not attract many hardcore dividend investors at the moment, the future dividend potential of the company should bring them to the name in droves. With so much financial flexibility to increase payouts, a four-fold dividend raise would be possible with current income. This would give TRV a yield of over 9.6% at today's stock prices, which would rival that of an MLP or REIT with significantly less risk. This payout, while highly unlikely in the near future, shows how tremendous the company's cash flow is and how deep its pockets are when considering rewarding shareholders. Combine this with a successful insurance business and a leg up on competitors, and it becomes very hard to find a reason to avoid owning this name in the future.
AT&T
AT&T is a telecom company which uses its telephone infrastructure to provide both wired and wireless communication and Internet services to its customers across the United States. The company makes money through the strength and scope of its network as well as through the diversity of its product portfolio. The more area AT&T's service covers and the more consumers it can reach, the more successful it will be. The company is investing in its existing infrastructure to keep service consistent and convenient, including a $675 million investment in Kentucky to enhance business connections in the state and reach over 20,000 new customers. This investment initiative, along with others across the country, should help solidify AT&T as the nation's largest Wi-Fi network and keep its share of the market in an aggressive position. These investments also provide long-term infrastructure to the company's coverage, which gives investors consistency and clarity with AT&T's business.
The company is also looking into growth opportunities down the road, including both organic business growth as well as strategic acquisitions. To expand its offerings, AT&T is planning to launch an in-flight Wi-Fi service using 4G air-to-ground technology, which will expand its share of customers and take business away from established players in the market like GOGO. AT&T is also looking to add existing companies to its brand, and has been reported to be in talks to buy DirecTV (DTV). While an acquisition could be a long way off given regulatory and financial obstacles, the news shows that AT&T is looking to grow, and is willing to use a large amount of resources in order to do so. This should help investors stay confident in the company's goal of continuing to grow and create value through meaningful business strategies.
While this growth materializes, investors will be comforted with AT&T's generous dividend, which amounts to a yield of over 5% at today's prices. AT&T's steady yet growing business gives it the consistency it needs to pay out the dividends that attract investors hungry for yield. This yield is also kept safe by the company's strong earnings power, which allows AT&T to increase its payout even further as business continues to perform. While the dividend might not grow rapidly over the next few years, the yield is high enough and safe enough to keep investors happy. Combining this with a share price that is due to appreciate as AT&T expands its network and services gives the stock an all-around approach to outperforming the market.
Wal-Mart
Wal-Mart is the largest retail corporation in the world with over 2.2 million employees and $476 billion in revenue. The company has a massive physical presence with over 11,000 stores as well as a growing online presence, with website sales growth outpacing that of Amazon.com (NASDAQ:AMZN) last year. Wal-Mart expects online sales growth to continue to outperform with projected sales of over $13 billion. The company generates its sales and profits by giving shoppers a wide variety of services other than traditional grocers. These services include auto insurance comparison, eye exams, and a new money transfer capability at more than 4,000 of its stores. Within the aisles of its grocery division, Wal-Mart is making changes to attract customers of all demographics. The company recently announced the addition of the Wild Oats brand of organic food in its stores, which is a push into a sector with higher margins and growth. This should work to attract and keep shoppers in its stores, and keep revenues and margins in a solid position as Wal-Mart reaches saturation in the United States and other markets.
WMT also boasts a consistent and safe dividend to back up its international growth prospects. Shares currently yield 2.5%, which wouldn't attract many income-oriented investors if it wasn't for the company's growth of its payout. Wal-Mart has consistently raised its dividend for decades, and has increased its distribution by an average of over 15% since 2009. This pattern is likely to continue as WMT only pays out around 39% of its yearly earnings in the form of dividends. This means that investors can buy into Wal-Mart's consistent and growing business plan while continuing to receive a steady and ever-increasing dividend over the long term. As online growth continues and more offerings are added to its shelves, WMT will be able to support dividend raises in the future while still using its remaining capital to invest in international expansion.
Conclusion
Dividends have played a hugely important role in giving investors returns that beat the stock market over the long term. The trick to achieving this outperformance is to find companies that not only pay a meaningful dividend, but have the earnings power and the financial stability to increase their payout and back it up with earnings growth over time. These are the types of companies that make investors fortunes, either for retirement or for a living as a professional. The four stocks mentioned here exhibit qualities that can give investors the returns they're looking for, and have valuable assets and business plans to continue creating value for the foreseeable future. History has proven the outperformance of dividend paying stocks through reinvestment over an extended period of time, and the future should show a verification of this profitable and relatively simple pattern.
Disclosure: I have no positions in any stocks mentioned, and no plans to initiate any positions within the next 72 hours. I wrote this article myself, and it expresses my own opinions. I am not receiving compensation for it (other than from Seeking Alpha). I have no business relationship with any company whose stock is mentioned in this article.