The deals continue to get announced each Monday and we like the type of deals that are getting done right now. Each one appears to make sense and strengthen the acquiring company's product portfolio or core business. Confidence in the blue chip and boring names in the market is picking up and this is leading us to believe that our prediction that the manufacturing names were due for a rally may take place either over the summer or starting in the later part of the year.
Even with the volume of deals picking up, as well as the size, there continues to be plenty of rumored deals out there. Cable, telecommunications and technology are the three 'hot spots' right now but we think more sectors are going to find themselves in the M&A game sooner rather than later. It would appear that the banking sector will be one of the last to partake in this trend with 2015 being the earliest for a wave of activity.
Chart of the Day:
With the Russell 2000 in correction territory but the S&P 500 holding its own recently one has to suspect that good news from China, India and Eastern Europe could create a sharp snap back in the smaller cap Russell 2000.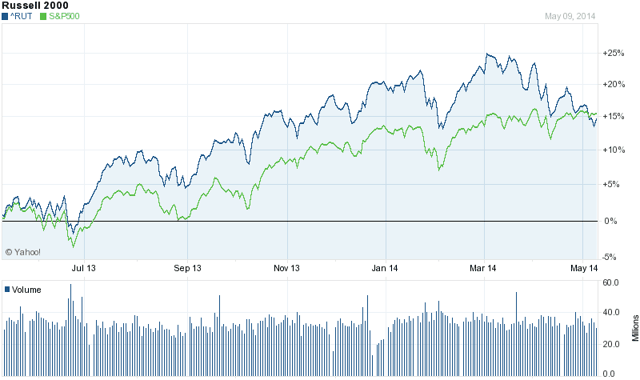 Click to enlarge
Source: Yahoo Finance
We have economic news today, and it is as follows:
Treasury Budget (2:00 p.m. EST): Est: +$114.0 B
Asian markets are higher today:
All Ordinaries -- down 0.23%
Shanghai Composite -- up 2.08%
Nikkei 225 -- down 0.35%
NZSE 50 -- up 0.19%
Seoul Composite -- up 0.43%
In Europe, markets are higher this morning:
CAC 40 -- up 0.19%
DAX -- up 1.08%
FTSE 100 -- up 0.43%
OSE -- up 0.58%
Sprinting Away?
It is no secret that Sprint (NYSE:S) is in the market to buy competitors in order to beef up and be in a better position to compete with larger rivals such as AT&T (NYSE:T) and Verizon (NYSE:VZ). Their target has long been T-Mobile USA (NASDAQ:TMUS), which is majority owned (67%) by Germany's Deutsche Telekom. UberGizmo, via The Wall Street Journal, is reporting that T-Mobile is requesting that Sprint pay $1 billion in the form of a break-up fee if regulators do not approve the deal (see link here). This would be a big haul for the company, but certainly not anywhere near the $3 billion payment from AT&T that also included spectrum when that deal did not get past regulators.
An official deal has not been announced yet, and still seems a good ways from being announced, but the latest requests from T-Mobile seem a smoke screen, or an attempt to chase Sprint off before they can make an offer. Asking for a $1 billion break-up fee when you are the most attractive takeover target in a hot industry is perfectly fine, and T-Mobile does have Dish Network (NASDAQ:DISH) willing to make a bid if Sprint walks away but asking for that fee when you are simultaneously asking that the T-Mobile brand and key management personnel be retained certainly seems like a deal killer.
Changing Landscape
Our thinking is that T-Mobile is in the driver's seat and can dictate to Sprint, or any other suitor, their terms. Why is this? Well it is simple, all of the smaller players are facing a daunting mountain to climb in order to match the size and network quality of AT&T and Verizon, so consolidation will be necessary. With T-Mobile being just the right size, they are actually too small to be an acquirer in the current market but a perfect acquisition target for a number of companies either in the industry, or looking to get into the industry.
The current regulatory environment is not the proper one to seek approval in, especially when it appears that the cable companies are not that far from entering the market for mobile and mobile backhaul as soon as the current consolidation wave in that industry is completed. With those big names entering the wireless marketplace, regulators would have a hard time nixing a deal - especially if a Republican was in the White House.
Management has to be careful not to scare away potential bidders with their break-up fee asking price that is dependent upon an uncertain regulatory environment. Shareholders should want a bidding war, but with that one has to understand some bidders would face more stringent regulatory scrutiny than others.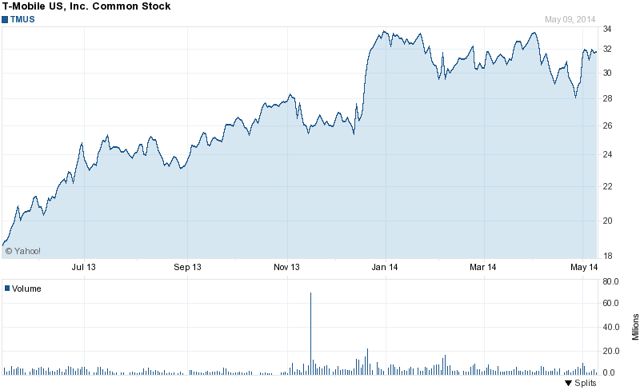 Click to enlarge
Source: Yahoo Finance
Our guess is that Sprint will continue to invest in its network and building out its capabilities with recent acquisitions while waiting to go on the offensive in the M&A space. If T-Mobile is willing to lower their asking price in regards to break-up fees and other demands we could see a scenario where Sprint is emboldened enough to make a move, but right now that $1 billion is a deal breaker. It also sends the wrong message to shareholders and regulators alike; T-Mobile will do a deal if approved, but their management is not counting on a deal getting done and could care less either way as they will get paid. One should expect the courting to continue however, because once there is not the threat of a bidding war the rumor is that Sprint will certainly have lost the fight with Dish Network and that company will come in and make their own bid.
Disclosure: I have no positions in any stocks mentioned, and no plans to initiate any positions within the next 72 hours. I wrote this article myself, and it expresses my own opinions. I am not receiving compensation for it (other than from Seeking Alpha). I have no business relationship with any company whose stock is mentioned in this article. Both T and VZ have previously been recommended.