Citrix Systems (NASDAQ:CTXS), the provider of the go-to-meeting application, reported solid first quarter results as revenues came in better than I expected, but management issued second quarter guidance that is below my expectation. Also, the firm announced a significant debt offering that will lower the cost of capital for the firm. I have been advocating a debt issuance as a way to boost the share price for a few quarters, so it is good to see the note offering being made.
Also, management recently announced the 2014 product roadmap that includes refreshes to the company's core offerings with updated feature sets. That should help drive results through the back half of the fiscal year and could be responsible for some of the weakness forecasted for the second quarter. So, the two main stories for this year are the product refresh and the substantial share repurchase program.
I firmly believe that the combination of these two stories will act as a catalyst to drive shares to their intrinsic value of $79.50.
Recent Developments
Citrix Workspace Services, a cloud-based platform for desktop-as-a-service, will be available as a technology preview with cloud desktops in the second half of 2014.
The Workspace Suite, which brings together desktop, mobile, app, and data services, is available immediately with discounts for those switching from competitors VMware (NYSE:VMW) and BlackBerry (NASDAQ:BBRY) or using Chromebooks.
XenMobile 9.0 will be available for download in June 2014 with WorxNotes, WorxEdit and WorxDesktop available as a technology preview in June 2014.
The ShareFile features set was enhanced to be more relevant for use with current workflows.
Citrix unveiled NetScaler MobileStream, which significantly improves mobile network and application performance along with network visibility while tightening security for both the enterprise and the end user.
Quest will offer its DaaS solutions using Citrix technology.
Citrix announced revised 2014 guidance because of the accelerated share repurchase program.
Analyst's Note
Citrix Systems designs, develops and markets technology products and services that enable information technology to be delivered securely on demand, regardless of location, device or network.
| | | |
| --- | --- | --- |
| For the year ending (in millions of dollars except per share data): | 2013-12 | 2014-12E |
| Revenue | 2918 | 3210 |
| Gross profit | 2416 | 2600 |
| Operating income | 381 | 321 |
| Net income | 340 | 273 |
| Diluted EPS | 1.81 | 1.65 |
During the first quarter, revenues increased at a faster pace (12%) than I'm forecasting for the full year (10%), with management guiding towards 5.5% revenues growth in the second quarter. GAAP net income is expected to come in well below my initial forecast for the full year, as I was expecting an operating margin of 11% and management is running the business at 9-10%. But I expect profitability margin expansion during the rest of the year as management adjusts operating expenses to meet their diluted EPS forecast. Also, my EPS forecasts are adjusted as a result of the reduction in outstanding shares that emanates from the share repurchase program.
As Citrix gains scale, management seems committed to reducing the re-investment of revenues into operations. Without guidance from management, the operating margin is expected to rise to the mid-to-high 20s as the company matures. The increased operating margin may come from a 1000 basis point reduction in SG&A expenditure as a percentage of revenues.
NetScaler is growing at an above corporate rate as cloud and networking become a larger portion of consolidated sales, but professional services, cloud and networking have a below corporate average gross margin profile. The consolidated gross margin in expected to settle in the low 80s to high 70s in the coming fiscal years.
Citrix issued between $1.25 and $1.44 billion of convertible senior notes. The notes mature on April 15, 2019 with a final conversion date of October 15, 2018. The conversion price estimate is $90, which represents a $30 per share market conversion premium. Given the favorable income differential per share of $0.45, the premium payback period is 66 years. The estimated potential dilution could be 129.33 million shares, but some of the potential dilution has been offset.
Aside from repurchasing shares, it is likely that management will continue use excess cash to make strategic acquisitions. The firm has an increasing stockpile of long-term investments that is reaching $1 billion and almost $1 billion in cash and marketable securities. The SaaS division could be the beneficiary of incremental investments based on the company's recent acquisition history.
For the full year, I'm expecting cash flow from operations of $1.03 billion with free cash flow to the firm of $842 million. Free cash flow to equity is expected to be $2.28 billion of which $1.5 billion will be used to repurchase shares. The return on equity for the full year is expected to be the same as the cost of equity.
General Risks
The share price is likely to remain volatile and investors could lose a portion or all of their investment.
Investors should judge the suitability of an investment in CTXS in light of their own unique circumstances.
A decline in the global economic growth rate and/or a decline in the pace of economic growth in the United States could adversely impact the results of operations and the share price.
The technology industry is characterized by rapid technological change, which could materially adversely impact the results of operations.
Competition in product development and pricing could adversely impact performance.
Incorrect forecasts of customer demand could adversely impact the results of operations.
Higher interest rates may reduce demand for CTXS's offerings and negatively impact the results of operations and the share price.
This section does not discuss all risks related to an investment in CTXS.
Portfolio & Valuation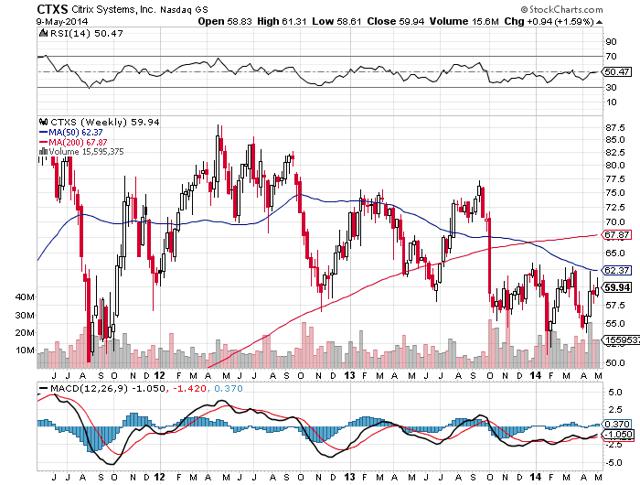 Citrix is in a bear market of primary degree, but there appears to be significant support at the $50 per share level. That suggests to me that there are relatively large funds accumulating shares in the $50-60 zone. Additionally, management is planning to support the share price with a significant share repurchase program.
| | | | |
| --- | --- | --- | --- |
| Monthly expected return | Quarterly expected return | Quarterly standard deviation of returns | Sharpe ratio |
| 1.63% | 4.90% | 20.58% | 0.20 |
| | | |
| --- | --- | --- |
| | Intrinsic value estimates | Forward price multiples in base case scenario |
| Optimistic | $123.62 | P/E: 48.06 |
| Base case | $79.47 | P/S: 4.09 |
| Pessimistic | $35.32 | P/BV: 3.55 |
| | | P/CFO: 12.77 |
The intrinsic value of the firm is estimated based on the fundamentals of the business. Citrix is currently 32% undervalued based on the estimated value. The share repurchase program is expected to decrease the price-based valuation multiples; consequently, at $79.47 per share, CTXS would be valued at 3.55 times the forecasted year-end book value.
Disclosure: I have no positions in any stocks mentioned, and no plans to initiate any positions within the next 72 hours. I wrote this article myself, and it expresses my own opinions. I am not receiving compensation for it (other than from Seeking Alpha). I have no business relationship with any company whose stock is mentioned in this article.