Intuitive Surgical (NASDAQ:ISRG), the maker of the da Vinci Surgical System, is the leading robotic surgical company in the world, dominating the robotic surgical industry. In fact, the company has a near monopoly because its patented technologies are far ahead of its competitors - Titan Medical (OTCQX:TITXF), TransEnterix (NYSEMKT:TRXC), SOFAR S.P.A. - and its da Vinci Surgical System is among the best in the industry. The company competes primarily with "open surgery procedures, conventional Minimally Invasive Surgery (MIS), drug therapies, radiation treatment" and other procedures that do not use robotic surgical systems (source: 2013 Annual Report).
ISRG's revenue growth was superb over the past ten years. The company's revenue grew from $139 million in fiscal 2004 to $2,265 million in fiscal 2013 (see image below), which resulted in a compound annual growth rate of 36% each year. Moreover, ISRG is not a capital intensive company. It generates millions of dollars of free cash flow each year that is often used for share buybacks. The company earns its revenue from selling da Vinci Surgical Systems to hospitals (aka unit sales) and from the sale of da Vinci surgical instruments, accessories and services (aka recurring revenue).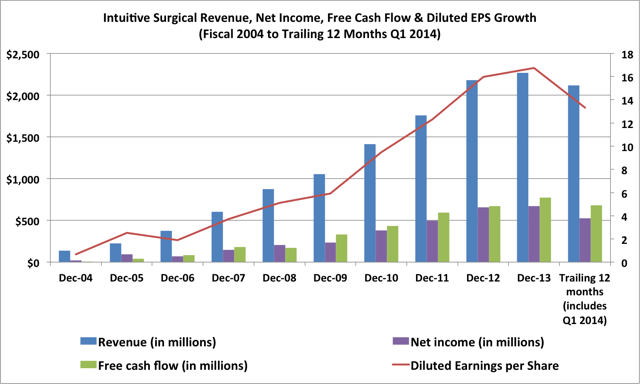 However, the stock plunged substantially since the beginning of 2013 for several economic and regulatory reasons:
The U.S. Preventive Services Task Force's recommendation against prostate-specific antigen screening and treatment changes for low risk prostate cancer have led to ISRG's decline in da Vinci's Prostatectomy business (source: 2013 Annual Report).
Changing surgical admissions and lower growth in gynecologic procedures.
Negative media about da Vinci procedures and liability lawsuits against the company.
The Affordable Care Act's (aka Obamacare) impact on the healthcare industry.
Other factors - not listed - that led to ISRG's declines in gynecologic and urologic procedures (two of ISRG's largest surgical businesses) in the U.S.
All of the above factors caused ISRG to have disappointing earnings in 2013 and Q1 2014, which led to the stock's substantial decline since 2013 (see image below).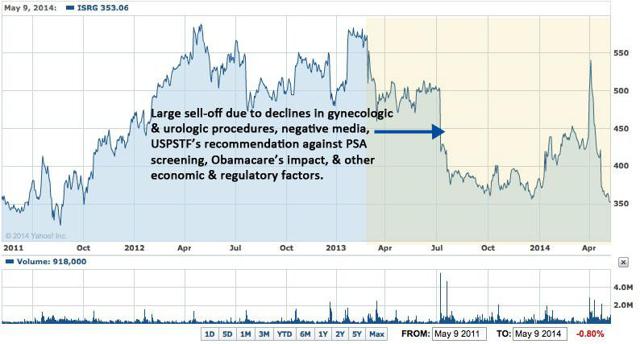 Is Intuitive Surgical an Undervalued Stock or a Value Trap?
While the stock has plunged substantially since 2013, the question you may wonder "is ISRG an undervalued stock that will eventually turn around or a value trap that will continue to have declining earnings?" (I define value trap as a stock that appears to be cheap, but in reality, it is still expensive relative to its intrinsic value.)
First of all, we have to understand that ISRG is no longer a fast-growing company with a revenue CAGR of 30% each year. Assuming that its current negative economic trends (as mentioned earlier) continue through 2014 and 2015, its average revenue growth rate or revenue CAGR for the next decade will likely be in the mid-to-high-single-digit range (e.g. a CAGR of 5 to 10%) and not in the double-digit range (e.g. a CAGR of 10 to 30%).
Secondly, ISRG's da Vinci System sales are largely driven by procedure volume growth in the U.S. and in the international market (e.g. Europe, Japan and Asia). According to the latest Q1 2014 conference call, management is expecting that its overall procedure growth will be impacted by the slowing procedure growth in the U.S. through 2014. Specifically, management stated the company's near term negative economic trend in the Q1 2014 conference call:
"Due to these factors affecting the capital side of our business, we will not be providing a revenue forecast at this time. As mentioned on last quarter's call, we expect to sell fewer systems in 2014 than the 546 systems sold in 2013."
While I do not know how much the Affordable Care Act has impacted hospital budgets, surgical admissions and patents who are willing to take on robotic surgeries, I believe that ISRG's near-term earnings through 2014 and 2015 will be lower than its earnings in 2013, until the U.S. overall procedure growth volume shows greater improvements.
Thirdly, ISRG's da Vinci Surgical System still has a lot of growth opportunities in existing (e.g. gynaecology, urology, general surgery, etc.) and new procedures. While gynaecology is its largest U.S. surgical specialty, general surgery is now the company's fastest growing specialty, according to the Q1 2014 Report. Moreover, the company is investing further in Europe, Japan and other parts in Asia. These international markets are still in their early stages in adopting the da Vinci Surgical System, and they will likely contribute more revenue growth to the company for the next decade as international procedures continue to grow at a faster pace than the U.S.
As mentioned earlier, higher Minimally Invasive Surgery (MIS) procedure growth generally leads to higher system sales and recurring revenue for the company. However, the U.S. procedure growth volume is slowing and the Affordable Care Act has created much uncertainties in the healthcare industry. Hence, I think it is safe to assume that ISRG's revenue growth will likely remain flat or decline throughout 2014 and 2015.
If we consider both ISRG's near-term economic trends and its long-term prospects, I believe that the stock is likely a value trap for the short-term because the company's earnings may disappoint further throughout 2014. However, the company's long-term prospects should remain positive because its da Vinci System sales will pick up once U.S. procedure growth improves.
Intuitive Surgical's Intrinsic Value
I have estimated ISRG's intrinsic value (the company's worth) using three scenarios: optimistic, neutral and pessimistic scenarios (see image below).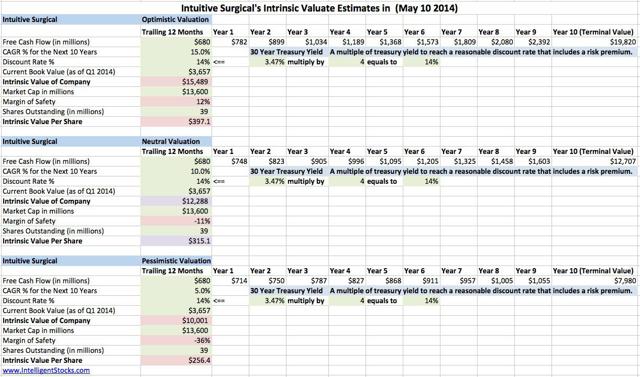 Based on my intrinsic value estimate, its current intrinsic value should be around $10 billion in market cap or $256 per share, assuming that the company's free cash flow will grow at a CAGR of 5% each year for the next decade. (Note that this is a pessimistic scenario.) However, if ISRG's free cash flow or net income grows at a CAGR of 10% for the next decade, its current intrinsic value should be around $12 billion in market cap or $315 per share. Either case, I believe that Intuitive Surgical's $13.6 billion market cap or $353 per share (at the time of writing) is still overvalued, even though the stock has dropped substantially since 2013.
Note that my intrinsic value estimates could be too conservative. However, it is possible that ISRG's earnings will continue to disappoint throughout 2014 (for the economic trends that I stated above). This may cause the stock to drop to $10 billion in market cap or $256 per share, which I believe is a fair intrinsic value of the company. It is always better to invest in a company when the stock is close to or below its intrinsic value, so that you are not overpaying for the stock and that there is a good margin of safety in your investment.
The Bottom Line
In the short-term, I believe that ISRG is a value trap because its earnings may disappoint further throughout 2014. The stock is also overvalued based on my intrinsic value estimate. In the long-term, Intuitive Surgical's declining system sales and earnings should eventually recover as U.S. procedure growth volume improves and as the company expands more in new procedures and in the international market.
Sources: Intuitive Surgical 2013 Annual Report, Q1 2014 Report and Conference Call, Morning Star, Yahoo Finance, SA Transcripts and Intelligent Stocks.
Disclosure: I have no positions in any stocks mentioned, and no plans to initiate any positions within the next 72 hours. I wrote this article myself, and it expresses my own opinions. I am not receiving compensation for it (other than from Seeking Alpha). I have no business relationship with any company whose stock is mentioned in this article.
Editor's Note: This article discusses one or more securities that do not trade on a major U.S. exchange. Please be aware of the risks associated with these stocks.