By Chris McKhann
The August VIX settlement came in at 24.81, slightly higher than yesterday's close.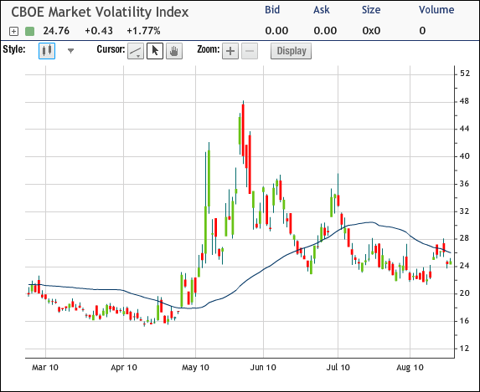 (Click to enlarge)
The VIX pushed above 25 briefly this morning, and has settled just below currently at 24.92. That August settlement level is what will ultimately be used to price the August options. While this morning's change is muted, many VIX option traders choose not to hold their positions into Wednesday settlement.
The September VIX futures are now the front month, and trade down 1 percent to 29.15. That is a huge premium over the spot VIX for the front month and it will have to narrow over the next month -- either through the VIX futures coming in, or the spot VIX rising. The rest of the VIX expirations through the end of 2010 trade in the 30 range.
Disclosure: No positions