Banco Santander's (NYSE:SAN) stock price has not recovered from the economic crisis in early 2009 as the business fundamentals have. A great number of banks failed during this crisis, which has resulted in negative sentiment in these investments. Recent quarter results show that the business is improving greatly and the pessimistic outlook is unfounded.
Q1 Results
Growing assets is integral in ensuring future success for banks. Banco Santander has been able to do this recently, growing total assets 3.1% Q/Q to nearly 1.2 trillion euro.
Net income was 1.3 billion euro for the first quarter, which grew 26% Y/Y when excluding the impact of exchange rates. The company believes the profit growth is of great quality, with nearly all of the increase coming from recurring revenues from net interest income and fee income. Net interest income and Net fee income grew 3.5% and 2.3% respectively when excluding exchange rates.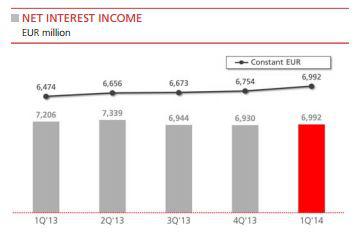 Source: 10Q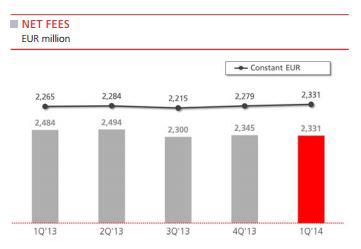 Source: 10Q
Falling Expenses
Furthermore, expenses have been declining each quarter. Operating expenses decreased 4.2% Q/Q, and administrative expenses decreased 3.2% Q/Q. Much of the decline in expenses is attributed to consolidations after recent acquisitions. Positive revenue growth, coupled with lower expenses is driving net income growth. Since seasonality is a risk for a business, it is important to ensure that growth is still happening when it is compared to the same quarter in the previous year. Banco Santander passes this test as well, with net profit growth of 26% when F/X is excluded.
The company recently outlined a three-year plan to reduce expenses by 1.5 billion euro. This year, Banco Santander reaffirmed its goal of 750 million euro in savings, and this bold plan will further increase profitability.

Source: 10Q
Improving Loans
Loan loss provisions declined 4.2% Y/Y, led by reductions in Brazil, the U.K., Portugal, Chile, and Spain. Cost of credit, which represents 12 months' loan loss provision/average lending, decreased to 1.65%, which has improved from 2.45% a year ago. The total non-performing loan ratio was 5.52%, which is 9 basis points lower than in the previous quarter.
CEO Javier Romano gave guidance on future profitability, which will be buoyed by reduced provisions:
All this places Group Santander in the path toward recovery in profits and profitability that will continue in the coming years and will spread to all units. Specifically, in Spain and Portugal, we see a recovery in revenues that will continue and join lower costs from the plans underway and reduced provisions due to the better environment.

Source: Quarterly Call Transcript
Positive Recent Acquisition
During the conference

call on May 3rd, the company announced a 25% minority interest in Santander Brasil. The Brazil shareholders will receive .70 Santander Group shares for each Santander Brasil share. This conversion represents a 20% premium from the closing price of the Santander Brasil shares. The acquisition will have positive net profit impact of 2% in 2014 and 7% for 2015 and 2016. It will also increase the weight of growth markets in the portfolio from 43% to 49%, which will enhance Santander Group's long-term growth potential. Further, the transaction does not have a material impact with respect to the capital side, such as with the Basel III requirements.
Economic Climate
Banco Santander has diversified its business, with the U.K. and Brazil representing 20%, Spain 14%, and the U.S. 9%. Four countries contribute between 5% and 7% - Mexico, Chile, Poland, and Germany. This level of diversification mitigates the risk that the business is exposed to, but it also increases the overall global economic exposure for the company. Thus, it is important to assess the global climate before considering an investment.
Loan growth is a good indicator of the economic climate, and Banco Santander has seen growth in every country except for Portugal and Brazil. The European PMI suggests that manufacturing activity is expanding, with a three-month high of 53.4, up from 53 in March. This data paints a picture of gradual improvement, which is in line with the European Central Bank's growth projections of 1.2% in 2014. Recoveries in emerging markets are beginning to percolate as well. The spread between emerging debt and U.S. treasury yields fell below the 300 basis point level for the first time since before the economic crisis. This demand for emerging bonds exemplifies the recovery that emerging markets are undergoing.
Conclusion
Banco Santander has been recovering from the doldrums of the economic crisis, and is poised to perform well over the coming years. Revenue growth has been galvanized by acquisitions, and expenses have been cut as a result of consolidations from the acquisitions. The developing economic climate also provides a tailwind to Banco Santander. An economic recovery in Europe and many emerging economies that SAN has exposure to will provide a boon to the business. Banco Santander has positioned itself well to benefit from the changing economic climate.
Disclosure: I am long SAN. I wrote this article myself, and it expresses my own opinions. I am not receiving compensation for it (other than from Seeking Alpha). I have no business relationship with any company whose stock is mentioned in this article.