Details: NextEra Energy (NYSE:NEE); Utility; $52
Recommendation: Buy NextEra at $52 with a $60 Target; $49.50 Stop Loss
Thesis: NextEra Energy, formerly Florida Power & Light, is the Nation's leading wind power producer and operator of solar power generation. With a Beta of just 0.65, NextEra provides exposure to the high growth alternative energy generation industry, while not having the headaches of large price swings on a daily basis. At 11.6X earnings and 1.58X book value with a 3.85% dividend yield, valuation provides a fair entry point at this level. While asset utilization and long term debt are worrisome, cash from operations is climbing and the Company is well positioned to benefit from a move towards alternative energy.
Overview: NextEra Energy engages in generation, transmission, and distribution of electric energy in the US and Canada. It is the leading solar and wind power generator in the US and operates emission-free Nuclear Power facilities in New Hampshire, Iowa, and Wisconsin.
Fundamentals: NextEra shares trade 11.6X sales, 1.4X sales, and 1.58X book value with a 3.85% dividend yield. Profit Margins are near 10-year highs while the P/E Ratio is near 10-year lows. Asset Utilization is at 0.31, a 10-year low, and while long term debt of $16.6B is at a 10-year high, two alarming figures. NextEra is in the 81st percentile among utilities on an earnings yield basis.
Industry and Macro Analysis: The Utility industry is known for being a slow growth industry, but also sees money flow in times of market fear, as investors clamor for low beta and high yielding securities. The Utility sector is at 14-month highs, and continues to outperform the market. As a sector with large amounts of debt, utilities excel in times when borrowing costs are low. An improving credit market would unlock longer term valuations in the sector, and in the meantime, the group is less sensitive to a slowing economy and offers an investor safe haven.
Analyst Coverage: NextEra Energy is covered by 21 Wall Street firms and is a bit out of the "under-coverage" stocks I search for, but I feel since the name change it is forgotten among investors. Citi downgraded shares to Neutral on July 27th, while Jefferies raised shares to Buy on July 16th.
Short Interest, Ownership and Options Analysis: NextEra has 1.4% of its float short, and short interest has fallen from 5.1M shares to 4.67M shares in the past month. Institutions and Mutual Funds own 66% of shares outstanding, with Wellington Mgmt. and State Street the largest holders at 4.71% and 3.91% of the outstanding shares respectively.
Technical: NextEra's weekly chart sets up a symmetrical triangle, recently broken out of, but failed to see the momentum to confirm the breakout. The 200-day, 100-day, and 50-Week EMA's all converge around the $50 mark which should act as support. (Click to enlarge)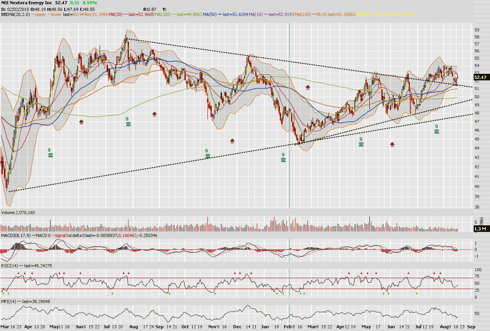 Disclosure: Long NEE at $52