Fannie Mae (OTCQB:FNMA) has become a much more promising, but not less controversial, equity investment over the last week. As many investors who are following Fannie Mae and Freddie Mac (OTCQB:FMCC) know already, the leaders of the U.S. Senate Banking Committee have failed last week in convincing more Democratic members of the advantages of the sweeping Johnson-Crapo reform bill that would restructure and change the U.S. housing market as we know it. I have previously asserted, that the reform bill is unlikely to find enough political support. One reason for Washington's incapability to resolve the matter, is, in all fairness, the complexity of the issue and the lack of viable alternatives to the existing housing market structure.
What's the alternative to winding down the GSEs?
I don't see any substitutes for Fannie Mae and Freddie Mac that could take on the important task of providing liquidity to the U.S. mortgage finance market and, most notably, making mortgages affordable. Could private entities and private capital fill the role and replace Fannie Mae and Freddie Mac? I don't think so. Both entities guarantee mortgages worth trillions of dollars; private companies would unlikely be able to come up with the capital base required to replace such vital entities. Fannie Mae and Freddie Mac also run established, scaled business models with decade-long relationships in the industry -- which, at least partly, contributes to low mortgage rates in the country. Winding down Fannie Mae and Freddie Mac in order to establish a new mortgage finance company, which would have the exact same mandate as the old GSEs, does not make a lot of economic sense.
GSE business model works
Say what you want, but if it wasn't for the dilution of underwriting standards during the real estate bubble years from 2004-2007, Fannie Mae and Freddie Mac would have likely managed to stay out of conservatorship and would be charging ahead on a standalone basis now. The good thing is, that more and more politicians seem to understand that the suggested reform bill up really is no alternative to the existing structure of the U.S. mortgage finance market. In addition, political pressures and the upcoming election cycle only add to the inability/unwillingness to wind down Fannie Mae and Freddie Mac.
Reform bill doomed to fail?
It wasn't really surprising when news broke at the end of last week, that the Johnson-Crapo bill is meeting staunch resistance in the Senate Banking Committee. As Bloomberg reported on May 9, 2014:
The Senate Banking Committee is preparing to vote next week on a plan to replace government-owned mortgage firms Fannie Mae and Freddie Mac as fading Democratic backing for the measure dims its chances of becoming law.

Six Democrats whose support is crucial agreed in a private meeting yesterday that they wouldn't vote for the bipartisan proposal to replace the finance companies with a government re-insurer, according to three people familiar with the meeting.

The overhaul is "effectively dead until 2015," said Isaac Boltansky, a policy analyst at Compass Point Research and Trading LLC in Washington.

A delay in winding down the companies could benefit stockholders including Bruce Berkowitz's Fairholme Capital Management, hedge fund Perry Capital LLC, and Bill Ackman's Pershing Square Capital Management LP. Ackman, whose firm holds about 11 percent of Fannie Mae and Freddie Mac's outstanding common shares, said May 5 that the stock could be worth $23 to $47 a share over time.
Even if the Johnson-Crapo bill manages to find majority approval in the Senate Banking Committee, it is still unlikely that it will come to a floor vote -- not in 2014 because of midterm elections and not in 2015/2016 when both parties prepare for the 2016 presidential election. In other words: Nothing is going to change.
Chart situation
Fannie Mae's stock plunged into nirvana in March 2014 as the anti- shareholder Johnson-Crapo draft bill was circulated. The market ultimately came to its senses, judging the prospects of the bill more realistically -- and the stock rebounded nicely.
It is worth mentioning, that even though the legislative process was in full swing over the last two month and investors faced the very real danger of progressing anti-shareholder legislation, Fannie Mae's stock price has held up well -- indicating that the market doesn't really believe in Fannie Mae's and Freddie Mac's wind down.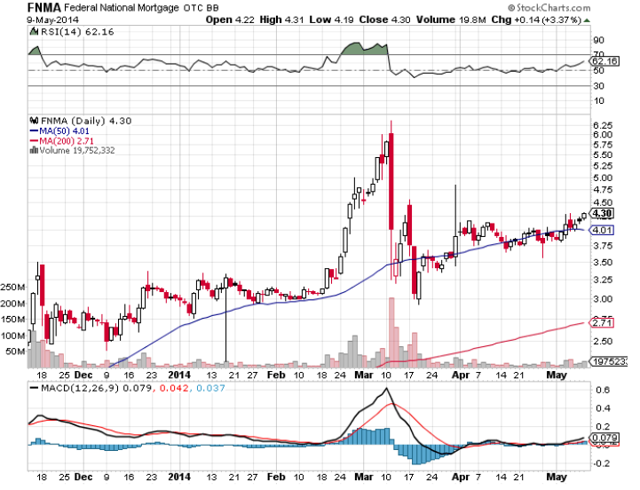 (Source: StockCharts.com)
Conclusion
The legislative process is only in the early stages, but it already appears unlikely that the reform bill has a decent shot at becoming law. It becomes especially unlikely when considering that a wind down of Fannie Mae and Freddie Mac is not a valid alternative and does not make much sense economically: Both companies are now profitable and are expect to stay profitable. Just last week Fannie Mae reported its ninth consecutive quarterly profit on May 8, 2014. Fannie Mae also reported a first quarter comprehensive income of $5.7 billion -- all of which will be forked over to the Treasury. Why would the government bite the hand that feeds it and willingly slaughter its own cash cows? Also, let's not forget that both GSEs have already repaid the $203 billion which compares to $187 billion that were extended by the government in a time of crisis: The GSEs have paid their dues.
I find it increasingly difficult to justify a wind down of a profitable, long-lasting pillar company of the U.S. housing market and I think it is likely that the U.S. mortgage market will not be fundamentally reformed. The reward/risk ratio remains extremely attractive. Speculative, long-term BUY.
Disclosure: I am long FNMA. I wrote this article myself, and it expresses my own opinions. I am not receiving compensation for it (other than from Seeking Alpha). I have no business relationship with any company whose stock is mentioned in this article.