Tesla Motors, Inc. (NASDAQ:TSLA) delivered disappointing first quarter 2014 results on May 7, 2014. Tesla's stock certainly was aiming high over the last two years: Shares marched up over 465% while shares of other, established car manufacturers like Ford Motor (NYSE:F) and General Motors (NYSE:GM) achieved much lower returns for shareholders. Consequently, Tesla's equity valuation skyrocketed and, at some, point reached unsustainable and almost comical levels.
After the much-hyped electric car manufacturer presented first quarter results, Tesla's stock tanked more than 11%: A result of missed analysts' revenue expectations and weak profitability/free cash flow guidance for the remainder of the year. With shares now trading 31% below their 52-week High at $265.00, investors might ask whether Tesla is a Buy or a Sell.
Technical picture
From a technical point of view, Tesla is a clear momentum stock and investors should expect high volatility around every earnings and major news release. Tesla has returned more than 107% over the last year and gained 21% YTD.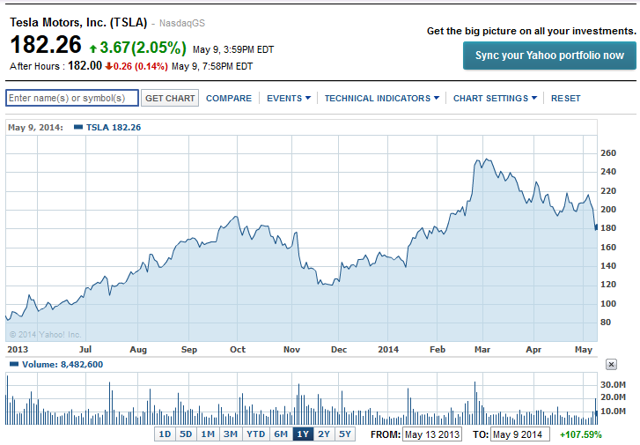 (Source: Yahoo Finance)
Compared against other U.S. car manufacturers, Tesla stole the show. The chart below depicts the relative performance of Tesla Motors compared against Ford Motor, General Motors and Toyota Motor (NYSE:TM). Tesla's shares have performed the best of all auto companies in the peer group, but it came with a price: A skyrocketing equity valuation.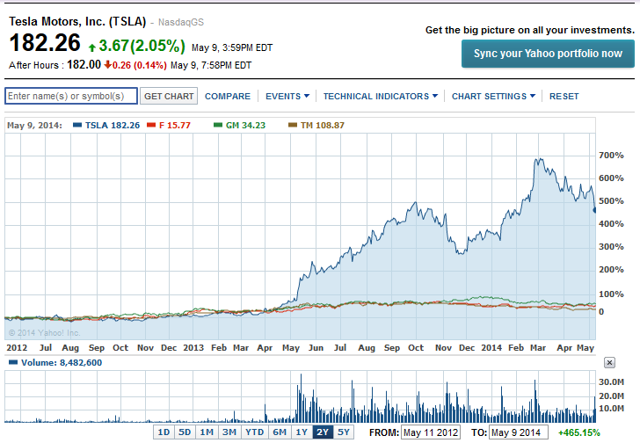 (Source: Yahoo Finance)
First quarter results not backing up equity valuation
Tesla is a growth story, no doubt about it. However, I think it is important to point out that Tesla's operational and financial achievements do not warrant the market capitalization that we currently see in the market: Around $22 billion. I have previously asserted that Tesla does not achieve a satisfying level of earnings and free cash flow profitability that would justify a forward earnings multiple of a hundred or even fifty. And Tesla's first quarter results have highlighted once more that Tesla's market capitalization is more backed by wishful thinking than by rational calculus.
I'll admit that high growth companies deserve premium multiples, but let us put things into perspective for the moment.
Tesla Motors just released its first quarter 2014 results and reported:
Total revenues of $621 million compared to $615 million in Q4 2013 and compared to $562 million in the year ago quarter: A sequential increase of 1% and a y-o-y increase of 10%. Analysts expected Q1 2014 revenues of $684 million -- a huge miss.
A net loss of $50 million ($0.40 per share) vs. a net loss of $16 million ($0.13 per share) in Q4 2013 and vs. net income of $11 million ($0.10 per share) in Q1 2013.
Adjusted net income of $17 million ($0.12 per diluted share) compared against $46 million ($0.33 per diluted share) in Q4 2013 and compared against $15 million ($0.12 per diluted share) in last year's first quarter. Tesla's adjusted net income per diluted share decreased 64% q-o-q and remained flat y-o-y, but beat the analyst consensus EPS estimate of $0.08 per share.
Operating cash flow of $61 million vs. $130 million in Q4 2013 and vs. $64 million in Q1 2013.
Negative free cash flow (as reported by the company) of $81 million which compares against a positive free cash flow of $40 million in the fourth quarter of 2013 and against $6 million in the year ago quarter.
With $50 million in GAAP losses and $81 in negative free cash flow, Tesla's forward earnings multiple of 56 is more than just a stretch. I do get Tesla's growth and equity story, but I also believe investors should apply reasonable valuation multiples; and a multiple of 56 is everything but.
Tesla Motors also released its Q2 2014 and full-year guidance which implied, that investors are looking at continued GAAP losses and continued negative free cash flows in 2014 (Source: Tesla Motor's, Inc. - First Quarter 2014 Shareholder Letter):
We expect to deliver about 7,500 Model S vehicles in Q2
as we move toward our goal of more than 35,000 Model
S deliveries for the year. We also plan to produce 8,500
to 9,000 cars in the quarter, representing a 13% to 19%
increase over Q1. Planned production is again higher
than deliveries because of the growing pipeline of in transit
cars to Asia and Europe that have been built-to order
for customers. This includes cars destined for right
hand drive markets. The quarterly gap between
production and deliveries is expected to decline in future
quarters. Battery cell supply will still constrain our
production in Q2 but should improve in Q3.

Q2 operating expenses are expected to grow sequentially by about 30% for R&D and 15% for SG&A. Despite the start of
leasing vehicles, investments in R&D and geographic expansion, we expect to be marginally profitable in Q2 on a non-GAAP basis.

We still plan to invest $650-850 million for the year in capital expenditures for increased production capacity, growth in our store, service center and Supercharger footprints, Model X and S development and start of Gigafactory construction. With all these initiatives, we expect to be slightly free cash flow negative in 2014, before considering the equity required for leasing.
Conclusion
Tesla Motors has not delivered the results, either on an earnings, adjusted earnings or free cash flow basis, that would justify Tesla's current equity valuation. In addition to unconvincing first quarter financials, Tesla also faces other short-term headwinds, including constrained battery cell supply which is expected to affect second quarter production and, of course, Missouri's anti-Tesla legislation.
I think the correction in Tesla's share price was a welcome reality check for investors and highlighted that the share price has run way ahead of its fundamentals. Tesla remains a good short.
Disclosure: I am short TSLA. I wrote this article myself, and it expresses my own opinions. I am not receiving compensation for it (other than from Seeking Alpha). I have no business relationship with any company whose stock is mentioned in this article.