Trading for twelve cents a share at the beginning of 2009, Sirius XM (NASDAQ:SIRI) has come a long way in the last five years. Overall the stock is worth about 26 times more than it did back then. As illustrated in the chart below, the stock has returned an average of 133% annually between 2009 and 2013.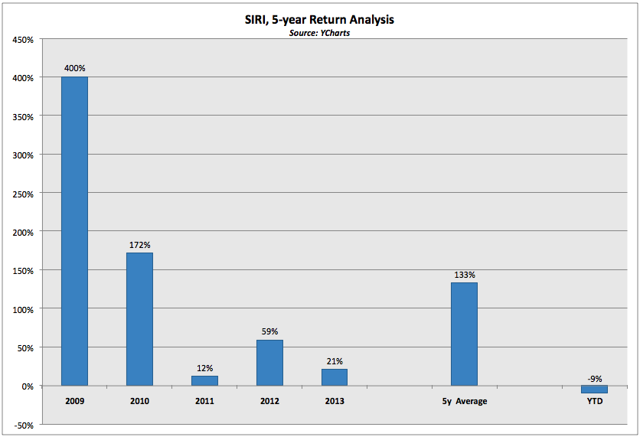 Click to enlarge
Growing at such a staggering rate, the stock has barely corrected once in all those years until the recent correction that started late last year. With a strong track record for performance and statistics pointing to further growth, I believe the stock can double once more in the near term.
Differentiated from competition
The New York-based satellite radio company is the world's largest radio broadcaster by revenue, providing services to 25.8 million subscribers in the United States and Canada. That's about 2.5 times the paid subscribers on Spotify, Pandora (NYSE:P) and Rhapsody put together.
With the objective to deliver content that people want to hear, not only does Sirius XM broadcast, but also develop content on those lines, that includes commercial-free music, comedy, diverse talk programs covering topics such as sports, politics and news, men's and women's lifestyle and more. Over the years, it has transformed the media landscape by offering quality and exclusive content not found anywhere else, helping it differentiate its services from the competition.
Arrangements with automakers and dealers
Since the company's launch over a decade ago, the satellite radio penetration rate as a percentage of new auto sales in the US has increased with each passing year. As a matter of fact, Sirius XM has arrangements with all major automakers for installation of satellite radio in their vehicles, whereby the company usually offers a free three-month subscription to customers buying new cars. These free trial offers will enable the company to entice more customers to their paid subscription.
Apart from new-car market, the company is strategically targeting the used-car market by working in conjunction with thousands of car dealers to roll-out more than 4 million trials to pre-owned car users this year. Additionally, it is also figuring out effective ways to target the women and Hispanic segments of the customer base.
Addressable market is enormous
According to a press release by the company, around 70% of all new vehicles sold in the US are factory installed with Sirius XM radios. Now that's per se an enormous feat, and considering the increasing number of new vehicles - while old ones go out of service - the percentage of vehicles with satellite services would only continue to rise. As new auto sales are forecast to hit 16.2 million this year, Sirius management estimates around 11 million trails of its subscription services.
The increasing rate also suggests that satellite radio is becoming an integral auto component, which would help Sirius XM to maintain perpetual (if not ever-rising) demand for its services in the market. Out of approximately 240 million cars in the US, around 26% or 62 million have satellite radios and the company is hoping to double this figure by 2018.
Poised to dominate the US telematics market
Last August, Sirius XM acquired the connected vehicle services business of Agero for $530 million. The connected vehicle unit of Agero is the dominant provider of revolutionary telematics services, offering safety, security and convenience services for drivers and end-to-end, turnkey solutions for carmakers.
The company's management believes telematics and connected vehicle solutions are key elements in the future of the auto industry. With this acquisition, Sirius XM is poised to take a lead in the US market for 'connected cars.' According to a report by Evercore Partners, an independent investment banking advisory firm, Sirius XM could reach 50% of a $30 billion telematics market within a decade. Thus, not only enabling it to push new telematics-based media services, but also draw millions of more subscribers to its satellite radio channels.
With Agero, Sirius XM has also smartly responded to swelling competition from internet-based services like Pandora, Spotify, etc. The service powers your car's dashboard with smartphone-like features, allowing apps like Pandora to run within it and, in doing so, it clearly becomes a more valuable platform.
Unequivocally, the deal means an added revenue stream for Sirius XM, but it would also further improve the company's relations with automakers. Taking a leaf from telecom and cable providers' book, it can bundle-up services that would help strengthen its core business as well as improve its revenue mix.
Rapid growth supported by robust fundamentals
Sirius XM added 266,799 (net) subscribers in the first quarter of 2014. The total paid subscriber base climbed 6%, to a record 25.8 million, from the year-ago period. In particular, self-pay subscriber additions were 173,480, while the self-pay subscriber base grew 7%, to 21.3 million, from the prior-year period.
In the quarter, the company reported revenue of $998 million, up 11% from first quarter of 2013. Consequently, the company grew its revenue at a double-digit rate for the ninth-straight quarter, which indicates the strength of its business model. Net income stood at $94 million (or $0.02 per share), while adjusted EBITDA grew 28% to record $335 million during the quarter.
Moreover, owing to a subscription-based business model, the company has more predictable cash flows. Its free cash flow increased 56% to a first quarter record of $223 million.
As actual numbers beat analysts' expectations for revenue and earnings, the management reaffirmed its previously issued guidance for 2014, i.e. 1.25 million of net subscriber additions, $4.0 billion in revenue, $1.38 billion in EBITDA (adjusted), and $1.1 billion in free cash flow. While a dividend announcement could be just around the corner, the improved cash flows will definitely aid its $1.7 billion share repurchase program.
Bottom line
Despite a significant correction in share price in recent months, Sirius XM is a differentiated giant in satellite radio and telematics markets with strong fundamentals and all the makings of a long-term winner. If anything, this recent pullback should be seen as an opportunity to buy (or buy more) of this stock.
Disclosure: I have no positions in any stocks mentioned, and no plans to initiate any positions within the next 72 hours. I wrote this article myself, and it expresses my own opinions. I am not receiving compensation for it (other than from Seeking Alpha). I have no business relationship with any company whose stock is mentioned in this article.