The growth of production in the Permian Basin is continuing to run according to the plans of the major operators in each respective basin - Midland, Delaware and even the Central Basin. The prolific Midland Basin's Spraberry/Wolfcamp field has new reserve estimates of 75 billion barrels of oil equivalent recoverable from 50 billion in 2013. The second-largest field in the world got bigger. And more oil and gas firms from independents such as Apache (NYSE:APA) and Occidental Petroleum (NYSE:OXY) to majors like Chevron (NYSE:CVX) have claimed the Permian Basin as a strategic center piece of future oil production.
Pioneer Natural Resources (NYSE:PXD) plans to spend approximately $2.4 billion in the Midland Basin drilling the northern and southern parts of its 825,000 acres. Over $2.1 billion will be spent on drilling the northern Spraberry/Wolfcamp area, spending nearly three times the amount on horizontal over vertical programs. Pioneer plans to spend $545 million in the Eagle Ford. Importantly, in 2013, production ran 161,000 boe p/d, with 63% liquids. That production is projected to double, comprising approximately 75% liquids. The second half of 2014 is expected to see 195,000-210,000 boe/pd. The second half of 2014 sets the stage for 2015-2016 as the stair-step production is depicted in the following chart.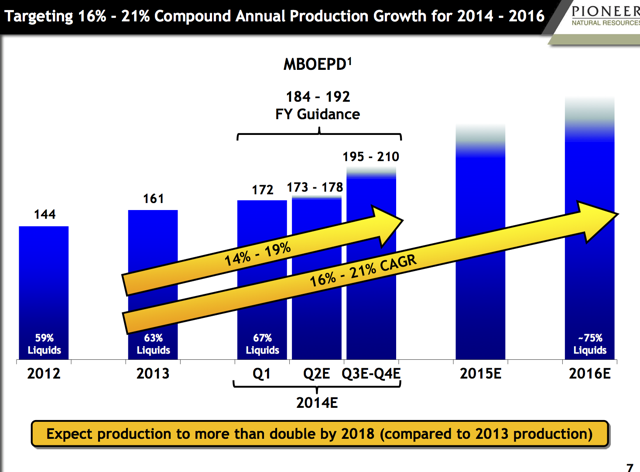 Pioneer met production expectations in the first quarter of 2014. According to CEO Sheffield, "The key driver again is the northern Spraberry/Wolfcamp, or if you remember we're at 5 rigs a year in 2013, added 11 rigs all during the first quarter and we have 16 rigs up in running, drilling mostly three-well pads." Interestingly, Pioneer extended its Atlas gas processing agreement (27% ownership) of several plants in Spraberry/Wolfcamp area for 10 years to 2032 to ensure long-term capacity due to expected continued drilling. The company expects new and additional gas processing plants for 200 mmcfd (million cubic feet per day) to be needed every year as horizontal drilling ramps up. Pioneer is vertically integrated, and it is mindful of its production value chain. Pioneer expects to "add at least five plus rigs per year in a strict price environment and in a $95 all-flat environment will be adding 10 plus rigs per year long term."
It notes in the earnings call that Lower Spraberry wells have increased from 750,000 to 1 million barrels of oil equivalent EURs (estimated ultimate recoveries), with returns roughly 45% at the low end to 100%-plus on the high end. The company cites a continuation of these returns on the Wolfcamp A, B and D wells. The results are, therefore, increasing its activity in "the Lower Spraberry shale up from roughly 10% closer to 15% for the rest of the year." Pioneer notes that it has 20,000 locations in the "largest field in North America" - the Spraberry/Wolfcamp. (Gosh, I never get tired of emphasizing that.) In the Eagle Ford, its change from a two-string well design to three-string will yield a further $750,000 to $1 million in savings per well.
Over a one-year time frame, results from Pioneer's first six wells from Wolfcamp A and B have proven consistent and predictable: about one million boe for Wolfcamp B and about 800,000 boe from Wolfcamp A in Midland County and Wolfcamp B in Martin County.
In Midland, Martin and Andrews counties, Pioneer's Wolfcamp D (Cline Shale wells) results are indicating 650,000 to 800,000 EURs, at 7,000-foot laterals, over a three-quarter year time frame. Longer laterals in Midland County have yielded EURs at the higher end of the spectrum.
A notable update is the production results of the Lower Spraberry interval. For 7,000-foot laterals, EURs are running from 575,000 boe to 1 million boe, but now closer to the top end of the range. And Spraberry wells have a higher oil content, more in the 80 percentile ranges. A first Middle Spraberry well, with 4,000-foot ranges laterals (Midland county), and a Jo Mills shale well are tracking general Lower Spraberry-type curves thus far.
In the Northern Spraberry, Pioneer plans to drill 140 horizontal wells in 2014. Well costs are expected to range between $8.5 million to 9 million, which includes sciences costs. Two hundred vertical wells are planned for 2014 to fulfill drilling obligations. The year of 2014 becomes the year of development for Pioneer versus 2013, which is characterized more as an appraisal year. In the Southern Wolfcamp area, with its joint venture partner Sinopec, it plans 115 wells at a cost of $8 million per horizontal well. With a history of two years from early horizontal Wolfcamp B wells, the Giddings wells of Upton county, the EURs are estimated at 725,000 boe (for a 5,300' lateral, which equates to an average of 950,000 for 7,000' laterals).
In the Eagle Ford, production increases 18-29% from 2013 production of 38,000 boe/d. And as stated in an earlier article, its optimization of completion techniques is yielding a 20-30% increase in EURs, with minimal additional costs. Overall, Pioneer's reserve replacement ratio was 211% in 2013.
Beyond the charts and numbers, the growth in the Permian Basin is reflected in the comments of executive Tim Dove:
"Third-party growth in the Spraberry/Wolfcamp at over 250 rigs in the conversion from vertical to horizontal (in the) Wolfcamp is occurring much faster than expected over the last 12 months and continued to accelerate."
The combination of Pioneer's growth, other operators, and new IPOs that have allowed the switch to horizontal from vertical drilling is driving the need for gas processing from earlier estimates of 18 months to every 12 months. Drilling could accelerate "to the point where we may need a plant every 9 to 10 months at a point in time."
Additionally, a new water company has been created within Pioneer, charged with procuring and recycling water resources and minimizing the use of fresh water. In conditions of drought, operators need to find ways to secure water resources and innovate in the use of water recycling and using brackish water.
The following chart shows the impressive growth in the Permian and the respective plays across the U.S.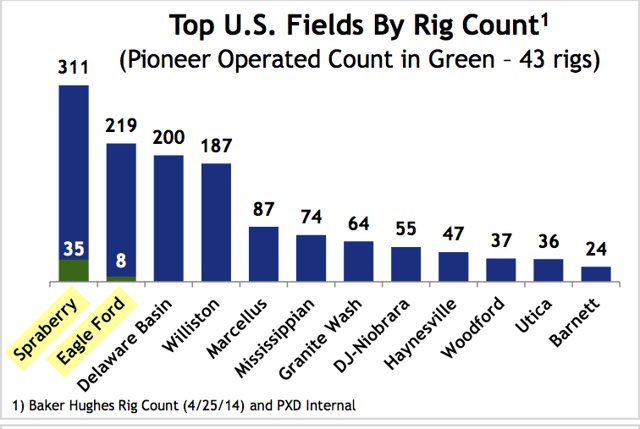 The other phenomenon is the ascendancy of stock price for Permian-weighted firms: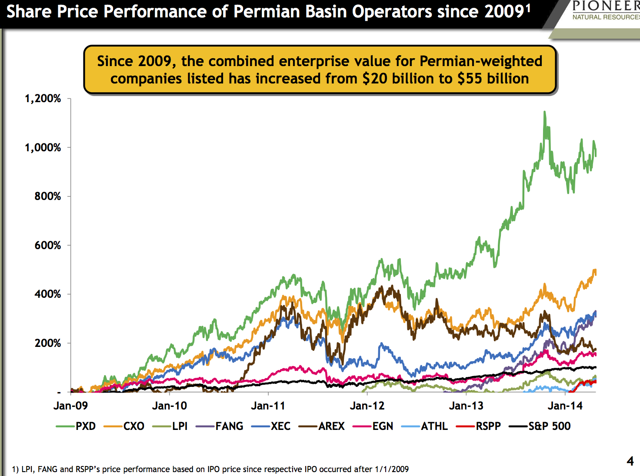 Obviously, Pioneer has received the most investor goodwill. While mad shale skills, best-in-class acreage and solid management have played their role, Pioneer's transparency and education about the Permian has helped its own valuation and that of other firms as well.
Pioneer's results serve as a very good proxy for other firms' well results. However, Pioneer has concentrated acreage in the Midland. Thus, results for firms with production in the Delaware Basin alongside the Midland will be more nuanced for firms such as Occidental, Concho Resources (NYSE:CXO) and Energen (NYSE:EGN).
Disclosure: I am long APA. I wrote this article myself, and it expresses my own opinions. I am not receiving compensation for it (other than from Seeking Alpha). I have no business relationship with any company whose stock is mentioned in this article.