By Bradley Krom
As much as I loathe the painfully pervasive phrase "Sell in May and go away" this time of year, it doesn't appear as though the financial press is going to let it fade into the background anytime soon. Instead of trying to search for causes or explain potentially seasonal anomalies with logic, I decided to focus this discussion on a market that hasn't been getting nearly the amount of press it deserves. With more investors finally taking note of the sometimes significant impact that currency can have on their portfolios' total returns, I sought to look at how the dollar has fared against other major currencies during the month of May over the last 10 years.
As I show in the simple table below, the U.S. dollar has had a fairly strong track record during the month of May. With geopolitical risk continuing to bubble and market pundits continuing to debate valuations across markets, going long the dollar against a basket of foreign currencies could be a straightforward approach to hedging market uncertainty over the next month.
Historical U.S. Dollar Performance during the Month of May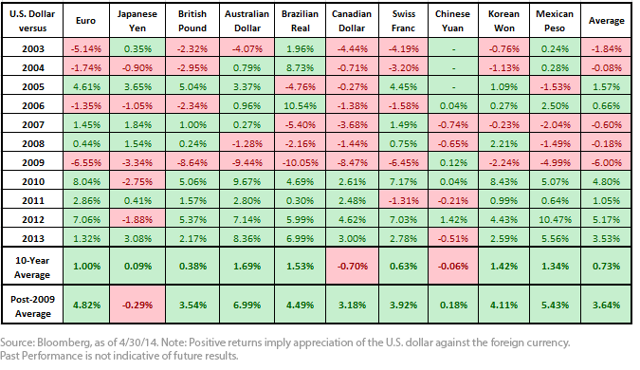 Click to enlarge
Last Four Years Explained
Since the market lows in 2009, the dollar has shown broad-based strength against major foreign currencies during the month of May. On May 22, 2013, then-Federal Reserve (Fed) chairman Ben Bernanke hinted that the Fed was considering tapering. In May 2012, the solvency of the eurozone continued to be called into question, leading up to Mario Draghi's "whatever it takes" speech in July. In May 2011, the U.S. government had just avoided a shutdown. In Greece, protesters were taking to the streets to voice their opposition to European Union-imposed austerity measures as a condition for the second tranche of bailout funds. The first bailout occurred in May 2010. In all these instances, the dollar tended to benefit during these uncertain market environments, which coincidentally occurred in May.
What about the Yen?
When thinking about the U.S. dollar as a potential beneficiary during risk-off markets, another traditional safe-haven currency has historically been the Japanese yen. In light of recent changes in Japanese government policy, I believe that many investors are beginning to question the logic of the yen as a risk-off currency when the government appears to be committed to weakening it to increase competitiveness. Going forward, I believe the dollar will continue to benefit when investors are concerned about potential turning points in markets.
In conclusion, the impact of seasonal effects in May seem to garner investors' attention, which can lead to declines in prices or market volatility. Until now, investors have generally tended to focus on the impact on stocks and bonds. As investors continue to focus on the role that currency plays in their portfolios, they should increasingly consider the merits of long dollar strategies and currency-hedged equity strategies as one way to reduce the impact of movements in foreign currency against the U.S. dollar.
Important Risks Related to this Article
Investments in currency involve additional special risks, such as credit risk and interest rate fluctuations. Investments in derivative investments can be volatile, may be less liquid than securities and may be more sensitive to the effect of varied economic conditions.
Foreign investing involves special risks, such as risk of loss from currency fluctuation or political or economic uncertainty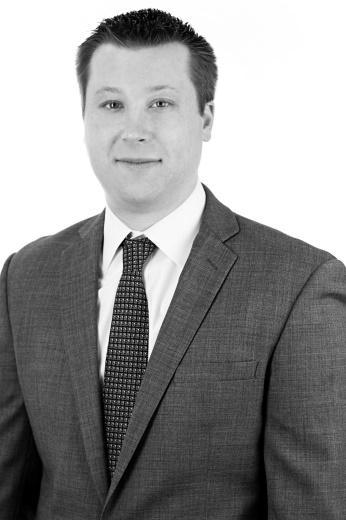 Bradley Krom, Research Analyst
Bradley Krom joined WisdomTree as a member of the Fixed Income and Currency team in December 2010. He is involved in creating and communicating WisdomTree's thoughts on currency and fixed income markets, as well as analyzing existing and new fund strategies. Prior to joining WisdomTree, Bradley served as a senior trader on a proprietary trading desk at TransMarket Group.