Blue chip large cap stocks have outperformed the market so far in 2014 as investors have abandoned the high momentum stocks & sectors that drove the market so much higher in 2013. Despite the nice rally in "risk on" names to start the trading week today, I think this trend has some room to run.
Most of my "dry powder" has been allocated to dividend stocks with reasonable valuations, large cap blue chips, growth plays at a reasonable price as well as a decent amount of cash so far in 2014. I see this investment strategy continuing to be implemented while the markets consolidate their over 30% returns in 2013 and investors get some better clarity on the direction of the global economy.
One of these blue chip companies I added last week was Goldman Sachs (NYSE:GS). The stock is offering an attractive entry point after declining more than 10% from the start of the year on news the New York Attorney General is investigating Goldman's high-frequency trading operations and the SEC is looking into the hiring practices of the big banks in Asia.
Increased scrutiny from new regulations and more focused regulators are part of the landscape in the aftermath of the financial crisis. However, it is hard not to imagine Goldman continuing to be a major player in its core competencies of underwriting and trading as well as offering custodial services and investment/M&A advice. It should benefit as weaker players abandon the field in some of these areas.
As importantly, the shares are quite cheap here. The stock goes for 10x forward earnings when the overall market is going for ~16x forward earnings. Consensus earnings estimates have also moved up nicely for FY2014 & FY2015 over the past month and the company has easily beat earnings expectations for four straight quarters.
In addition, the stock posted a higher low after hitting a six-month low of ~$153 a share recently, which could be a sign it is building a technical bottom.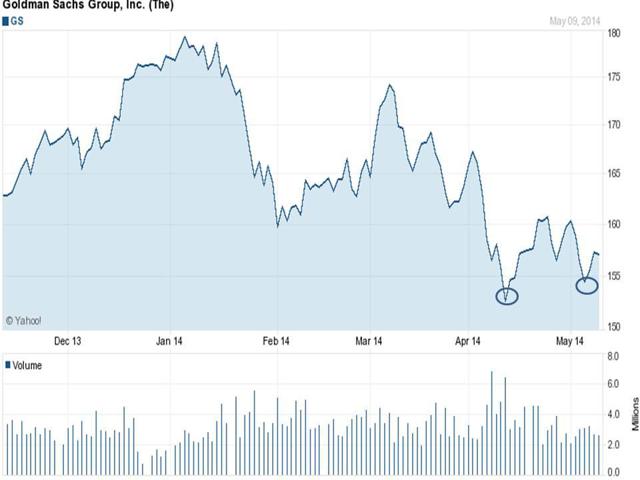 I believe that once Goldman gets past these latest regulatory hiccups, the stock could trade back up to 12x forward earnings, which would still be a 25% discount to the overall market and in line with the current valuation of competitor Morgan Stanley (NYSE:MS). This would represent 20% upside from current levels. The stock also pays a 1.4% dividend yield. BUY
Disclosure: I am long GS. I wrote this article myself, and it expresses my own opinions. I am not receiving compensation for it (other than from Seeking Alpha). I have no business relationship with any company whose stock is mentioned in this article.