When last week's market action triggered the so-called Hindenburg Omen, we initially refrained from commenting on it because valid or not, it is just not an indicator that we actively follow. Also, judging by the deluge of commentary we saw on the indicator, it appeared that there were many others out there who were much more knowledgeable on the subject. That being said, there is one aspect of this indicator that hasn't been discussed that we think should be.
Below we outline the five criteria (taken from Zero Hedge) that need to be satisfied in order for the indicator to be triggered. They are:
That the daily number of NYSE new 52-Week Highs and the daily number of new 52-Week Lows must both be greater than 2.2% of total NYSE issues traded that day.
That the smaller of these numbers is greater than or equal to 69 (68.772 is 2.2% of 3126). This is not a rule but more like a checksum. This condition is a function of the 2.2% of the total issues.
That the NYSE 10-Week moving average is rising.
That the McClellan Oscillator is negative on that same day.
That new 52-Week Highs cannot be more than twice the new 52-Week Lows (however it is fine for new 52-Week Lows to be more than double new 52-Week Highs). This condition is absolutely mandatory.
The part of the indicator that we take issue with is the percentage of new 52-week highs and lows on the NYSE. The rationale behind this part of the indicator is that when large numbers of stocks are simultaneously hitting new highs and lows, it is indicative of indecision and confusion in the markets. Ultimately, confusion leads to panic, and panic leads to lower prices. Looking at the list of new highs and lows from last Thursday (8/12), there were 92 stocks (2.9%) that hit new highs and 82 (2.5%) that hit new lows. At face value, the new high/low list on the NYSE satisfied criteria 1,2,and 5.
A closer look at the list of new highs, however, shows that the "stocks" hitting new highs last Thursday were hardly stocks at all. The WSJ provides a list of NYSE listed stocks hitting new highs and new lows on a daily basis, and looking at last Thursday's list of new highs shows that practically all of them were closed-end fixed income securities, preferred stocks, or some other form of fixed income product masquerading as an equity. In fact, of the 92 issues that hit new highs on Thursday (8/12), less than ten were common stocks.
Given that there are so many fixed income products that trade on the NYSE, perhaps a better way to measure the number of new highs is by filtering out all the quasi-equities. One way to accomplish this is by looking only at stocks in the S&P 500. The chart below shows the daily percentage of stocks hitting new highs and lows on a daily basis for the S&P. On 8/12, only 0.2% of the stocks in the S&P 500 hit new highs while 5.6% of the stocks in the index hit new lows. A day when 5.6% of the stocks in the S&P 500 hit new lows is hardly a sign of strength, but it also doesn't reflect the indecision and confusion that the Hindenburg Omen is supposed to convey. Call us crazy, but an indicator that measures the internals of the equity market should probably avoid using fixed income securities in its analysis.
On a side note, the Hindenburg Omen was last triggered in June 2008, and back then the indicator would have been triggered using either the NYSE or the S&P 500. (Click chart to enlarge)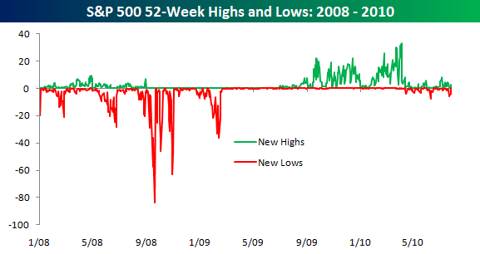 Click to enlarge
Disclosure: None