The 180-day lockup period that began with the November 21, 2013 US IPO of Evogene Ltd. (NYSE:EVGN) will come to a close on May 20, allowing major shareholders in the Israeli plant genomics firm to sell some of their outstanding shares.
These shareholders include Monsanto Company (NYSE:MON) and EVGN's executives and directors. The resulting increase in the supply of EVGN shares available for sale may lead to a temporary fall in the price of EVGN shares, possibly generating a short opportunity for aggressive investors.
Since pricing at $14.75 per share in its November offering, EVGN has primarily fluctuated between $16 per share and $20 per share; EVGN closed at $16.78 per share on May 9th.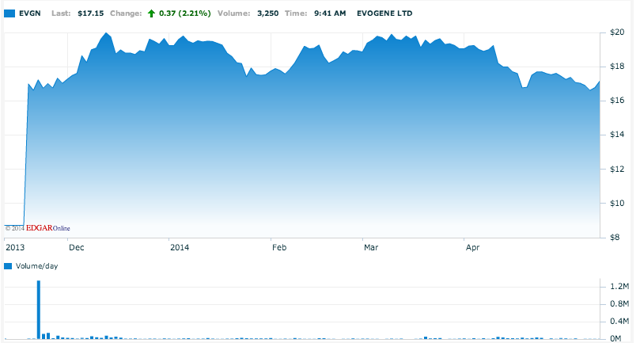 (Nasdaq.com)
Unlocking of ~3.8 Million Shares
The May 20 lockup expiration will free some 3.8 million shares of EVGN to be sold. Monsanto Company holds 2.5 million shares of the firm; most of the other shares to be unlocked are held by EVGN executives and directors.
Executives and directors in particular are likely to unload at least some of their shares, having had no opportunity to diversify away from EVGN or to cash in on their shares since the November offering.
Overview of EVGN
EVGN is a plant genomics firm that seeks to improve the seed traits related to crop productivity and performance through advanced breeding techniques and biotechnology. The firm focuses on essential crops that account for more than seventy percent of the value of the global seed market, including soybean, corn, wheat, cotton, and rice.
See our article on EVGN's initial US offering here.
The firm is also in the process of developing agricultural chemicals and seeds focusing on second generation feedstock for biodiesel, though neither project has yet generated revenue.
EVGN generates revenues through milestone and research payments, and expects to earn royalty revenues in the future. The firm collaborates with seed and agriculture chemical firms such as Monsanto Company, DuPont (NYSE:DD), Bayer AG, and Syngenta AG (NYSE:SYT).
Strong Competitors In Biotech Industry
EVGN competes with biotech firms specializing in plant trait development as well as the internal research departments of seed and agriculture chemical companies. These competitors include firms like DuPont, Syngenta, Monsanto, Bayer, Biogemma, Dow, BASF, Mendel Biotechnology, Hexima, Targeted Growth, and Keygene, many of which have access to greater financial resources than EVGN.
EVGN also competes with academic and agricultural research institutions.
Insiders May Be Looking Forward to The Lockup Expiration
While EVGN has performed perfunctorily post-IPO, the results have still been positive, and it is likely executives and directors will take the opportunity to sell.
We recommend EVGN's lockup as a short opportunity for aggressive investors.
We invite readers wishing to join the discussion on IPO lockup expirations to click the +FOLLOW button above the title of this article.
Disclosure: I am short EVGN. I wrote this article myself, and it expresses my own opinions. I am not receiving compensation for it (other than from Seeking Alpha). I have no business relationship with any company whose stock is mentioned in this article.