Whole Foods' (NASDAQ:WFM) earnings report last week, which we previewed here, was nothing short of ugly. Many of the more pessimistic contributors had it right, and we were most certainly wrong, but after some tax-loss, we kept the majority of our Whole Foods in client accounts.
Quick summary:
1.) WFM's actual EPS and revenues missed by 7% and 1% respectively, indicating that margins were the issue.
2.) All three margins narrowed or fell again in the April '14 quarter, as gross margin fell 74 bps, the operating margin fell 50 bps and the net profit margin fell 37 bps.
3.) WFM management keeps talking about their continued "investment in price", which is biz talk for price cutting, with the resulting anticipation of making it up on volume. (While it sounds like there is a joke in there somewhere, there isn't.)
4.) We saw a plethora of price target reductions on the stock as analysts came out and went negative very quickly on WFM.
So why stick with the stock?
1.) Technicals: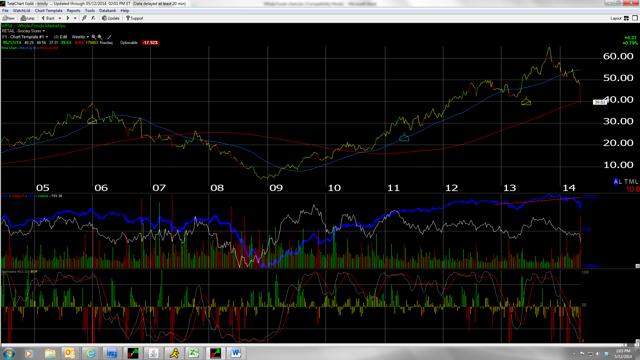 A trade on volume below last week's low of $37, and there is likely more downside ahead for the shares.
2.) After the price decline, WFM is now trading at 10(x) cash flow ex-balance sheet cash.
3.) The retailer is distributing less than 50% of its free cash flow to shareholders, so if the company wanted to boost the share price, with just 1% debt to capital on the balance sheet, WFM could possibly issue debt and do a large share repurchase. Do I expect this? Not really, the sudden emergence of all this competition probably has management feeling that they need to evaluate the market and conserve capital until they have some idea how intense the price competition will be. However, the point is WFM is still generating quite a bit of free cash, and has very little long-term debt on the balance sheet. There are options.
4.) Similar to #2, WFM is now trading at under 1(x) enterprise value to 4-quarter trailing sales, which is usually thought to be fair value for a retailer. It isn't screamingly cheap, but at 10(x) cash-flow and now under 1(x) EV to 4-quarter trailing sales, the valuation metrics are somewhat more appealing.
5.) The most compelling metric we read (and I can't recall the source, either an industry trade manual or an analyst report) but "specialty/organic grocery" is still less than a mid-single-digit percentage of total supermarket grocery sales. The point is, there is still plenty of growth ahead for the niche, albeit at a more competitive pace than the last 10 years.
To conclude, I fully expect Whole Food's stock to be dead money until the November '14 earnings report, when the retailer will start to lap easier comps after late '13's erosion. The stock could have one more lousy earnings report in front of it, which would be the August '14 report.
To repeat, we did some tax-loss selling of WFM, but kept the majority of our shares. It is the dominant brand in the space, the retailer has a very clean balance sheet, the retailer is still free cash flow-positive, and I suspect that all it requires is time.
Disclosure: I am long WFM. I wrote this article myself, and it expresses my own opinions. I am not receiving compensation for it (other than from Seeking Alpha). I have no business relationship with any company whose stock is mentioned in this article.