Energy businesses are funny businesses. If commodity prices are low, investors want to sell their stocks. If a company gets investigated, investors sell the stock. If production growth just slightly disappoints, investors sell the stock. Whatever happened to owning a business/stock, buying more on pullbacks and holding on to the stock for the long term, as opposed to merely renting it?
Everything that leads to lower prices is a reason to throw stocks away nowadays. On the other hand, should a company present good results, investors usually fall over themselves to purchase the stock and bid the price up. I think many investors got it upside down: We would want to purchase stocks when prices are low, and sell them to others when their prices rise.
Chesapeake Energy (NYSE:CHK) is such a company, one that regularly either excites or repels investors. I have regularly recommended Chesapeake Energy in the past and on a variety of occasions: After Mr. Market scoffed at Chesapeake's Q3 2013 results last year, and after the company issued lower-than-expected production guidance in February 2014 -- both situations were Strong Buy opportunities. On both occasions, Chesapeake traded at around $25 a share (see original thesis here and here).
Chesapeake Energy faced a set of positive catalysts last week, which drove the stock price to new 52-week highs; Chesapeake Energy beat earnings estimates for the first-quarter 2014, raised its production forecast and received an upgrade from investment bank UBS, with a target price of $30. In addition, Chesapeake Energy also announced that the U.S. Securities and Exchange Commission has ended its probe of the company, with no enforcement action being taken.
Technical picture
Chesapeake has marked a new 52-week high recently at $29.90, driven by the catalysts described above. The energy business has delivered returns of 45% over the last year, and is up 12% YTD. Chesapeake's stock now sits just below its 52-week high, waiting for new impulses to either edge higher or mark a new resistance area.
Click to enlarge
(Source: Yahoo Finance)
First-quarter results
The energy business delivered a sizable earnings beat with regard to first-quarter earnings. The company reported adjusted earnings per share of $0.59, which compares against analyst estimates of $0.47 and against $0.30 earned in the year-ago quarter -- a yoy improvement of 97%. In terms of revenues, Chesapeake Energy reported total revenues of $5,046 million, which compares against $3,424 million in the year-ago quarter -- an increase of 47%.
It is also noteworthy that Chesapeake Energy has actively scaled back its capital spending, as promised; capital expenditures are down 50% yoy (see below). The company has previously given a capital expenditure guidance for 2014 of $5.2 billion-$5.6 billion, which would represent about a 20% decline from 2013 total capex spending levels (calculated based on midpoint capital expenditures of $5.4 billion in 2014).
Other financial metrics and yoy growth rates for selected line items are depicted in the chart below.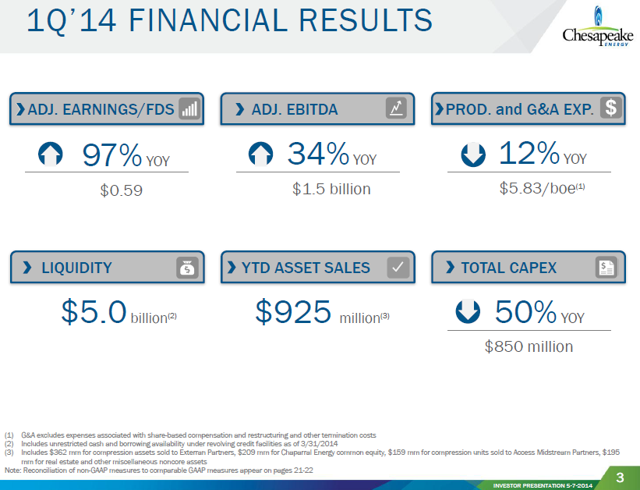 Click to enlarge
(Source: Chesapeake Energy - Investor Presentation May 7, 2014)
Raised production guidance
Chesapeake Energy's stock was punished heavily in February after the company announced expected adjusted production growth of 8%-10% in 2014 (adjusted for asset sales), which apparently threw investors off balance at the time. Chesapeake now expects adjusted production growth for the full year to come in between 9%-12%, consisting of 8%-12% adjusted oil production growth, 4%-6% natural gas production growth and 58%-63% NGL production growth.
Chesapeake Energy's average daily production (adjusted for asset sales) increased 11% yoy to 675 Mboe, with the strongest increase in production coming from NGLs (plus 55% yoy).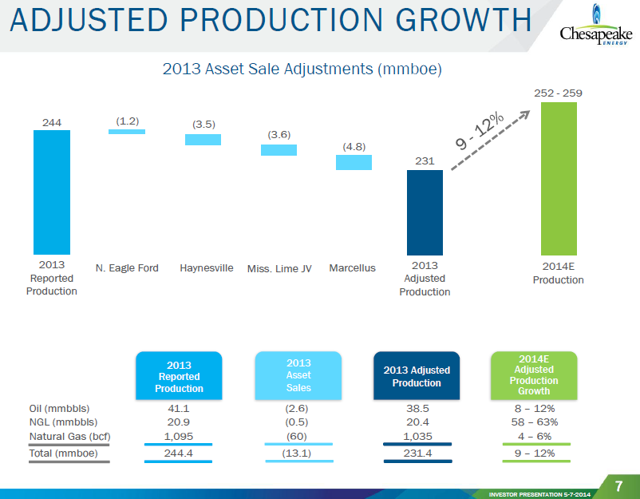 Click to enlarge
(Source: Chesapeake Energy - Investor Presentation May 7, 2014)
Conclusion
Chesapeake Energy is a solid energy business with a vast and attractive shale oil and gas asset footprint in North America. First-quarter results and adjusted production growth guidance have been convincing, and prospective production growth should translate into meaningful cash flow growth going forward. In addition, Chesapeake Energy retains significant surprise potential with regard to production growth.
Though I like Chesapeake's production figures, I remain cautious for the moment, because I really don't like to purchase equity investments near their 52-week highs. Pullbacks in Chesapeake Energy's share price, though, would mark extremely attractive entry opportunities for investors who want to get exposure to a highly promising shale player working through a transformative restructuring. Long-term BUY on pullbacks.
Disclosure: I am long CHK. I wrote this article myself, and it expresses my own opinions. I am not receiving compensation for it (other than from Seeking Alpha). I have no business relationship with any company whose stock is mentioned in this article.