On May 5th 480 million Twitter (NYSE:TWTR) shares were unlocked. Since then the price has dropped significantly as employees and a lot of early stage investors weren't allowed to sell their ownership until last week. The unlock increased the free float significantly, diminishing the value of the stock, even though earnings were strong.
The share unlock doesn't actually have anything to do with business fundamentals, which gives me conviction that investors should look at a lower entry point to buy the stock.
Buy the dip, or swing with the news?
We could debate for weeks, maybe months, as to whether Twitter is a good or bad investment. But for now, I would be a cautious buyer rather than a careless speculator.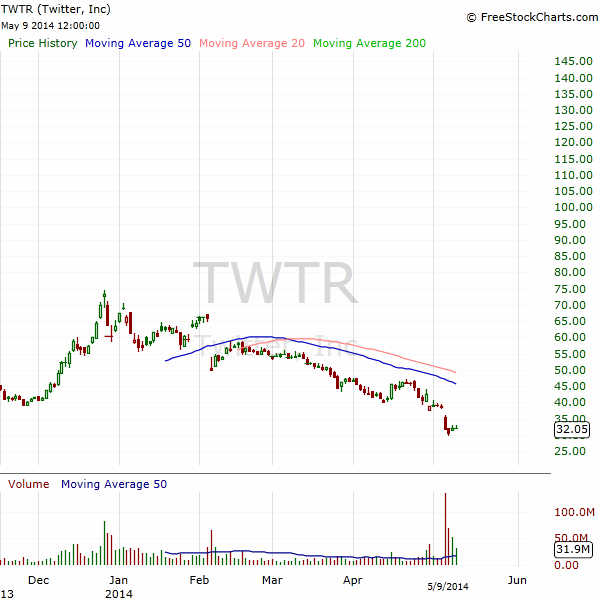 Source: FreeStockCharts
Several months ago, I had to readjust my stance:
As of the close Twitter is trading at $57/share without the share unlock. Factoring in the share unlock, Twitter will trade below $44.46. The result comes by measuring the sudden increase in supply and excludes those who are unlikely to sell stock. The stock could fall even further than this, but I feel that an appropriate entry on the stock would be in the mid-40s.
Unfortunately, mid-40s came and went. The stock fell even further, and while I still find the business fundamentals exciting, the supply and demand overhang could take awhile to clear out.
Stock may eventually recover on prospering ad business
Twitter reported compelling revenue growth for Q1 and to me that's the most important metric to watch for (revenue grew by 119% year-over-year).
Revenue growth is desirable as online media companies have a high conversion rate of revenue to profits. Social media companies have a high breakeven point. But once the company breaks even, the profitability trends higher as variable costs continue to decline. This inverse relationship is what gave Twitter the high valuation to begin with.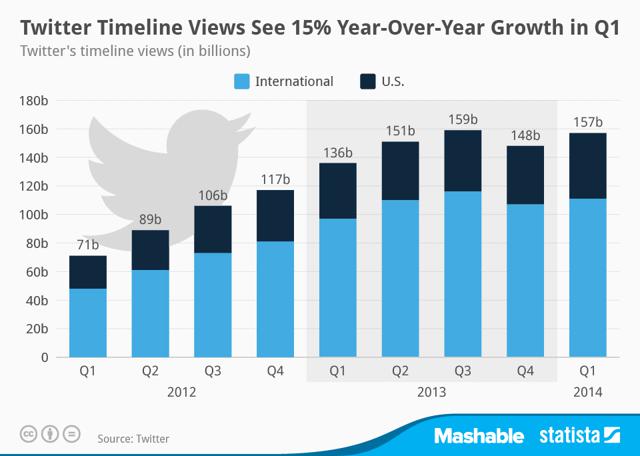 Source: Statista
While some completely disregard the performance of the timeline, it's actually extremely important. The timeline is where the vast majority of users consume content, and it's the best place for advertisers to advertise.
When I review the data points, a 15% improvement in timeline views doesn't sound all that impressive. But when you combine factors like higher advertising engagement (higher click through rates), moderate user growth and increases in the number of ads the combined result is massive ad-revenue growth.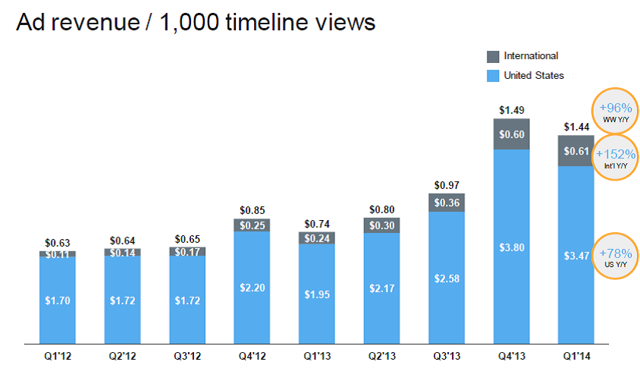 Source: Twitter
Furthermore, Twitter as a platform has broad geographic distribution and has demonstrated high rates of growth outside the United States. As indicated above, worldwide revenue growth was 96% year-over-year during Q1.
So with timeline views growing, plus revenue per thousand timeline views growing, the two combined will equate into abnormally high revenue growth in the foreseeable future.
Analysts anticipate revenue growth to decelerate going into next year but expect profit to grow exponentially over the next five years. I can't argue with the consensus because the net income growth will come from better economies of scale and falling stock-related expenses. Also, revenue deceleration is likely at some point, but I don't expect falling growth rates to have an adverse impact on the valuation of the company.
Currently analysts anticipate 2015 revenue growth to decelerate to 60% year-over-year - that's $2.03 billion in annual revenue. Granted, revenue growth may actually be better than the predicted 60% rate as Twitter has been able to outperform the consensus by a fairly wide margin historically.
Furthermore, the ad-market is massive and is contingent upon what advertisers are willing to bid for an impression. Facebook (NASDAQ:FB) has been able to outperform expectations just through higher pricing, along with higher action rates due to more efficient ads.
However, for Twitter to advertise more, users have to use their feeds more. In that way, the same ad, while having only a certain proportional ratio to tweets, can be displayed more often. So if engagement is up, you can expect that to directly translate into top-line results. If there's better monetization per impression, top line will also improve. If there are more people using the same app, top line will also improve. The three when combined is what leads to this massive multiplier, leaving us with a very broad range as to what future revenues may or may not be.
Conclusion
Yes, I admit, the massive supply overhang from Twitter employees bailing on the stock plus heightening short interest is what's causing Twitter to fall in value.
Between $25 and $35, investors need to give Twitter the benefit of the doubt. The fundamentals are solid. User metrics actually mean something. Maybe the sell-side is wrong, but I highly doubt it. I think it's safe to be a long-term bull.
Disclosure: I have no positions in any stocks mentioned, and no plans to initiate any positions within the next 72 hours. I wrote this article myself, and it expresses my own opinions. I am not receiving compensation for it (other than from Seeking Alpha). I have no business relationship with any company whose stock is mentioned in this article.