2013 was a challenging year for Potash Corp. (NYSE:POT). Its share price decreased more than 20% last year, from $41.31 per share to more than $33 per share. Besides this, the company also reported a decline in its top and bottom lines. Year-to-date, the stock surged more than 9% to $36.04 per share.
Potash Corp. operates in the agricultural chemicals industry. The industry depends on one key factor: food demand. Food demand is generally tied to the global population. The world population is expected to reach 9.1 billion in 2050. This population growth has two effects on the industry: one, a higher population obviously means more demand for food, and, two, a higher population means expanding cities to accommodate more individuals. As cities expand, arable land decreases, forcing farmers to become more efficient. This has a direct result on the demand for quality fertilizer, which the company provides. According to a forecast, food production must rise 70% by 2050 to meet accelerating needs for food, and 50% of food production can be attributed to fertilizer use. Since using fertilizer is vital to modern agriculture, Potash Corp. will have an increasing customer base for years to come.
Potash Corp. manufactures the globe's three most popular chemical-based fertilizers: potash, phosphate, and nitrogen. These fertilizers play a critical role in the production of agriculture, animal feed, and industrialized chemicals. The company's competitive advantages come from strategic advantages in the production of potash [K], higher-quality phosphate rock [P], and low-cost natural gas contracts in nitrogen products [N]. In order to produce quality foods, plants need an optimum amount of all three nutrients N, P, and K (usually with a ratio of N:P:K = 2:1:1) for maximum yield. Fertilizer must be applied every year, due to continual leaching of nutrients during harvesting periods. If farmers defer purchases one year, they need to apply even more fertilizer the next year to deliver the same yield. These factors lead to stable and continuous revenue streams for the company.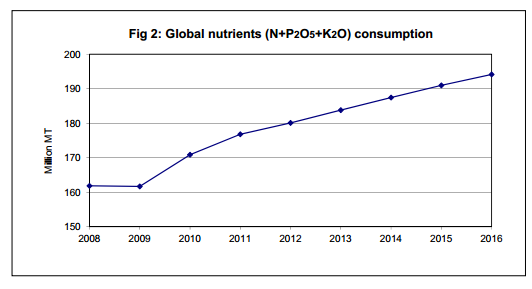 Source: The Food and Agriculture Organization [FAO]
According to the FAO forecast, global fertilizer nutrient consumption will increase from 176.8 million tonnes in 2011 to 194.1 million tonnes by the end of 2016. Global potash demand is expected to hit a 10-year high in 2014 to 58 million tons-60 million tons. As the largest fertilizer company in the world by capacity, Potash Corp. will certainly benefit from increasing demand. Historically, the company has always invested in its raw materials resources whenever opportunities arise. Currently, Potash Corp. finds itself as the fertilizer company with the highest capacity for potash; it has six potash mines available to supply the growing global population. Through its huge reserves, Potash Corp. will meet the growing market demand of potash for years to come. Additionally, its past investment will allow it to meet this demand with less expense than its competitors.
Profitability of Potash Corp. depends heavily on the price of potash. The current price of potash is $287/tonne, decreased from nearly $380/tonne in May 2013. Decrease in the price was largely due to the breakup between Uralkali and Belaruskali in mid-2013. There is a possibility that Uralkali and Belaruskali will resume their partnership soon, as a result, potash price will rise substantially. According to Goldman Sachs' forecast, potash price will average $318 a tonne this year. The company's current operating cost is $110, and it expects that the cost will decrease between $15 to $20 per ton this year, and $20 to $30 per ton by 2016. Increase in price and decrease in operating costs means there will be some improvement in the company's bottom line this year. Analysts are expecting that the company will report revenue of $6.17 billion this year and $6.54 billion next year. EPS is estimated to be $1.68 and $2.06 in 2014 and 2015, respectively.
Despite challenges in the last two years, Potash Corp. is still financially sound, which reflects that it has the ability to weather any storm in the industry. Between 2011 and 2013, its cash and cash equivalent figure has increased from $430 million to $628 million. Due its strong financial position, the company has the ability to pay dividends for the years to come. Potash Corp. has increased its dividend for three consecutive years in a row. From 2011 to 2013, its dividends have grown more than 400%. The company has been named as a Top 25 dividend stock.
Bottom Line
The future of Potash Corp. seems promising. In the long run, demand for fertilizers will increase. This is especially true for developing markets such as Asia and Latin America. Fertilizer use is vital in these markets, because of increasing population and limited agricultural land supply. The stock is also attractive for dividend investors. In my opinion, Potash Corp. is an attractive investment for long-term investors.
Disclosure: I have no positions in any stocks mentioned, and no plans to initiate any positions within the next 72 hours. I wrote this article myself, and it expresses my own opinions. I am not receiving compensation for it (other than from Seeking Alpha). I have no business relationship with any company whose stock is mentioned in this article.