Renewable Energy Group Inc. (NASDAQ:REGI) "Renewable Energy" is the largest producer of biodiesel in the United States with a nameplate capacity of 257 million gallons of biodiesel. Through a series of acquisitions the company has been able to build a portfolio of 12 biodiesel Refineries (Biorefineries) located across the Central and Eastern portions of the United States. The company's acquisition strategy has been to buy Biorefineries that use a single feedstock, usually virgin soy bean oil, and convert them to be capable of using multiple feedstock's. This upgrade to multiple feedstock's provides the company flexibility and reduces its exposure to soy bean oil prices. This strategy of acquiring and upgrading existing Biorefineries has made Renewable Energy the low cost producer in the Biodiesel industry. A great summary of the company and its prospects can be found here. I believe that most of the major issues are addressed in this article other than a detailed valuation of the company. This article will focus purely on the valuation of Renewable Energy Group.
To understand the valuation you first must understand biodiesel production and the Government Incentives that drive the biodiesel industry. The key drivers of Renewable Energy's profitability and in turn valuation are the gross margin, the production capacity, and the Government Incentives tied to production and sales of biodiesel.
Facilities (Production Capacity)
Renewable Energy Group currently operates 5 facilities with flexible feedstocks (better margins) with a nameplate capacity of 180 MMgy (Millions of gallons per year) and 3 facilities that use refined feedstocks (worse margins) with a nameplate capacity of 77 MMgy. They are also in the process of upgrading or constructing 4 facilities, which will all use flexible feedstocks with a nameplate capacity of 150 MMgy.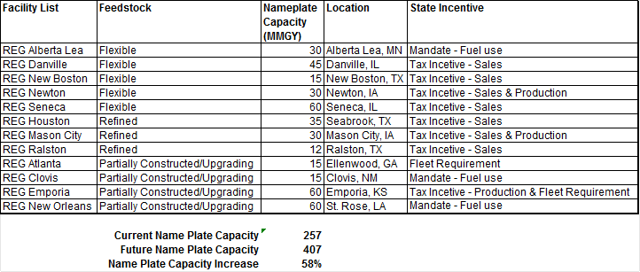 Click to enlarge
As you can see in the above table their production capacity will increase by 58% once construction is completed at the four facilities (likely in early to mid 2015) that are currently under construction. This increased production will come online over the next 2 years with other biodiesel facilities being added through acquisition along the way.
Renewable Energy actually produces less than the nameplate capacity on average, but it did show it could produce close to nameplate capacity in Q4 of 2013. It produced 65.9 million gallons of biodiesel in the 4th quarter, or a run rate of 263.6 MMgy slightly above its nameplate capacity. This level of production is not to be expected going forward as running production rates above capacity for long periods of time is very unrealistic in refining. I think you can expect the company to run at about 85-90 % of nameplate capacity going forward. This Utilization rate is slightly below that of a typical for oil and gas refinery, largely because Biodiesel refineries have high feedstock risks. As Renewable Energy move more production away from refined (Virgin Soy Bean Oil) towards flexible fuels (Used Cooking Oil, Inedible Animal Fats, Inedible Corn Oil) their gross margins will be positively impacted.
Why do Production levels matter over the long run? Production levels are directly tied to the amount of Government Incentives Renewable Energy receives for producing and selling biodiesel. Although the company will likely make very small if any gross margins on their biodiesel production and sales, the government incentives are almost purely profit for the company. The higher the production and sale the higher the amount of Government Incentives Renewable Energy will collect. This is how the upcoming production increases will benefit the company.
Government Incentives
There are three types of Government incentives that Renewable Energy receives for producing and selling biodiesel; RINs which they sell to other Refiners, Blender Tax Credits, and State Incentives. The rules and regulations behind these incentives are very complicated, ever changing, and often lacking any long term certainty. I believe this is one of the main reasons investors have been skeptical investing in the biodiesel industry.
RINS (Low to High Value, High Volatility): (RINs explained here). RINs are generated on a per gallon basis when of biodiesel is produced. They are then sold to Oil Refiners in order for those Refiners to meet their own requirements from the Renewable Fuel Standards (RFS or RFS2). The price of RINs is constantly changing with many factors including the yearly Renewable Volume Obligations (RVOs), weather, corn prices (ethanol generates certain RINs) and other market dynamics. The value of RINs is a significant portion to the value of a gallon of biodiesel ranging from 9% to 36% (From Renewable Energy 10-K) of the value depending on the price fetched in the market in the last 3 years. If the price of RINs increases back to 2013 levels that will have a positive effect on margins and net income.
Blender Tax Credits (BTC)(High Value, High Uncertainty): "The Blenders Tax Credits are paid provides a $1.00 per gallon excise tax credit to the first blender of biodiesel with at least 0.1% petroleum-based diesel fuel. The blenders tax credit can then be credited against such blenders federal excise tax liability or the blender can obtain a cash refund from the United States Treasury for the value of the credit." (From 10-K) The Blenders Tax Credits seem to continually laps and then are retroactively are reinstated for previous years once congress gets around passing a bill with it earmarked. Currently the Blender Tax Credit extension has been proposed by Senators Grassley and Cantwell in the Biodiesel Tax Reform and Extension Act. If/when that or other legislation to extend the Blender Tax Credit gets passed it will contribute significantly to Renewable Energy's net income.
State Incentives (Low Value, Low Uncertainty): Incentives for biodiesel vary by state (see above table) but they tend to be supportive of biodiesel production over the long term. The great part about State Incentives is that you can actually count on them year over year. This is because states usually do a better job of putting in long term programs rather than the year by year extensions that have become commonplace in the Federal Government.
Margins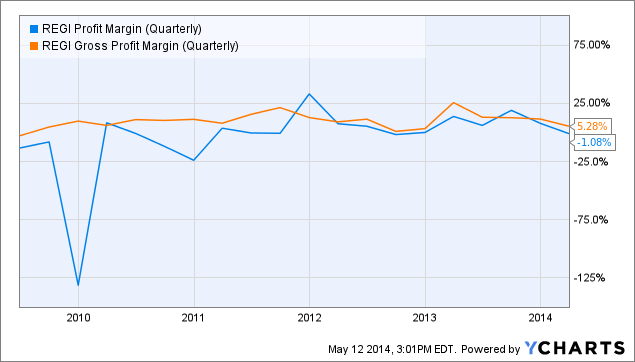 REGI Profit Margin (Quarterly) data by YCharts
As you can see Net Income of Renewable Energy jumps around significantly and this is largely based on when/if the Blender Tax Credits are approved/applied and how high RINs prices are. Unfortunately Renewable Energy does not disclose each Government Incentive separately (they include RIN sales in Revenue & combine State and Federal Government Incentives) in their filings and pulling them out is not easy (or possible for most years). Due to the way the Blender's Tax credit was approved in 2013 retroactively for 2012, they did have to restate their financials for 2012, which allows us to at least see how marings are impacted by the Blenders Tax Credit. From this you see that $57.5m was received in 2013 for the 2012 Blenders Tax Credit. This is roughly 5.7% increase to the 2012 revenues, which is significant and translates directly into gross margin as there is not cost associated with it. State Incentives for 2012 are possible to pull out at $8.3m (0.8% margin impact), but those incentives have increased in 2013 comparatively. My conclusion from my analysis is that the Blender's Tax Credit has a 5.5% margin impact, State Incentives have a 1% margin impact, and RINS is unknown and volatile but embedded in the revenue.
With this in mind you can make some assumptions around the profit margin before Government Incentives, which are razor thin depending on the year.
Valuation:
Knowing the Margin Story, the Production Trajectory, and the Government Incentives we can now finally create a valuation. In order to gain a total understanding of the companies valuation I modeled it first without the Blenders Tax Credit and then with the BTC.
Assumptions:
Long Term Margins are increasing due to flexible fuel initiatives (3% - 5% increase over next 2 years)
13-15% gross margins with Blenders Tax Credit, 7.5% - 9.5% gross margins without Blenders Tax credit
Production Additions in the current pipeline will be complete in 2015
RINs pricing over last 3 years will be average going forward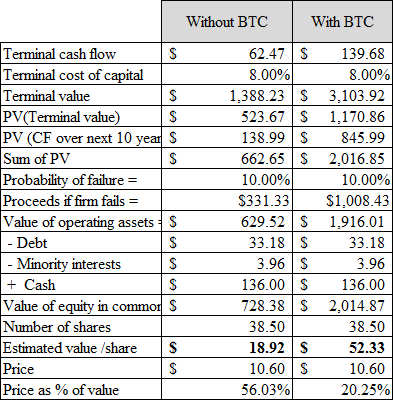 As you can see the value of the BTC is massive in the overall valuation, but even without the BTC the stock is still largely undervalued. This valuation also excludes any impact from the newly created Life Sciences division through the acquisition of LS9, which I think could be worth $5 a share 3 years out.
Summary
Renewable Energy had a record year last year in terms of revenue, earnings, and production volumes on the back of high RIN prices and a renewed Blenders Tax Credit. Renewable Energy has traded down early in 2014 due to uncertain 2014 Renewable Volume Obligations (RVOs) which drive the demand for biodiesel and RINs pricing as well as an uncertain future for the BTC. This short term uncertainty will likely be resolved this summer and has presented an opportunity to buy a sustainable long term business at a substantial discount to its intrinsic value. Renewable Energy trades at a Forward P/E of 10, a P/B of 0.7, and a P/FCF of 4.34. Under the most conservative assumptions I believe that Renewable Energy's intrinsic value is $19 a share or ~79% higher than where it currently trades around $10.6. There are significant upside catalysts if the BTC is renewed or the Life Sciences division is successful.
Disclosure: I am long REGI. I wrote this article myself, and it expresses my own opinions. I am not receiving compensation for it (other than from Seeking Alpha). I have no business relationship with any company whose stock is mentioned in this article.