By Jeremy Schwartz, CFA®, Director of Research & Christopher Gannatti, CFA®, Associate Director of Research
Recently, European markets have performed strongly, with investors focusing on the economic recovery that has been building momentum. It is becoming difficult to remember that a few short years ago there was widespread debate about whether the European Monetary Union (EMU) would continue to exist.
WisdomTree thinks it is important to remember that Europe represents a large share of the global equity markets. On a market capitalization basis, developed Europe makes up approximately 26% of the global opportunity set. At $345 billion of dividends paid as of May 31, 2013, over 31% of global dividends came from Europe, which was greater than the sum paid by firms in the United States.
The Opportunity: While the United States is setting new highs for its Dividend Stream®, Europe's earnings and dividends-similar to the general European economy-are still catching up to their highs set prior to the 2008-09 global financial crisis. Europe needs dividends to grow at least 37% more before the aggregate dividends from these firms reach their 2008 level.

If the European economic and earnings recovery continues, this has the potential to bode particularly well for the prospects of European dividend growth. WisdomTree thus believes the time is ripe to apply its proprietary dividend growth methodology to a universe of European stocks.
Introducing The WisdomTree Europe Dividend Growth Index
The universe of eligible companies begins with the European countries in the WisdomTree DEFA Index. The European dividend- paying segment included 916 investable dividend payers as of January 31, 2014. Then, the following screening criteria were applied:
+ Minimum market capitalization of $1.0 billion
+ Dividend coverage ratio greater than 1.0x
+ The Index includes the 300 companies with the best combined rank of growth and quality factors from this universe:
Growth Ranking 50%: Derived from long-term earnings growth expectations, which ultimately encompass the estimated growth in operating earnings per share over the company's next full business cycle, typically three to five years.
Quality Ranking 50%: Split evenly between three-year average return on assets (ROA) and three-year average return on equity (ROE).
Weighting: The Index is Dividend Stream-weighted to reflect the proportionate share of the aggregate cash dividends. We view this as giving bigger weight to companies growing their dividends.
Single Holding and Sector Caps: At the annual rebalance, the following caps apply: Individual holdings are capped at 5% prior to implementation of country caps. The country and sector caps are 25% and 20% respectively. Between annual rebalances, actual Index weights may fluctuate above these caps due to market movement.
A Focus On Growth And Quality Factors That Drive Dividend Growth
Quality Factors: In finance literature, return on equity is critically linked to dividend growth and the intrinsic value of companies. The dividend discount model (DDM) for stock valuation states: The value of a stock = DPS (1) / (R-G)
Where: G = Sustainable growth rate in dividends = ROE x earnings retention (or 1 minus dividend payout ratio).
Simply stated, the growth of dividends is determined by what fraction of earnings is put back into the firm and how profitable those earnings are in their subsequent use. A sustainable dividend growth rate is thus critically linked in finance theory to ROE. Moreover, Warren Buffett and Charlie Munger-arguably the best stock pickers in recent history-discuss return on capital and quality as factors they focus on:
We've really made the money out of high quality businesses... if the business earns 6% on capital over 40 years and you hold it for that 40 years, you're not going to make much different than a 6% return even if you originally buy it at a huge discount. Conversely, if a business earns 18% on capital over 20 or 30 years, even if you pay an expensive looking price, you'll end up with a fine result.
- Charlie Munger at USC Business School in 1994.
Growth Factor: We believe companies that can grow their earnings have the greatest potential to raise their dividends, which is why long-term earnings growth expectations make up 50% of our selection criteria. We are not alone in using this factor. The Russell family of indexes includes a similar earnings expectations variable in its model to determine whether constituent stocks qualify as part of the Russell growth indexes or Russell value indexes. We believe earnings growth is a necessary consideration for future dividend increases.
Why Weight By Dividends?
Weighting by dividends, in effect, is how the Index methodology rests on the foundation of relative value. After we apply the aforementioned selection criteria to determine the final list of eligible constituents, the simplest way to think about weighting is by looking at the relationship of dividend growth versus share price performance.
Typical Additions in Weight: Firms whose share prices may have performed poorly or stayed flat but whose dividends increased.
Typical Reductions in Weight: Firms whose share prices may have performed quite well but whose dividend growth was negative or flat.
If the "reward" can be thought of as greater representation in the Index, the path to get there does not come through gaining larger market capitalization, but rather through dividend growth that supersedes share price performance.
Top 20 European Dividend Growth Companies
After all of that, one question we believe will be of interest: Who qualifies for the largest weights? We indicate our top 20 holdings in figure 2. Health Care, the two Consumer sectors, Energy and Industrials are the dominant sectors represented within the top 20 holdings, and that is reflected in the overall sector mix shown below.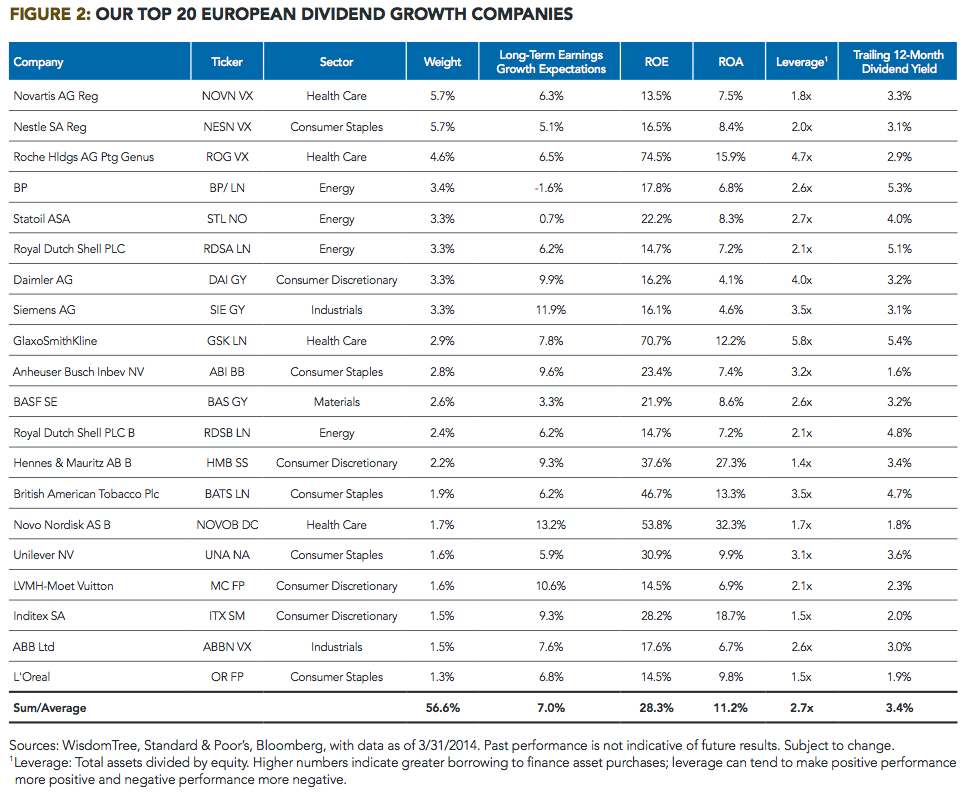 Digging More Deeply Into The Financials Sector Under-Weight
The FTSE Developed Europe Index is one of the most widely followed indexes of the performance of European equities. It is weighted by market capitalization and does not apply any sort of dividend focus, nor growth or quality selection. We use this index as a benchmark to compare relative sector positioning.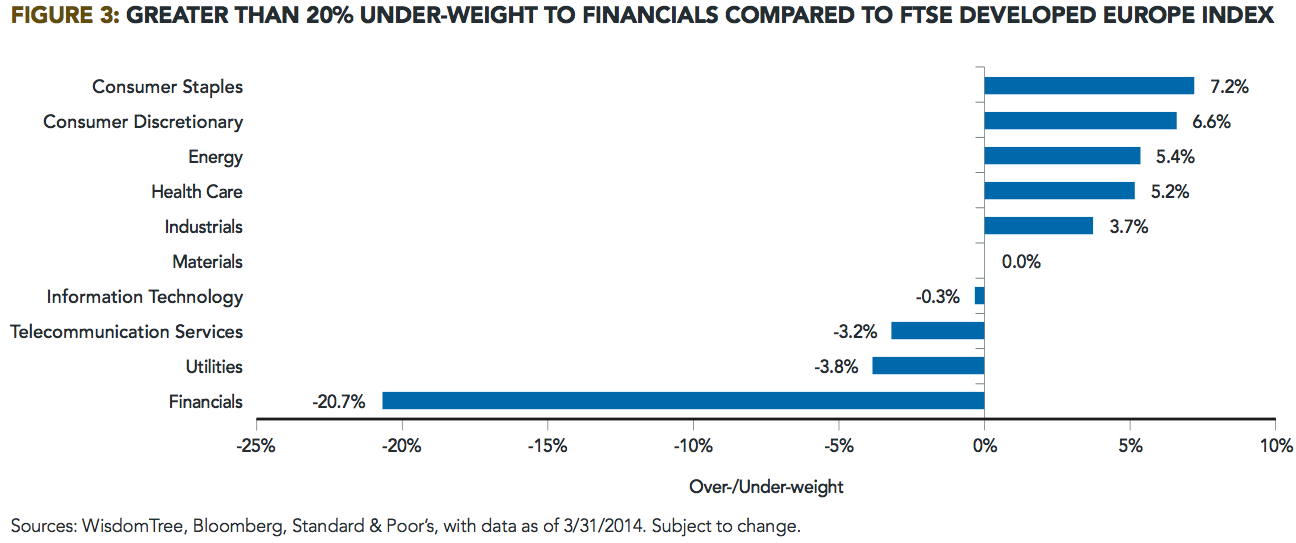 Consumer Sector Bent: The two consumer sectors are the most over-weighted. This could be favorable if considering the overall theme of European Recovery. The Industrials, also an overweight, has potential to reflect that theme as well.
Under-Weight to Highly Leveraged Sectors: Telecommunications, Utilities and Financials tend to employ the most leverage and would be considered lower-quality companies based on our return on assets and return on equity metrics. These three sectors are all under-weighted, but none more than Financials. Financials make up less than 3% of the WisdomTree Europe Dividend Growth Index but represent a large share of the market capitalization-weighted European indexes.
Similar Results Across Widely Followed European Equity Indexes
To provide a broader comparison beyond just the FTSE Developed Europe Index, we included some of the other widely followed market capitalization-weighted indexes of European equity performance. All of them have more than 20% of their weight in Financials. The WisdomTree Europe Hedged Equity and WisdomTree Europe SmallCap Dividend Indexes are actually weighted by dividends-the same as the WisdomTree Europe Dividend Growth Index.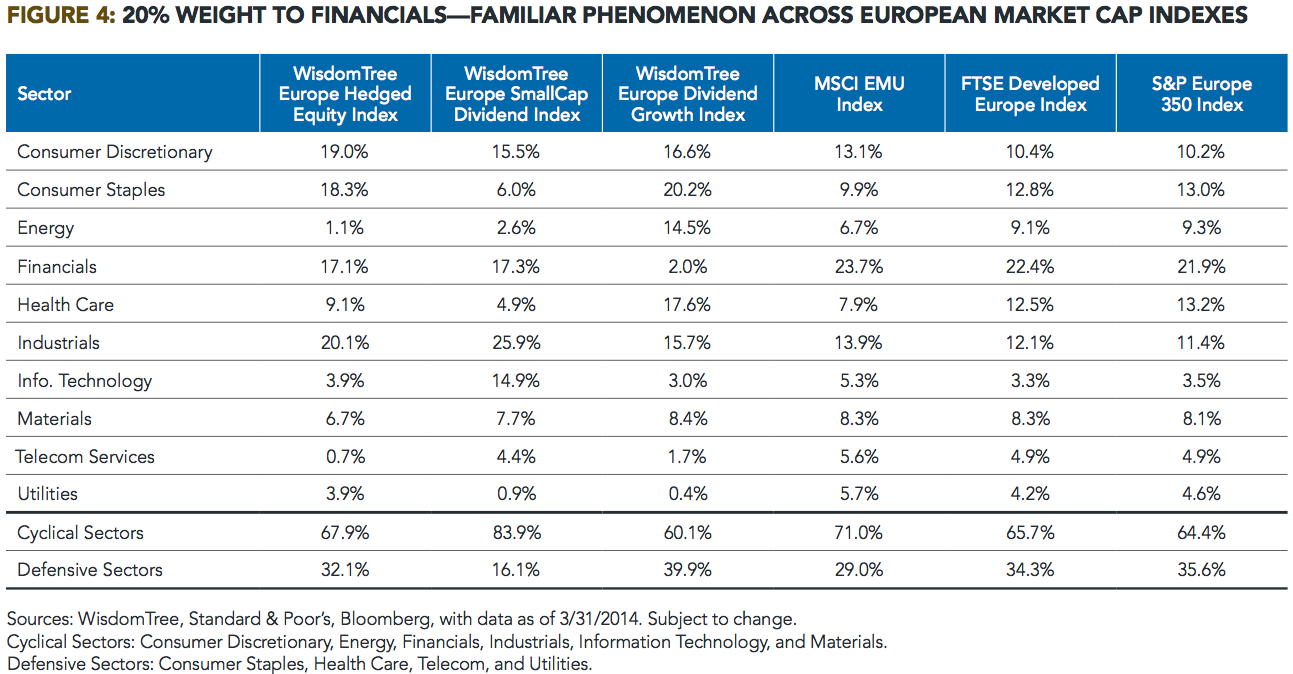 Country Exposures Largely Similar
The country breakdown of the WisdomTree Europe Dividend Growth Index does not differ from that of the competition as much. The biggest differences were against those indexes-the MSCI EMU Index and the WisdomTree Europe Hedged Equity Index- that only select from countries within the European Monetary Union. The WisdomTree Europe Dividend Growth Index is more similar in terms of country eligibility to the FTSE Developed Europe and S&P Europe 350 indexes.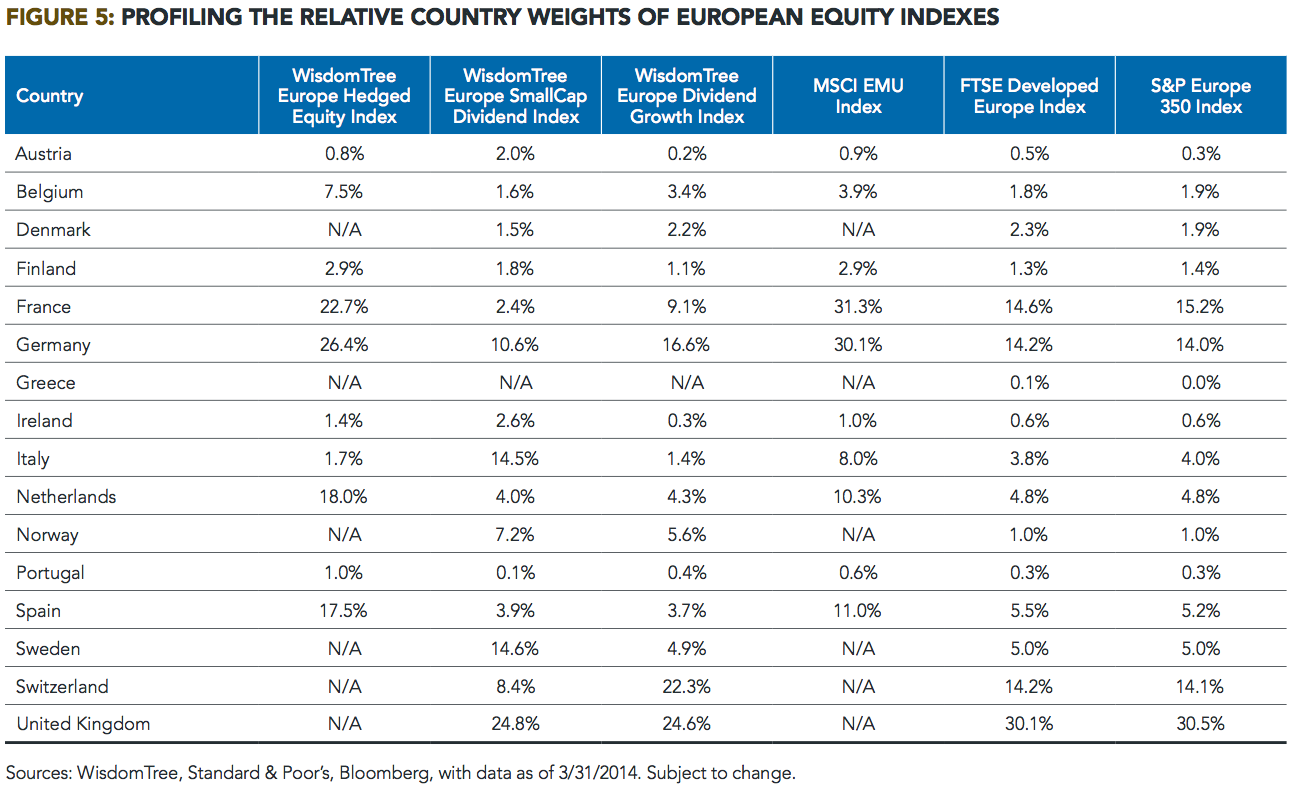 Valuation Analytics In European Equities
Higher-quality companies with above-average growth prospects usually command premium market multiples and valuations because they are growing faster. However, looking today, the WisdomTree Europe Dividend Growth Index, on a price-to-earnings- ratio basis, is only slightly higher than the broader European market indexes. Its dividend yield, another important valuation metric, is broadly in line with, if actually a little higher than, that of the MSCI EMU Index. This low valuation spread for quality and growth might make this a particularly attractive time to consider these stocks to represent the European exposures.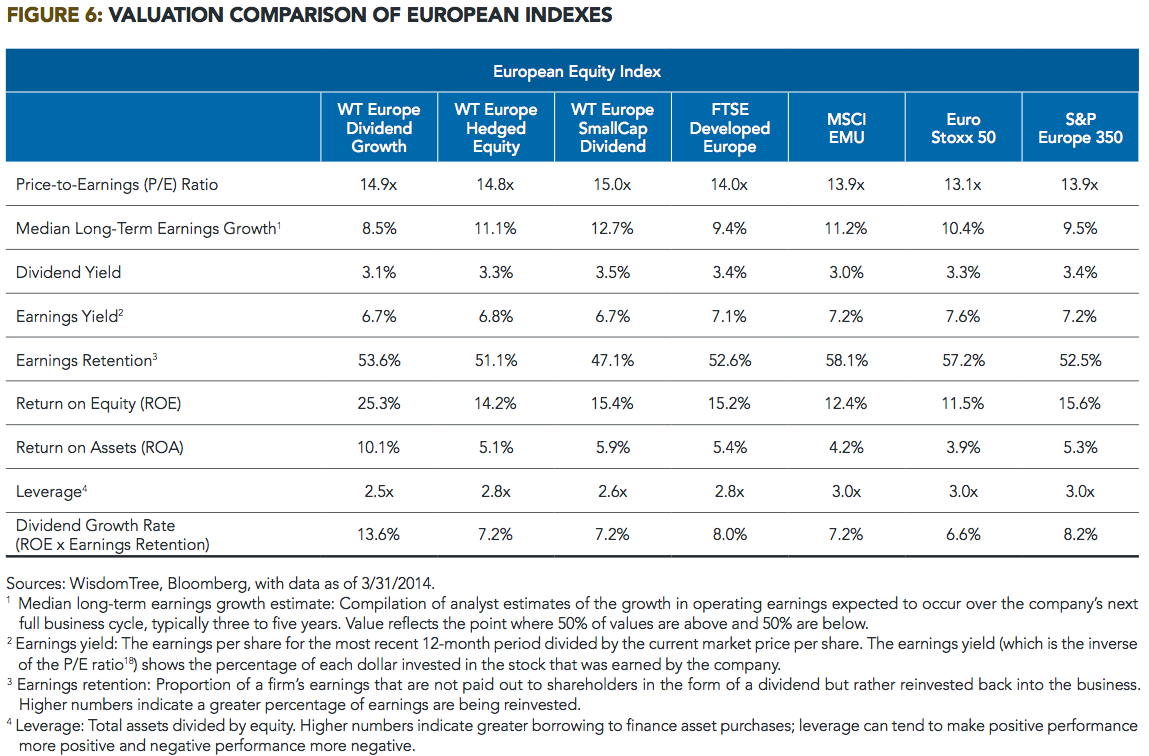 Drivers of Dividend Growth: The DDM mentioned earlier suggests that ROE and earnings retention are two key drivers of potential dividend growth levels. For the WisdomTree Europe Dividend Growth Index, ROE x earnings retention was 13.6%. None of the other European indexes score above 10% by this metric. This wasn't attributable to earnings retention-that was broadly similar across each index. ROE for the WisdomTree Europe Dividend Growth Index was-by virtue of its selection methodology-nearly 26%, which was at least 9% above the ROE of the next highest index shown. This illustrates how one of the great differentiators of the current constituent list is a focus on quality companies.
Blending WisdomTree's Indexes To Fine-Tune European Equity Exposure
The WisdomTree Europe Dividend Growth Index is actually the third broadly focused European Index in our current lineup. Below are two crucial discussions regarding how it fits in with the WisdomTree Europe Hedged Equity Index and the WisdomTree Europe SmallCap Dividend Index.
Discussion 1: Currency Exposure
Currency hedging developed international equities is a theme that WisdomTree has written about extensively, as we believe it is one of the most significant issues to think about when considering this segment of today's equity landscape. The cost to hedge the euro is minimal, yet we face the distinct possibility that the European Central Bank (ECB) may act to support its economy, which could lead to a weaker euro against the U.S. dollar. We believe there is a chance that exposure to the euro could lead to the potential for unrewarded volatility.
To mitigate this risk, we advocate consideration of blends of the WisdomTree Europe Hedged Equity Index, weighted equally, with either our Europe Dividend Growth Index or our Europe SmallCap Dividend Index. Such equally weighted blends reflect the reality that very few people have a strong conviction which way the euro will move, especially over the short term. Combining some currency-hedged strategies with the new Europe Dividend Growth Index, as well as or in addition to the Europe SmallCap Dividend Index, can take some of that risk off the table.
Discussion 2: European Completion
The WisdomTree Europe SmallCap Dividend Index has relatively low overlap with either the WisdomTree Europe Hedged Equity Index or the Europe Dividend Growth Index and thus blends well with both of those Indexes from a completion standpoint. European small caps are often more sensitive to the local economy than are large caps, so they also make a good complement in sectors and types of stocks.
Conclusion
WisdomTree believes the European variant of our dividend growth methodology provides a valuable addition to the universe of indexes tracking that region's stocks. For people who historically have appreciated a higher-quality bias in their approach to U.S. equities, we believe the existence of a new option in Europe could be of particular interest. For those who believe the European recovery is just getting under way and there are greater prospects for earnings and dividend growth, we believe this new Index should be well positioned to capitalize on dividend growth opportunities in Europe.
Important Risks Related to this Article
Unless otherwise stated, data source is WisdomTree.
Investors should carefully consider the investment objectives, risks, charges and expenses of the Funds before investing.
To obtain a prospectus containing this and other important information visit wisdomtree.com. Read the prospectus carefully before you invest.
Foreign investing involves special risks, such as risk of loss from currency fluctuation or political or economic uncertainty.
Investments focused in Europe are increasing the impact of events and developments associated with the region, which can adversely affect performance. You cannot invest directly in an Index.
Investments focusing on certain sectors and/or smaller companies increase their vulnerability to any single economic or regulatory development. This may result in greater share price volatility.
WisdomTree Europe Dividend Growth Index: A fundamentally weighted index that measures the performance of dividend-paying common stocks with growth characteristics selected from the WisdomTree DEFA Index. The Index comprises companies from the eligible universe based on their combined ranking of growth and quality. WisdomTree Europe SmallCap Dividend Index: A fundamentally weighted index meant to measure the performance of dividend-paying European small-cap equities, weighted by cash dividends paid. WisdomTree Europe Hedged Equity Index: Designed to provide exposure to European equities while at the same time neutralizing exposure to fluctuations between the euro and the U.S. dollar. Constituents are dividend-paying European firms deriving at least 50% of their revenues from outside Europe. Weighting is by cash dividends paid. FTSE Developed Europe Index: Measure of the performance of developed European companies, weighted by market capitalization. MSCI EMU Index: A free float-adjusted market capitalization-weighted index designed to measure the performance of the markets in the European Monetary Union. S&P Europe 350 Index: A float-adjusted market capitalization-weighted measure of the performance of large- cap equities in European markets. Euro Stoxx 50 Index: A market capitalization-weighted stock index of 50 large, blue-chip European companies operating in eurozone nations. WisdomTree Global Dividend Index: WisdomTree's broadest measure of dividend-paying stocks, including firms incorporated in emerging markets, developed international markets and the United States, weighted by cash dividends. WisdomTree DEFA Index: A fundamentally weighted index that measures the performance of dividend-paying companies in the industrialized world, excluding Canada and the United States, that pay regular cash dividends and that meet other liquidity and capitalization requirements. It comprises companies incorporated in 16 developed European countries, Japan, Australia, New Zealand, Hong Kong and Singapore. Companies are weighted based on annual cash dividends paid.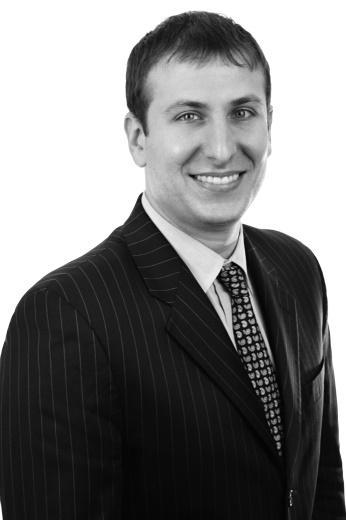 Jeremy Schwartz, Director of Research
As WisdomTree's Director of Research, Jeremy Schwartz offers timely ideas and timeless wisdom on a bi-monthly basis. Prior to joining WisdomTree, Jeremy was Professor Jeremy Siegel's head research assistant and helped with the research and writing of Stocks for the Long Run and The Future for Investors. He is also the co-author of the Financial Analysts Journal paper "What Happened to the Original Stocks in the S&P 500?" and the Wall Street Journal article "The Great American Bond Bubble."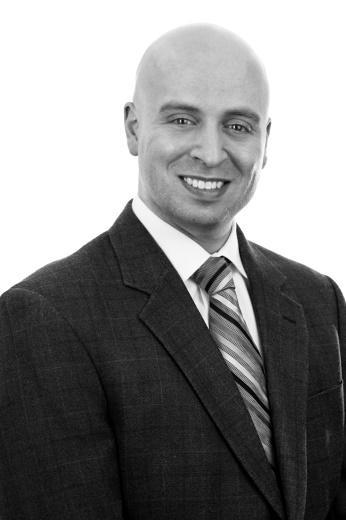 Christopher Gannatti, Research Analyst
Christopher Gannatti began at WisdomTree as a Research Analyst in December 2010, working directly with Jeremy Schwartz, CFA®, Director of Research. He is involved in creating and communicating WisdomTree's thoughts on the markets, as well as analyzing existing strategies and developing new approaches. Christopher came to WisdomTree from Lord Abbett, where he worked for four and a half years as a Regional Consultant.
WisdomTree Funds are distributed by ALPS Distributors, Inc.
Jeremy Schwartz and Christopher Gannatti are registered representatives of ALPS Distributors, Inc.
© 2014 WisdomTree Investments, Inc. "WisdomTree" is a registered mark of WisdomTree Investments, Inc.