After all the recent negativity centered on Cisco (NASDAQ:CSCO), I thought it would be a good idea to step back and figure out if the stock price had gotten to a point where it looked attractive. Historically, Cisco has been outside of the realm of any honest fundamental investor. However, with all the negative attention, I wondered if perhaps their shares had been battered beneath their intrinsic value.
Cisco is a company that operates primarily in the network switch, service, security, router and IP realm. They are the leader in enterprise routing and switching, with little in the way of threats to their crown. They have large cash flows and a significant pile of cash with which they can acquire new seedling technologies and incubate them in house. They maintain aggressive growth estimates, despite their increase in size. This raises the concern that future growth opportunities may cut into their currently healthy margins.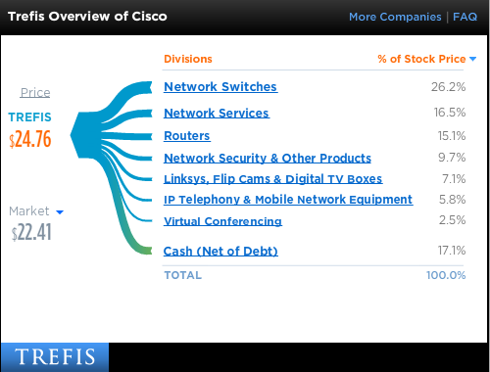 https://www.trefis.com/

Cisco has always intrigued me because they have always been regarded as a successful company but have also underperformed the high estimates of growth that analysts have sometimes predicted. Looking forward, management aims for about 12-17% long term rates. Where will this growth come from? The last five years have seen growth of about 8%. While that could certainly be attributed to a broader downturn in the economy and overall business spending, forward looking estimates are no more rosy. Cisco seems to be speaking from two mouths; from one perspective, CEO John Chambers warns of a looming potential downturn in business spending and "unusual uncertainty" in short term business IT spending and from the other mouth management speaks of growth as robust as 17%.
So, which take should we "put stock" in? I believe that John Chambers is close to the mark without being too doom and gloom. The next few years will see increases in output, but the pressure will remain as unemployment recovers at a snail's pace and housing treads water. I think growth rate for Cisco without significantly eroding their impressive margins will be difficult at best, and most likely not advisable.
Recent News
Hopefully this is review for any faithful market follower. Last week Cisco released earnings that beat estimates by a penny on slightly lower than anticipated revenue. Quarter revenue of $10.84 billion ($0.43 / share) improved year over year from $8.54 billion ($0.31 / share). The response of Wall Street was to pummel the shares 10%, to a $21 on August 12th. Since then they have recovered to yesterday's close of $22.39. So, did CSCO deserve the pounding they received from their earnings release?
Not exactly. CSCO had very high expectations going into this quarter. They are a staple of the technology sector and largely expected to recover swiftly because of their global presence. The slower growth in the Euro and Chinese sectors definitely hurt their chances at beating estimates, and they even managed to grow accounts receivable at nearly double the rate of revenue year over year. This tells me that in order to meet their estimate, they engaged in more aggressive pricing terms than usual. Although not necessarily a blanket negative, it does throw up a red flag on whether future growth in earnings will be fueled by similarly aggressive pricing and payment structuring policies.
One of the major things that Cisco has going for it is a king's hoard of cash. According to a Value Line Investment Survey, they hold over $35 billion in cash reserves. I believe this gives them the opportunity to look outside their own walls in the near future for potential sources of growth. It has always been a pride point of Cisco to develop from within, but if they hope to meet their lofty growth goals they will have to accept some outside assistance. Of course, there is a potential for bidding wars on hot technologies if Hewlett Packard, IBM or Intel get into the mix, all of whom have similar piles of cash laying around.
Valuation
I was happy to find that Cisco is trading near its intrinsic value for the first time in a while. I calculated an intrinsic price floor for Cisco of $21 and a ceiling of $30. I used a short term growth rate of 10%, which is below the management consensus but above their trailing five years growth. I did this because of their large cash reserves and my assumption that they would continue to leverage their broad global presence as the world economy slowly recovers. These cash flows were discounted at a rate of 11%, which incorporates more risk than the market currently implies.
This certainly doesn't represent a huge margin of safety for the value investor. However, CSCO does give them a great opportunity right now to get in on this generally overpriced stock. The market is also down right now on CSCO, and we all know how valuable a contrarian investment can be. For the reasons listed above, I give Cisco a fundamental grade of B+.
Relative Valuation
Cisco is relatively cheap compared to their historical standings. Now, this could certainly be said for many stocks in today's market, but I would argue it is more important for an industry giant such as Cisco. Their price multiples have all decreased and PE now stands at a reasonable 16. The potential downturn in the economy does nothing to erode Cisco's long term entrenchment in networking and I believe their relative value is attractive. I give CSCO a grade of A- for relative valuation.
Ratio Analysis
As I mentioned before, Cisco holds an impressive stock of cash and their liquidity ratios have increased across the board in the last few years. They have balanced their spending with the right amount of liquidity in their industry, so I give them an A+ for liquidity.
As Cisco has grown over the last five years, they have experienced some contraction in terms of their profitability margins. This is to be expected as the company gets larger, and is concerning to an investor looking to get a healthy return, not just an increase in sales and employees. Their operating and profit margins have both decreased by about 25% over the last five years, while their gross margin has been more resilient, decreasing from 67% to 64%. Their ROE, however, has decreased by 33%. Still, their ratios remain very healthy. As the result, I give CSCO a profitability grade of B.
Cisco has had relatively stable debt ratios, with an inconsistent pattern of operating leverage. In general, I believe their strong reserves and cash flows enable them to take on more debt than otherwise would be advisable. I am not worried about Cisco's leverage, and dole out a grade of A for leverage.
Concluding Remarks
From a fundamental valuation perspective, I don't think Cisco is an incredible bargain. Their growth estimates make me think they may acquire businesses for the sake of expansion at the expense of their healthy margins. However, CSCO is an industry giant with an entrenched position in networking in general. Their global footprint rivals that of any competitor, and their focus on sustaining innovation gives them the potential to make an amazing discovery at any time.
Right now, I believe Cisco would be a good addition to the right portfolio. There is a risk of stagnant future returns, especially with the current market attitude towards them. However, there is significant upside, and should they meet/exceed expectations, I would expect the mood of Wall Street to change dramatically.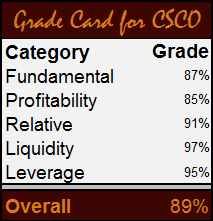 Disclosure: No positions