Virginia "Ginni" Rometty, chief executive officer of IBM (NYSE:IBM) recently stated that this is a "rocky time" for the company, and that is certainly the case for shares over the last several quarters. The two-year chart, below, shows that shares have remained in a somewhat volatile range, even as the company has continued to buy back shares at a significant pace (Source: Finviz).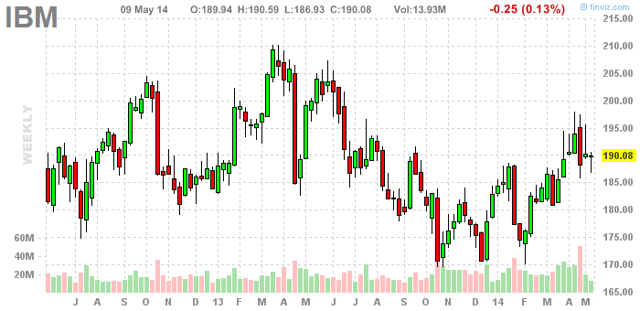 Much of the problem has come from the fact that IBM has failed to generate revenue growth. This is a problem caused by many factors, but most notably due to new technologies like cloud computing that allow for formidable competition to IBM's longstanding hardware and software businesses, as well as a related expectation of declining customer costs. The concerns from this rising competition, as well as IBM's already existing revenue weakness, are the primary cause behind IBM's disappointing share performance over the last two years. Worse yet, there does not appear to be any immediate reason for the condition to change.
In an effort to remain relevant and again growing the business, IBM has endeavored to disengage itself from less profitable and slower growth businesses, while focusing on those it hopes will have greater growth in the future. The primary focus is on digital data and most particularly cloud platforms that remotely provide processing and software.
Changing course is not a new exercise for IBM, which has had to face serious headwinds before. It made a major miscalculation at the onset of personal computing by focusing on hardware and allowing Microsoft (NASDAQ:MSFT) to take the more lucrative operating system business, and even helping solidify Windows as the default OS. The company had to subsequently adapt and chose to abandon its PC business to focus on servers and consulting services. The company made the switch and grew stronger than ever, but now that changed business model faces yet another threat.
Worse yet, the competition it faces is formidable. Cloud computing has some deep pockets and big names gunning for IBM's book of business, including Google (NASDAQ:GOOG), Amazon (NASDAQ:AMZN) and Oracle (NASDAQ:ORCL), among others. Amazon Web Services has been growing by leaps and bounds by offering on-demand delivery of IT resources with pay-as-you-go pricing for websites doing things as simple as sharing photos or as complex as running proprietary applications.
Amazon has primarily made customers out of small to mid-sized sites, but its reach will continue to grow. Google offers similar services, with easy integration into its suite of known products such as Gmail, YouTube and Google Docs. Similarly, many large businesses have grown to rely upon Oracle's database systems, which the company hopes to use as an open door for upselling customers on further integration of cloud services that might streamline their business model.
Another clear issue for IBM is that its business within China has been in decline over the last several quarters. This decline is likely due to both the growth of competitive Chinese alternatives, such as Lenovo (OTCPK:LNVGY), and the strong possibility that Chinese companies, and especially the larger state owned ones, are attempting to avoid purchasing U.S. servers in the wake of Edward Snowden revealing their possible use in spying. These headwinds may be difficult to face and IBM has already largely chosen to simply get out of the way. In January, IBM announced it was selling its server business to Lenovo for $2.3 billion. Lenovo was also the buyer of IBM's personal computer business when IBM chose to abandon that segment.
While largely exiting China and the server business earlier this year, IBM also announced it is investing in cloud data centers and hopes to have 40 cloud centers up and running by the end of this year. Further, IBM said it would invest $1 billion to create a Watson business unit, based on the Watson computer that beat humans at Jeopardy. Watson's capabilities appear suitable for healthcare and customer service, among others, including broad cloud-based uses. IBM also hopes to fund start-ups that will develop applications for Watson.
Sadly, its investment is still not as great as what its competition is spending toward taking away IBM's business. Moreover, these competitors have very little to lose to IBM and everything to gain from the company, as it is still the primary supplier of technology and services for corporate data servers and centers. Moreover, competitors such as Amazon and Google do not need their foray into cloud-based business services to be immediately profitable, and tend to compete on both service and price, so it is likely the case that margins will face pressure.
If IBM has a single greatest strength at the moment, it is its income and the capability that money can generate if properly invested. The company made around $16.5 billion last year and has vowed to earn over $20 per share in 2015. The company's greatest use of cash has been toward stock buybacks, which can allow it to increase earnings per share without actually increasing earnings, and potentially even if earnings decline.
Despite all this potential, the competition is rather tough and the trend has not been great. If one were to write down a short list of companies that would be most problematic for an entrenched leader, it is likely that most to all of IBM's new cloud competition would be on that list. As such, it appears probable that IBM's market share in its remaining businesses will face pressure, as will its margins. In the meantime, the company still appears to still be using the majority of its income to buy back shares and pay out its dividend. If its transition to the cloud does not work out, and its rocky road continues, investors may find that these share purchases were made too soon and at too high of pricing. For these reasons, investors should consider waiting for better pricing or more information before considering IBM.
Disclosure: I have no positions in any stocks mentioned, and no plans to initiate any positions within the next 72 hours. I wrote this article myself, and it expresses my own opinions. I am not receiving compensation for it (other than from Seeking Alpha). I have no business relationship with any company whose stock is mentioned in this article.
Editor's Note: This article discusses one or more securities that do not trade on a major U.S. exchange. Please be aware of the risks associated with these stocks.