Japan in recent years has been unfashionable and largely ignored by investors. Home to the world's third largest economy as well as global brands like Sony and Toyota, Japan, has been an economic non-starter for more than a decade. Japan has been the most disappointing major stock market in the world over the past 20 years, with the Nikkei 225 at barely a quarter of its 1989 peak but with the arrival of a new political era last year, foreign ownership in Japanese stocks has edged higher slowly. The Japanese Stock markets might have had a 20 year old bear cycle but so far the country has managed to survive and with a limited downsize, it would not be unfair to say that Japan has put its worst behind and is ready to slowly crawl its way back. The economic revival of sorts will definitely not happen overnight or in a couple of years, but the Japanese economy surely has the potential to kick start a positive movement offering money creating opportunities for the global investors.
Data released by the Tokyo Stock Exchange shows that foreign ownership of Japanese shares rose to 26% for the year that ended in March, up from 23.5% a year earlier.
Adding to Japan's growth revival opportunity is the neighboring red dragon of china, which recently surpassed Japan as the second largest economy of the world. There is, of course, a danger that the Chinese will muscle in on areas where Japan is currently dominant but experts believe the benefits of having such powerful neighbors ultimately might well outweigh the costs and would play favorably in Japan's favor.
The Japanese economy managed a 4.9% annualized growth for 1st quarter of 2010, marking 4 consecutive quarters of positive growth.
Japanese stocks are universally cheap. The average stock trades for about 1.4 times its book value that is roughly a 40% discount to the average U.S. or emerging market stock. With an extremely limited downsize, Japanese stocks offer the perfect low risk, high return opportunity.
A strong yen makes investing in Japan even more so for American investors, since it adds to any profits from capital gains or dividends. Even though Japan might not be a fashionable investment opportunity on the active investment radar for most investors, Tokyo with a limited downsize may finally offer good value creating opportunities, provided investors pick carefully.
Investing In Japan:
Japanese companies listed as ADRs (American Depository Receipts) available on the New York Stock Exchange include:
Japanese NYSE/Nasdaq-traded American Depository Receipts (ADRs):
Advantest (NYSE:ATE): Advantest Corporation is a part of Advantest group. The Company operates in three segments: semiconductor and component test system segment; mechatronics system segment, focusing on peripheral devices
Worldmarketpulse Projection : Nearly oversold and will become a good buy setup very shortly.
Canon (NYSE:CAJ): Canon Inc. (Canon), is a manufacturer of network digital multifunction devices (MFDs), plain paper copying machines, laser printers, inkjet printers, cameras and steppers.
Worldmarketpulse Projection: Good buy currently on short term as seems to be following mainstream S&P 500
Hitachi (HIT): Hitachi, Ltd. (Hitachi) is engaged in developing a diversified product mix ranging from electricity generation systems to consumer products and electronic devices.
Worldmarketpulse Projection:Hitachi very bullish right now
Honda (NYSE:HMC): Honda Motor Co., Ltd. (Honda) develops, produces and manufactures a variety of motor products, ranging from small general-purpose engines and scooters to specialty sports cars.
Worldmarketpulse Projection: Honda motor bullish
Internet Initiative Japan (NASDAQ:IIJI): Internet Initiative Japan, Inc. is a Japan-based company that offers Internet services.
Worldmarketpulse Projection: Still declining but may reach bottom at 5.5 approx.
ORIX (NYSE:IX): ORIX CORP is a Japan-based financial services company. It operates in six business segments. The Corporate Financial Services segment is involved in lending, leasing, commission business for the sale of financial products and environment-related businesses.
Worldmarketpulse Projection: Orix doing well currently a good buy setup.
Japan Airlines [JALFQ.PK]: Japan Airlines has become a minor pink stock but may see some good news move in near future.
Konami (NYSE:KNM): BULLISH
Kubota (KUB): BULLISH
Kyocera (NYSE:KYO): BULLISH
Makita (OTCPK:MKTAY): BULLISH
Mitsubishi UFJ Financial Group (NYSE:MTU): BULLISH
Mizuho Financial Group (NYSE:MFG):
Nidec (NYSE:NJ): BULLISH
Nippon Telegraph & Telephone (NYSE:NTT): Looks Good
Nomura (NYSE:NMR): Nomura has a way to go up currently oversold and bullish
Mitsui & Co. (OTCPK:MITSY): Mitsui & Co., Ltd. is a Japan-based trading company. The Company is engaged in a range of global business activities including worldwide trading of various commodities, arranging financing for customers and suppliers in connection with its trading activities
Worldmarketpulse Projection: Bullish
NTT DoCoMo (NYSE:DCM): NTT DoCoMo, Inc. (DOCOMO) is a mobile telecommunication services provider belonging to NTT group whose parent company is Nippon Telegraph and Telephone Corporation (NTT).
Worldmarketpulse Projection:Slightly overbought on short term but still looks positive
Panasonic Corporation (PC): Panasonic Corporation (Panasonic) is a manufacturer of electronic and electric products for a range of consumer, business and industrial uses, as well as a variety of components.
Worldmarketpulse Projection:Panasonic good long setup currently
Sony Corporation (NYSE:SNE): Sony Corporation, together with its subsidiaries, engages in the development, design, manufacture, and sale of electronic equipment, instruments, and devices for consumer and industrial markets.

Toyota Motor Corporation (NYSE:TM): Toyoya Motor Corporation is a Japan-based company mainly engaged in the automobile business and financial business.
Worldmarketpulse Projection: Toyota Motors looks ready to go up.
Wacoal (OTCQX:WACLY): Wacoal Holdings Corp. (Wacoal) is a designer, manufacturer and marketer in Japan of women's intimate apparel, with a largest share of the Japanese market for foundation garments and lingerie.

NINTENDO CO Ltd (OTCPK:NTDOY): The Company's ADRs trade on the over-the-counter (pink sheets) market under the symbol NTDOY. The average daily trading volume is about 150,000 shares.
Worldmarketpulse Projection:Nintendo : Good buy setup
Japan ETFs: For investors willing to take an ETF route to invest in Japan, there are a number of Japan based Exchange Traded Funds (ETFs). Here is a list of some of the Exchange Traded Funds that invest in Japan and Japanese companies.
Large Cap Funds:
iShares MSCI Japan Index Fund (NYSEARCA:EWJ): This ETF tracks the performance of the MSCI Japan Index, a benchmark that consists primarily of large cap Japanese equities.
Expense Ratio: 0.52%
iShares S&P/TOPIX 150 Index Fund (ITF), 0.5%
SPDR Russell/Nomura PRIME Japan ETF (NYSEARCA:JPP), 0.5%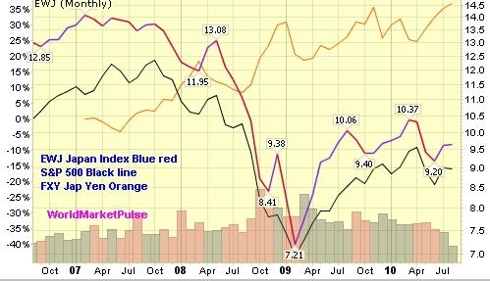 Small Cap Japan Funds
iShares MSCI Japan Small Cap Index Fund (NYSEARCA:SCJ), 0.53%
SPDR Russell/Nomura Small Cap Japan ETF (NYSEARCA:JSC), 0.56%
Dividend Funds

WisdomTree Japan High-Yielding Equity Fund (NYSEArca:DNL - News), 0.58%
WisdomTree Japan SmallCap Dividend Fund (NYSE: DFJ): The WisdomTree Japan SmallCap Dividend Index measures the performance of dividend-paying small capitalization companies in Japan.
Expense Ratio: 0.58%
WisdomTree Japan Hedged Equity Fund (NYSE: DXJ): The Index is designed to provide exposure to equity securities in Japan, while at the same time hedging exposure to fluctuations between the value of the U.S. dollar and and the Japanese yen.
Expense Ratio: 0.48%

Other Japan Funds
PowerShares FTSE RAFI Japan Portfolio (PJO): The Index is designed to track the performance of the largest Japanese equities, selected based on the following four fundamental measures of firm size: book value, income, sales and dividends.
Expense Ratio: 0.75%
ProShares UltraShort Yen (NYSEARCA:YCS): is a leveraged ETF that seeks daily results that correspond to 200% of the inverse of the U.S.
Expense Ratio: 0.95%
Rydex CurrencyShares Japanese Yen Trust (NYSEARCA:FXY): The fund is linked to the U.S. dollar/Japanese yen currency pair, which is currently the second-most-traded currency pair in the world.
Expense Ratio: 0.40%
Japan Equity Fund (NYSE: JEQ):
Japan Smaller Capitalization Fund (NYSE: JOF)
ProShares UltraShort MSCI Japan ETF (NYSEArca:EWV - News), 0.95%

ProShares Ultra MSCI Japan (NYSEARCA:EZJ)
Overview Of The Japanese Economy: There is no denying the fact that 2009 has been a bad year for Japanese economy and markets but then such has been the global trend apart from a few emerging nations. Every dark cloud has a silver lining and the silver lining in Japan's economy was visible in the last fiscal of 2009 when Asia spearheaded Japan's revival . Shipments to the region surged 31 % in December last year, the fastest pace in almost a decade, helping China overtake the U.S. as Japan's largest foreign customer on an annual basis. Demand from the U.S. is also improving after the nation's GDP expanded the most in six years last quarter.
Still, economists forecast that growth would slow this year amid sluggish domestic demand and that Japan was likely to be overtaken by China as the world's second-largest economy, behind the United States. Experts expect growth to slow in the coming months as the effect of government stimulus measures on consumption begins to fade. The European debt crisis and the ensuing market turmoil may also hurt overseas growth, and therefore Japanese exports.
Japan's recovery from its worst postwar recession has been hampered by the yen's climb to a 15-year high against the dollar, threatening profits at exporters including Honda Motor Co. and Sony Corp.
Negatives:
Lack of substantial domestic demand: Japan is dependent on exports for growth. The worldwide crisis hit Japan, which had just started to emerge from a recession. Consumer spending represents 55-60% of GDP in Japan compared to 70 % in the United States. Although there is demand for Japanese goods in the U.S. and Europe, export growth has shifted to China, with its advantages of low labor cost and a cheap currency.
High Debt: Japans debt is close to 200% of GDP. High public debt retards economic growth. This makes it difficult for Japan to grow its way out of debt. The Japanese economy grew at an annualized rate of 0.9% in the fourth quarter of 2009. The current IMF forecast for growth of the Japans economy is 1.8% in 2010 and 2.5% in 2012, nowhere near enough to make even the slightest dent in its public debt.
The Nikkei 225 peaked at 39,000 at the end of 1989, and today stands at a mere 9,200, for a decline of almost 75%. The S&P 500, in contrast, has risen over 400% during the same period.
Japan Outlook 2010:
As per latest Japan economic forecast, government would try to provide fiscal stimulus so that weaknesses present in Japan's economy could be addressed and removed. However, this is excessive expenditure and would put more stress on Japanese economy, which is already in a poor condition. The democratic party of Japan under the administration of Yukio Hatoyama has been compelled to grapple with the renewed descent into deflation, forcing the Bank of Japan to become more active while announcing its own 7.2 trillion yen fiscal stimulus package.
Japan's equity market is perceived as the "world's cheapest developed market". Equities in Japan perceived as the world's cheapest developed market and other emerging markets are being preferred over U.S. and Europe as Asian's weight in the global market capitalization accounts for only 21 % and with less leverage means stronger recovery potential.
Japan's economy grew at an annualized pace of 4.9% in the January-March quarter, powered by strong exports and recovering domestic demand, but still pressured by deflation and falling short of economists' estimates. In the longer term Japan has two major problems that can act as a drag on the country's economic growth, the shrinkage of substantial labor force and the aging population.
Disclosure: No positions