Only in America! Where else can you report a +5% comp store sales result in Q2 2010 versus declines of -30% in Q2 2009, -4% in Q2 2008, and -2% in Q2 2007 and have sell-side analysts congratulating you on a great quarter?
The fact is that Mr. Jefferies has run Abercrombie & Fitch (NYSE:ANF) into the ground over the past 5 years. He's analogous to a head football coach today with a wishbone offense in an age when spread offenses are all the rage. He did a remarkable job 10-15 years ago building a chain that siphoned sales away from the 800-lb gorilla, The Gap (GPS – $18.02). He should be commended for providing a blueprint for how others could build aspirational brands with a focus on "affordable luxury" before anyone had even coined the term.
But, Mr. Jefferies running ANF today is like giving the keys of the car to your 85-year-old grandpa… you just don't do it. He's the wrong person to run ANF at a time when Forever 21 has permanently changed the rules of the game.
Was it a great quarter? You be the judge:
The company's 3-year comp store sales run rate of approximately -30% is far worse than AEO(-20%), ARO (+26%), The Gap (-20%), JCG (+12%), and URBN (+18%).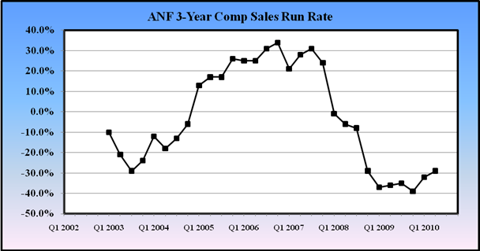 Click to enlarge
The company's +5% comp store sales had the benefit of a material tailwind in Q2 2010… dramatically increased inventory levels versus the prior year. It's probable that the lower level of 'lost' sales (broken sizes, out of stocks, etc.) was enough to generate +5% to +10% comp store sales versus LY just with this strategic decision alone.
ANF was one of the few retailers that reported merchandise margin declines in FY 2009. Essentially, every one of the company's peers was reporting record merchandise margins last year via an advantageous sourcing environment and well-controlled inventory levels. Not ANF. That's what makes the current merchandise margin declines even more concerning. It's possible that Forever 21 has forced ANF to permanently lower its merchandise margin levels.
Look at the chart below to see how dramatic the company's GPM% has fallen over the past 2+ years at a time when others are at record levels.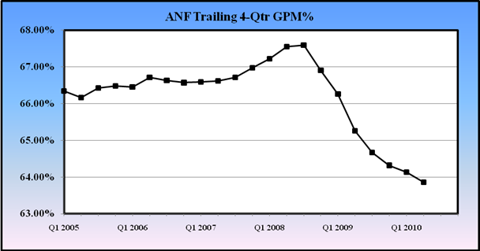 Click to enlarge
We continue to believe Gilly Hicks was one of the worst chain launches in the last decade. We estimate that the chain has generated only $186 sales per gross square foot for the trailing 4 quarters through Q2 2010. Given the high quality real estate venues, $186 sales per foot is an embarrassment. Mr. Jefferies can get excited all he wants about the large positive comps. But, he's not being honest about the context of how dismal the chain's sales were a year ago.
So, why do the sell-side analysts not hold Mr. Jefferies accountable and ask more probing questions on the quarterly conference call? While Mr. Jefferies and most CEOs have not fully grasped this notion, the analysts need Mr. Jefferies. The analysts that follow the company need Mr. Jefferies and the company to provide them 'access' so that they can invite buy-side clients to management meetings and road shows. That's how the sell-side analysts implicitly get paid, not through the 'regurgitative' nature of their research that adds no value, but via their ability to get buy-side investors in front of management teams.

That's why investors are stuck with a process that allows management teams such as ANF to set the agenda for the analysts that follow the company and get away with it! Think about it. ANF management can deliver a +5% comp in Q2 2010 and convince the sell-side analysts that they're doing well, all while ignoring the historical context of the company's performance.

It's a never ending cycle. Analysts need access to the company's management to implicitly get paid by the buy-side community (via commissions). Company management teams need the analysts to ignore historical performance and to believe management's 'spin' despite objective analysis that suggests otherwise.

So, we're left with Mr. Jefferies patting himself on the back and analysts congratulating him on yesterday's conference call.

The fact is that grandpa (Mr. Jefferies) is driving the car, and he's already mowed down a few pedestrians. He's a CEO of a fashionable teen retailer that continues to have a tough time adjusting to today's environment that has dramatically changed with the recent success of Forever 21. So, instead of the company's board of directors paying Mr. Jefferies $4 million to notfly the corporate jet, someone on the Board needs to be brave enough to take the keys away from Mr. Jefferies and find a visionary merchant to take ANF to the next level.


Author's Disclosure: No positions