The worm has turned for Apple (NASDAQ:AAPL), I'm afraid. Once again, they've proved that they are the greatest gadget company in the world as far as the "wow!!" factor is concerned. But that's about it and the stock price will probably suffer. There are three signs.

1. The whole iPhone 4 non-event event. So the gadget had a bum antenna. Big whup. The quick and easy fix, though less aesthetic (and remember…Apple stuff is all about the aesthetic), was a piece of duct tape. The flaw was pointed out by the bastion of coolness, Consumer Reports, who gave the device a huge nerd thumbs down. The news went meta-viral and within a week or so the media pile-on was so rabid, Steve Jobs saw fit to hold a serious press conference, which turned out to be the day's prime news event. Everyone who had the iPhone 4 was promised a free rubber sheath for the phone which would solve the reception problem. All better? Hardly. From worker suicides at iPhone Chinese sweatshops to the aforementioned antenna issue, AAPL's participation in the seventeen-second news cycle has had a distinct, snarky, negative tone for the second half of 2010. The last 4 to 5 years, the company could do no wrong. The stock was going to $1,000,000 a share. Now, not so much. Public opinion, whether deserved or not, has taken a hard, negative turn.

2. Those who forget the past are doomed to repeat it. Historically, Apple doesn't like to share. For now, the iPhone is an AT&T (NYSE:T) exclusive, although rumored to be changing. Apple's operating systems have always been held very closely to the vest. It was this type of avoidance that allowed Microsoft (NASDAQ:MSFT) to run the table in the 90's, thus positioning Windows, love it or hate it, as the central nervous system of 80% of the world's computers. Today's retro battle is iPhone versus Google's (NASDAQ:GOOG) Android. As of Q2 2010, Android now has 17% of global market share for smart phone systems, surpassing AAPL's 14%, according to the Gartner Group. iPhone OS can be found on, well, the iPhone. Android can be found on multiple devices. GOOG's share will continue to increase. It might not be cool to share, but more people will like you if you do.

3. What goes up must come down. Cialis only lasts 36 hours. Triple digit stock prices can be just as temporary. Granted, AAPL has soared above $100 since 2007 but maybe the run is done. The best near-term indicator is the September calls. The in-the-money 250s are around $9.00. The 280s (a 12% move) are at 92 cents. I wouldn't consider that bullish. Shares are off nearly 9% since mid-June versus the NASDAQ composite which has given up nearly 6%. The market and the economy have been smacked around for concrete fundamental reasons. Apple? The antenna on their new gadget doesn't work too good. Nevertheless, Starbucks-swilling, hoodie clad hipsters will still line up around the block with their urban messenger bags to buy the shiny gadget from the Apple Store. All should seem well, but the market thinks otherwise. Right or wrong, the tape shouldn't be fought.

Apple's a great brand and holders have made a lot of money. But maybe it's time to give an expensive stock, that matches the price point of its gadgets, to someone else. That's probably the correct side of the trade to be on. The company makes great gadgets. But so did Admiral Television. RCA made televisions that people could use to watch the television network that they owned at the time: NBC. How you watch the content is important. But you have to have content to watch.

Besides, the iPad? Really. Sounds like a high tech feminine hygiene product. Well, enough with the 7th grade humor; let's meet this week's three lil' piggies.


Howdy Partner!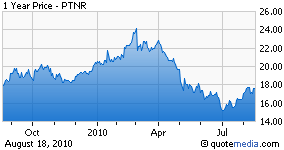 Partner Communications ADR (NASDAQ:PTNR)
Recent Price: 17.63
P/E: 2.31
Current Yield: 8.46%

The Skinny
Did someone say "How 'bout another Israeli wireless telecom stock!"? Partner provides mobile telecom services in Israel via GSM/GPRS and UMTS/HSDPA networks. They also have a small land line and data transmission business. PTNR's numbers are quite stellar. ROE has averaged 37.91% over the last 9 years with most of that number ramping up in the last 4 years. A $10,000 investment 5 years ago has grown to around $33,000. Not bad especially in the face of the last decade. The company has been doing a great job significantly reducing long term debt over the last few years. On a macro level, the technology and communications in Israel is nothing short of remarkable. From biotech to software, it truly is the investment promised land.

The Danger
While PTNR is a rock star, dividends have only been paid since 1995. 15 years is pretty good especially in an emerging market, but 50 years is better. Hopefully one day. On the earnings front, PTNR's 2011 EPS are projected to decline by 11%. Typically, earnings are supposed to go in the other direction. Last, no one has to be reminded of the powder keg also known as the Middle East in which Israel sits smack dab in the middle. With that type of geopolitical risk, volatility is guaranteed.


The Price Is REIT
Lexington Realty Trust (NYSE:LXP)
Recent Price: 6.50
P/E: NA
Current Yield: 6.15%

The Skinny
While we all wait for the CRE time bomb to explode into a financial mushroom cloud of destruction, maybe a small nibble can help investors pick up a little income. LXP is a self managed REIT that acquires, owns, and manages office, industrial, and retail properties' net-leases to corporate tenants in the U.S. Since the wheels fell off in 2007, LXP has done a great job of cleaning up its portfolio, letting go of nearly $200 million worth of assets as well as focusing on delevering (see: deflation). All the while, the company enjoys a 92% occupancy rate which isn't too shabby in the tough CRE environment we're currently going through. Analysts contend that LXP has the ability to raise the dividend by 3 to 5%. That's a welcome sign in any market.

The Danger
Analyst opinion (for what it's worth) is that LXP is trading based on its dividend rather than its asset value. Typically, that makes it tough to get a bead on whether it's a decent value or not. And although LXP's occupancy rate is quite good, especially in the suburban office space, there's still an enormous amount of pressure on the economy so don't hitch your wagon to it. And the aforementioned CRE mortgage time bomb? Whether LXP is part of that or not, when it explodes the whole sector will be punished mercilessly.


The Fine Print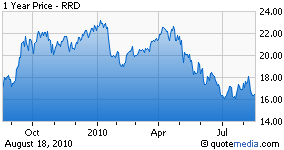 R.R. Donnelley and Sons Co. (NASDAQ:RRD)
Recent Price: 16.46
P/E: 45.22
Current Yield: 6.30%

The Skinny
Remember the little user's manual that came in the box for your new iPhone? Or how about the dog-eared Victoria's Secret catalog that you've cleverly hid under the stack of Better Homes and Garden back issues? RRD probably printed that. RRD, a company founded in 1864, is the largest commercial printer in the country cranking out tons of catalogs, magazines, books, as well as financial and computer documentation. Sexy? No, not really, unless you're into the numbers. Q2 EPS came in at 42 cents this year. Last year's Q2 number was 12 cents. That's an encouraging trend. Analysts are projecting 2011 EPS of $2.00. If that's not enough of a turn-on, the dividend yield is fatter than the yield on RRD's bonds maturing in 2017. With a BBB/Baa3 rating (investment grade), the bonds are currently trading around 103.82. With a 6.125% coupon, they're currently yielding 5.89%. That's a pick up of 50 bps. Not bad considering the 10 year Treasury is yielding a generous 2.645%.

The Danger
Although an old company and the top dog in their space, RRD has some big challenges. The most fundamental, and obvious, challenge is a long term, secular shift in the company's core business. Digital publishing continues do take more and more share from the old fashioned printed material. RRD is trying to cope. What makes it even more difficult is that RRD is trying to shift their business and turn around the company in some rough economic seas. Earnings have improved but are still a bit tenuous. Finally, the debt to capitalization ratio is a little high at 57%.
Disclosure: None.