This was undoubtedly the most interesting week for the ETF Pause, or I suppose, Pullback, strategy I introduced on Seeking Alpha about a month ago. Last week, with the economic prospects less certain than usual and many harboring serious worries about a double-dip recession, the model moved away from a very conservative primarily income-oriented posture toward one that was clearly more cyclical. Here is the list of last week's ETFs.
If the economy sputters, I could make a case for DES, but SEA and CUT seemed completely off base. I likewise had no idea why Turkey and Sweden seemed so interesting. In deference to the successful testing the model underwent before I started using it, and the reasonable performance I've seen since using it live, I shrugged my shoulders, described the list using the catch-all phrase "individual situations," and said I'd "close my eyes, grit my teeth, and hope for the best in the week ahead."
The best is pretty much what I got. The fives ETFs rose 2.85% on average in the past week, versus 0.43% for the S&P 500. And wonders of wonders, the group was led by CUT (up 3.70%) and SEA (3.43%). Go figure.
Since putting real money into this weekly rebalancing strategy on July 21st, the FolioInvesting.com account I use is up 5.92% while the S&P 500 is up 2.29%.
Here is the top-five list for the week ahead:
Clearly, this list turns more clearly in the direction of conservatism, with its exclusive focus on income. But even within the conservative arena, there is room for the perception of adventure, with two mortgage-backed ETFs, we get a bit of that. Still, it's not as if we were dealing with corporate junk bonds, or actual mortgages. These are government guaranteed instruments and as such, the turbulence experienced even in late 2008 was not out of line with what fixed-income ETFs in general experience from time to time, including those focused on TIPS.
Anyway, this list, coming off a decent week for the market, suggests the prospect of continuing up and down activity, rather than a sustained rally. The model does go cold every now and then and seems overdue for some missed signals, but then again, that's what I said when I started this thing a month ago. We'll see.
APPENDIX
To create this model, I started with a very broad-based ETF screen I created in StockScreen123.com.
Eliminate ETFs for which volume averaged less than 10,000 shares over the past five trading days

Eliminate HOLDRs (I don't want to be bothered with the need to trade in multiples of 100 shares)

Eliminate leveraged and short ETFs (I think of these as hedging tools rather than standard ETF investments of even trading vehicles)
Then I sorted the results and select the top 5 ETFs based on the StockScreen123 ETF Rotation - Basic ranking system, which is based on the following factors:
120-day share price percent change - higher is better (15%)

1-Year Sharpe Ratio - higher is better (15%)

5-day share price percent change - lower is better (70%)
The idea of using weakness as a bullish indicator is certainly not new. But often, it's an add-on to other factors that, on the whole, emphasize strength. Here, the weakness factor is dominant, with a 70 percent weighting.
This model is designed to be re-run every week with the list being refreshed accordingly. I trade through FolioInvesting.com, where I pay a flat annual fee rather than a per-trade commission, so I don't care about the fact that turnover form week to week is often 80%-100%. If you want to follow an approach like this but do have to worry about commissions, the strategy tests reasonably well with three ETFs, or even with one. (Cutting the number of ETFs is far preferable to extending the holding period.)
Figure 1 shows the result of a StockScreen123 backtest of the strategy from 3/31/01 through 7/22/10.
click to enlarge images
Figure 1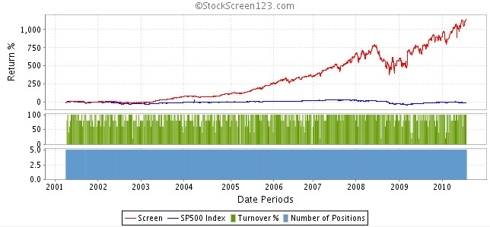 Click to enlarge
Figure 2 covers the past five years, a very challenging market environment that witnessed the fizzling of many strategies that had succeeded for a long time.
Figure 2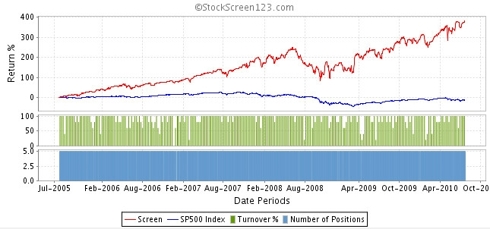 Click to enlarge