Gold and the SPDR Gold Trust (NYSEARCA:GLD) have a swath of catalysts which could move the price of the commodity and GLD this week. From ongoing geopolitical developments in Ukraine to several inflation measures and pricing data points scheduled for release, gold and the GLD will have plenty of factors to drive them this week. However, I expect the data and the dilemma to determine little for both, and for the prices of each to meander moving forward even beyond this week.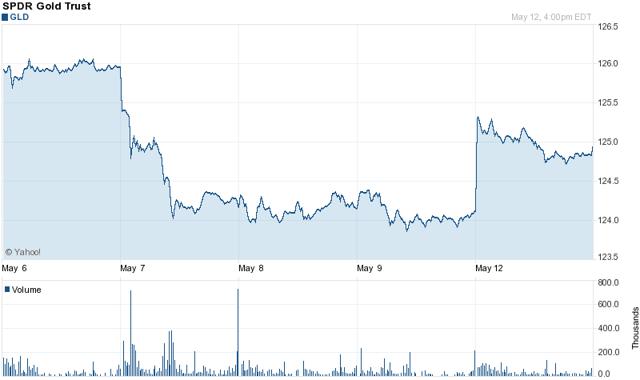 The five-day chart for the SPDR Gold Trust illustrates last week's weakness, which followed the change in tone of Russia's Vladimir Putin. When the Russian President called for the referendum for independence to be delayed in Eastern Ukraine and after he said that Russian troops had already been pulled from the border with Ukraine, stocks climbed and the SPDR Gold Trust dropped. However, following Monday's news that the suspect referendum resulted in a show of support for secession, and following the news that the region sought the safety of the Russian umbrella, the GLD spiked to start the day Monday.
This week, it remains to be seen what the Russian President will do next. It appears to me Russia will continue to foment discord in the East while presenting the world with the impression of distance between Russia and the issue in Ukraine. This less aggressive and somewhat clandestine position is consistent with the early developments in Crimea, but now Putin is overtly distancing himself, which seems to be due to the pressures of Western sanctions and the threat of more meaningful sanctions against Russia.
The distance of Russia from the issue makes war seem less likely, and so fiat currency holders, especially in Europe, seem to likewise bear less risk. As a result, gold should not find support to drive meaningfully higher from the geopolitical factor for some time.
I expect further civil unrest to develop in Eastern Ukraine, with the near-term result being Russia's pushing for pressure on Kiev through the United Nations. The greater diplomatic its efforts, the less convincing of an argument the West can make against it. Eventually, Russia may find greater support from China and other nations, and even break up the consensus of Europe for sanctions against it. All these things will take time to develop, and offer no reason for gold to drive higher. However, unrest in Eastern Ukraine may get messy enough to drive spikes in the price of the commodity and to put in place a temporary floor here.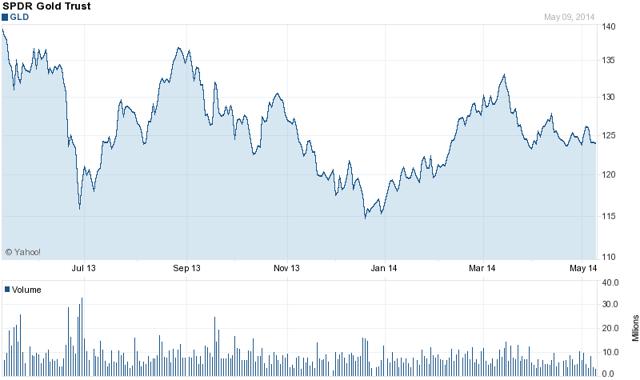 Certainly, the one-year chart for the GLD seems to show an already present stability and a floor. I expect this recent stability to continue as gold meanders forward without clear catalyst for direction.
| | | |
| --- | --- | --- |
| Economic Data | Last Month's Data | Economists' Expectation |
| | +0.5% | +0.2% |
| -Core PPI | +0.6% | +0.2% |
| | +0.2% | +0.3% |
| -Core CPI | +0.2% | +0.1% |
| | +0.6% | +0.4% |
| | +0.8% | +0.2% |
This week, several economic data points will offer catalysts for gold to move. Measures of inflation, the Producer Price Index, Consumer Price Index and the import and export price data is all due this week. However, all of it is expected to show a milder rate of price increase than was seen in the prior month's tally.
Focusing on the core price points for producers and consumers, or those data points measuring price change excluding volatile food and energy prices, little news of significance is expected. Economists are looking for a 0.2% increase at the producer level, which matches last month's data and is not especially concerning. On the consumer level, just a 0.1% increase is expected for the Core CPI, which compares favorably to last month's increase of 0.2%.
Import prices are expected to have increased by 0.4% in April, the measured period. That is a lesser rate of increase than March's 0.6% change. Import prices are affected by changes in the price of oil, and the pressure on that is eased as the geopolitical situation in Ukraine ages. Export prices are seen increasing by just 0.2%, which compares to the 0.8% increase seen in March. Export prices are affected by swings in the prices of agricultural goods, of which the United States is an important exporter. I expect the long anticipated end to winter helped to ease price pressure and reduce fear of near-term price increase for these goods.
The Fed's favored gauge of inflation is the Core PCE Price Index, which is released with monthly consumer spending data. The data due this week is still meaningful, but given the fact that it is expected to show a less robust level of price increase than the prior month, and a mild rate of increase generally speaking, no inflation fear should be sparked. As a result, gold and silver prices and the price of the SPDR Gold Trust should be left mostly unaffected.
| | | | |
| --- | --- | --- | --- |
| Metals Security | 5/12/14 | YTD | TTM |
| SPDR Gold Trust | +0.7% | +7.6% | -10.5% |
| iShares Silver Trust (NYSEARCA:SLV) | +2.0% | +0.4% | -18.3% |
| Market Vectors Gold Miners (NYSEARCA:GDX) | +0.8% | +13.3% | -19.7% |
| Direxion Daily Gold Miners Bull 3X Shares (NYSEARCA:NUGT) | +2.5% | +29.0% | -70.7% |
| Goldcorp (NYSE:GG) | +0.2% | +14.9% | -16.3% |
The focus of this article is the SPDR Gold Trust , but other relative securities should move in concert this week and are worth commenting on briefly. The entire precious metals complex moved higher Monday on what I believe was the lack of wildly supportive Russian commentary regarding the Eastern Ukraine referendums. Without tanks rolling across the border, or concern that they might near-term, currency concerns are quelled. A flight to safety is delayed until such an event occurs, and political pressure on Putin has driven him toward diplomatic debate and dilemma, which will play out over a longer time frame than Crimea did. Year-to-date, the entire group has benefited in my view on capital flow factors, with capital coming out of the wildly profitable stocks of 2013 and moving into value ideas including the precious metals. The geopolitical shock provided by Putin's disapproval with the change in government in Kiev and his annexation of Crimea and ongoing issues in Eastern Ukraine have only supported the early gains of the metals.
In Conclusion
This week, catalysts for the SPDR Gold Trust to move will be plentiful, but I expect the details within those catalysts will offer little real reason for gold and the GLD to move either higher or lower. The lack of direction for the GLD seen in the right tail of the 1-year chart for the GLD should continue to lead meandering in the security moving forward. However, support remains below the security for as long as unrest persists in Ukraine and significant Russian troops remain within striking distance.
Disclosure: I have no positions in any stocks mentioned, and no plans to initiate any positions within the next 72 hours. I wrote this article myself, and it expresses my own opinions. I am not receiving compensation for it (other than from Seeking Alpha). I have no business relationship with any company whose stock is mentioned in this article.