Can Intel stay on top of the PC market?
Intel (NASDAQ:INTC) is an industry giant with its name plastered on most computers and servers, owning a vast majority of the market of both consumer and server markets. Their main rival Advanced Micro Devices (NYSE:AMD) currently hold less than 5 % of the server market. With Intel being almost the entire PC and server market, you can use macroeconomic factors and industry data to forecast its growth in the coming years.
The increase in demand and hiring of IT professionals should have a direct effect to the demand of IT hardware. The demand in certain fields of IT are indicators of where the industry is shifting. The pace of IT job growth are signs of future demand for IT hardware.
PC Market Shipments Stabilizing
The PC shipment market had been retreating since 2012. It reached its peak in Q1 2013 and the negative growth had been decelerating ever since. Since Microsoft (NASDAQ:MSFT) announced dropping support of Win XP, Q1 2014 did better than expected. Overall, 2014 will be another negative year for the PC market but the market is showing clear signs of stabilizing.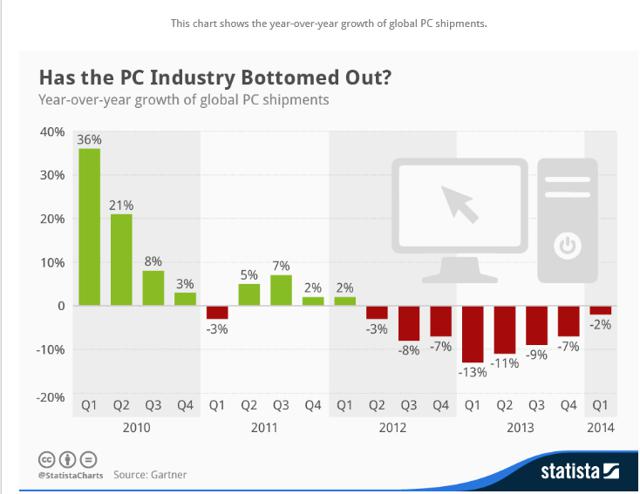 IT Spending Rebound
For most businesses, advertising and marketing are the first to get cut during tough economic conditions, then hiring stalls and maybe even layoffs. Eventually, IT gets reduced to save costs and increase margin. When the businesses pick back up, IT spending will increase to push productivity and efficiency. IT spending rapidly declined after the 2008. By 2012, IT spending was about 3.4% of GDP compared to 4.6% in 2000.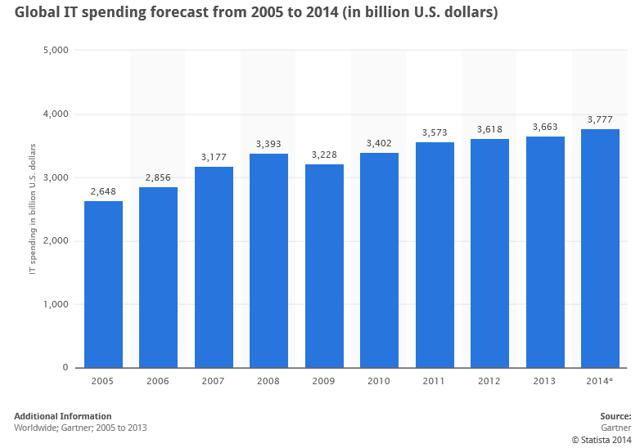 According to Credit Suisse, IT spending saw increases in 2013 and projected to pick up steam in 2014 to 3.2%. For 2015-16, growth is expected to be above 3.5% as the economy picks up. An increase in IT hardware shipments are expected in 2015 as demand for IT services pick up.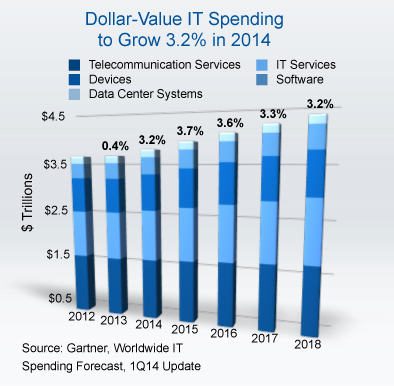 Health Industry, Government and Cloud Computing Create Jobs
The US healthcare system is transforming itself using Information Technology to be more productive and efficient. The government had initiated a $30 billion incentive program to roll out the Electronic Health Records, (EHR), initiative. Modern hospitals find it increasingly difficult to keep track of the large population of patients records using traditional paperwork -- it is slow and prone to mistakes or loss. The new initiative will provide hospitals up to $63,750 per professional depending on the program. EHR systems send and receive prescriptions lowering the amount of human errors. This new initiative created high demand for IT hardware and professionals across the nation as more hospitals are adopting EHR.
A study sponsored by Microsoft and made by IDC estimated that by 2030, cloud computing will be the key delivery method of computing. That process has already started years ago. As of today, about two-thirds of enterprises are planning, implementing, or using cloud computing. The study also found that almost all IT organizations are seeking cloud-enabling capabilities such as virtualization, performance monitoring, service management, and automation. The most prominent obstacle of initiation of cloud computing was the lack of candidates for cloud related IT positions.
For the next two decades, it is estimated that cloud related jobs will grow in demand at six times the rate of other IT jobs. Cloud related skills represent nearly all of the growth projection opportunities in IT worldwide. It is estimated to grow about 26% annually through 2015 according to IDC to 7 million jobs worldwide.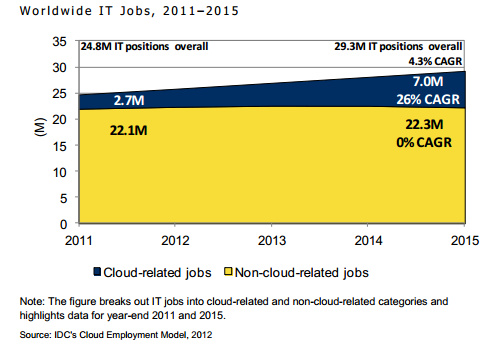 Overall, the IT sector is well above the average occupations in terms of growth. Information Security is a new rapidly growing field that is in high demand from the federal government and private industries as a whole. IT occupations is expected to grow 18% vs 11% average for all other occupations. Information Security are well above it at 37%. The rest of the world should see similar trends as nations bolster their defense against cyber warfare.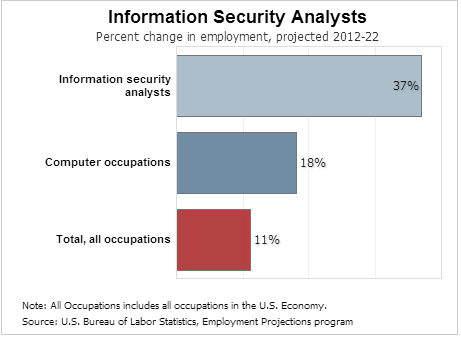 Conclusion
Looking ahead, we are at or near the bottom of the PC market. According to current statistics, PC industry's outlook should be positive by 2015 and continue to grow. IT professions are forecasted to be the fastest growing jobs in the market and specifically in the field of cloud computing. The server market is looking for more efficient ways to do cloud computing especially to complement mobile devices. Starting in 2015, we will start to see more of micro servers in high density platforms. Most likely, we will see massive growth in ARM servers in high density, high efficiency platforms.
Intel should benefit from the rebound of the PC market. However, the fight for growth is in cloud computing. How much growth Intel will see depends on how fast the economy, more specifically the education systems, can crank out more graduates in the cloud computing field. While Intel doesn't have any problem competing with AMD in the current PC and server market, AMD seems to at least temporarily have the upper hand with microservers. AMD's strategic acquisition of SeaMicro in 2012 and contract with Verizon (NYSE:VZ) in 2013 is part of their growth plan in the server market. They will also beat Intel to providing an ARM server chip which will launch late this year or next year.
I am very confident Intel will eventually catch up and surpass AMD with their microserver platform. Intel can simply outspend AMD in R&D and marketing. It's a big advantage when your net income far exceeds your closest competitor's revenue. They are also far ahead of any competitor when it comes to production technology from their fabs. Intel have been selling 20nm CPUs while AMD is still stuck on 28nm. I don't think Intel will miss out on cloud computing like they missed out on mobile after rejecting Apple in making chips for their first iPhone.
From an investor perspective, both Intel and AMD are good investments. Intel will eventually take most of microserver market even if AMD beats them to market with their APU and ARM server chips. You have to decide if you want maximum gains or less volatility. Investing in AMD will be very volatile because they have so little market share. Taking a small amount of market share from Intel could double their server revenue. While Intel taking half of AMD's share wouldn't make much of a difference. Intel would count more on defending their market share while capitalizing on aggregate market growth. For those looking for maximum gains and willing to put up with volatility, I recommend AMD as an investment for the next 3 years. For those looking for long term growth and steady dividends, then Intel is hard to beat.
Disclosure: I am long AMD. I wrote this article myself, and it expresses my own opinions. I am not receiving compensation for it (other than from Seeking Alpha). I have no business relationship with any company whose stock is mentioned in this article.