As long as Intel remains recalcitrant and stays outside the ARM ecosystem, AMD's run up towards $15 is realistic.
A careful study of history should confirm that the 2016 $15 price target for Advanced Micro Devices (NYSE:AMD) is rational (not sensational). New AMD believers deserve to know that the stock used to trade as high as $60 in 2000. AMD's former record-setting x86 products helped it gain a lot of love from the stock market.
AMD did a 2 for 1 split on August 22, 2000 so the peaks might be the $40-$42 price levels in February 2006.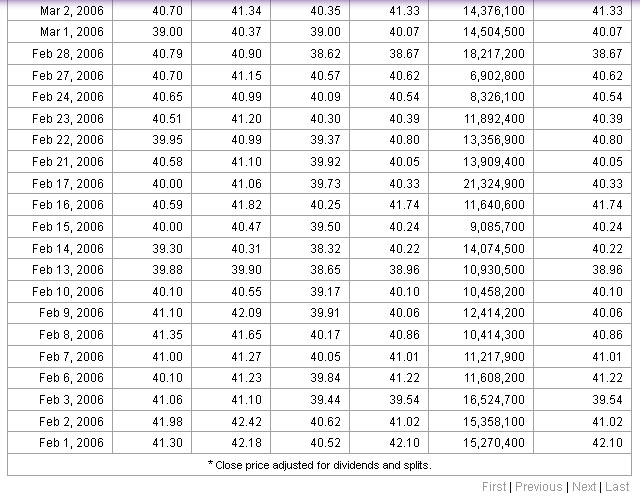 In 2006, AMD enjoyed a 22% market share in x86 desktop processor shipments. During that same period, AMD also increased its market share in x86 server processors to 21.6%.
Overpaying for ATI
Intel's antitrust practices was not the only reason why AMD fell sharply from its 2006 high. Looking at the chart below, AMD's post-2006 performance was horrible. Yes, Intel's discriminatory tactics that discriminated against AMD processors helped add to the woes of AMD.
However, the bigger culprit was AMD's $5.6 billion gambit on buying GPU producer ATI. The euphoria of 2006 wins vs. Intel has caused AMD's management to take risks.

Source: Google Finance
AMD admitted that it overpaid for ATI Technologies. The company did some impairment to rectify the mistake. By looking at the chart below, the huge 2007 & 2008 losses are likely due to the impairments. The 2005 $2.22 billion revenue of ATI was very attractive to AMD at that time. The company also was in desperate need to diversify its products due to Intel's bullying on x86 processors.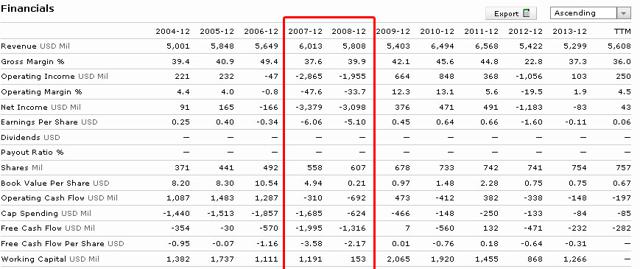 Source: Morningstar.com
AMD had to take on new debt to finance the high price tag of ATI. The company bought ATI with $4.2 billion in cash and $1.2 billion in shares.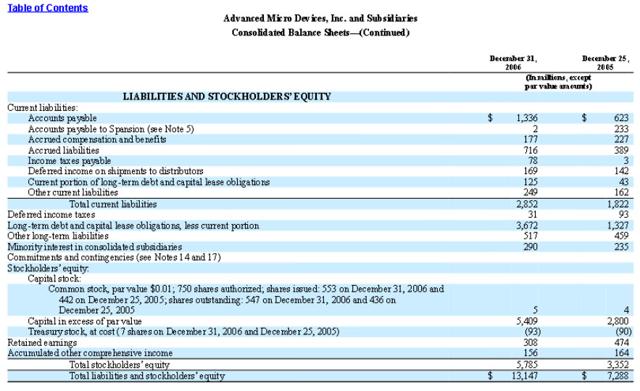 Source: AMD 10-K 2006 Report
The huge 277% in debt from 2005 to 2006 was a heavy handicap that grossly slowed down AMD's race versus Intel. Money for R&D went instead to debt payments. But the universal cycle of the universe is gradually helping AMD make a comeback from its miscalculations.
AMD's long overdue climb towards its former glory is getting a shortcut through its new ambidextrous x86/ARM assault on computing cores. My $15 price target for end of 2016 is way below AMD's historical highs of $40 to 42 that was set in 2006. The 2006 to 2016 journey should not be a 10-year torture for AMD investors.
2013 Was A Turning Point
Despite its heavy debt burden, AMD still managed to post a healthy +65.79% gain. The wind beneath this flight was mainly due to the company winning the PlayStation 4 and Xbox One semi-custom deal.

Source: Google Finance
From a low of $1.80 in November 2012, AMD is now trading at $3.97. The stock has a 52-week high of $4.65. The shorting and bashing of AMD has taken its toll. However, the 220% gain in 18 months convinces me that AMD has still enough gas to again double before 2015 ends. Another double-up by end of 2016 is also within reasonable statistical probability.
History often repeats itself. The market will eventually reward Rory Read's hard work of turning around AMD's fortune. AMD's current Price/Sales Ratio of 0.53 is way below Nvidia (2.36), Qualcomm (5.22), and Intel (2.48). Intel's contra revenue and discriminatory practices is proving to be very costly in the ARM-dominated mobile ecosystem.
Karmic justice adds to the $1.25 billion payment made by Intel to AMD. Intel's fate over the last 14 years is not really that much better than what happened to AMD.

Source: Google Finance
ARM is AMD's Sanctuary
AMD is now going full-bore in its quest to free itself from its x86 dependency. Dismissing AMD as too late to the x64-bit ARM computing is the prerogative of other investors. However, I am very confident that AMD and Jim Keller can come up with a great ARM SoC that will fit nicely with OEMs who makes higher-ASP products.
The argument that AMD has no smartphone or tablet ARM IP today is putting the wagon before the horse. AMD can and will produce 20 nanometer 64-bit ARM cores that are pin-compatible with x86 SoCs by next year. Mullins and BlueStacks already give AMD a dual-0S Windows 8.1/Android OS platform this year.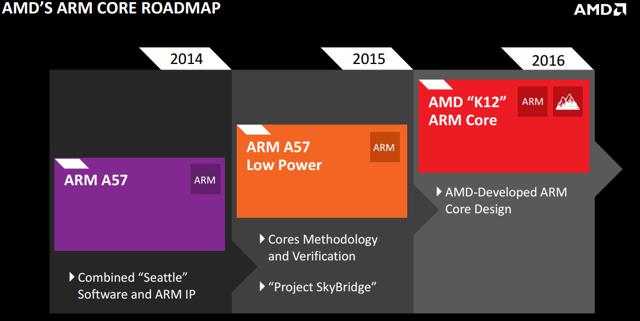 ARM chips are not solely made for smartphones and tablets. There are other huge markets where AMD can enter. The market for embedded SoCs is very promising. Internet of Things and wearable computing products means AMD can ride on the Machine-to-Machine ((M2M)) bandwagon.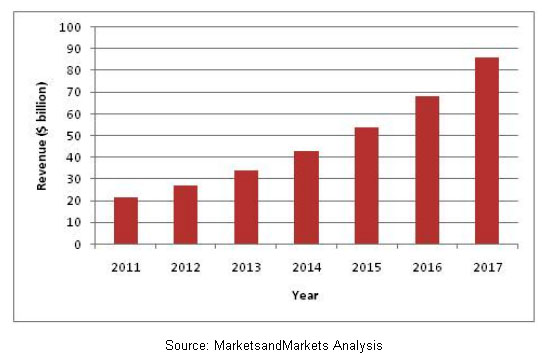 IoT and wearables will require a lot of processors in the future and AMD's ARM license gives it a good chance to be a major supplier of low-power embedded SoCs for smart devices, cars, and appliances.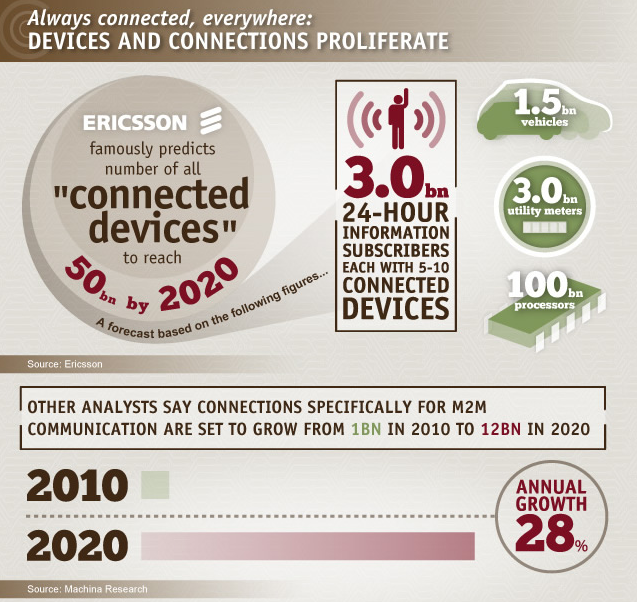 AMD's effort to regain its old server market share should benefit from the commercial launch of the 64-bit Seattle Opteron. Low-power Seattle + SeaMicro Freedom Fabric are a potent combination for budget-conscious cloud computing companies.
The rise of Internet of Things and wearable computing means high-dense ARM-powered SeaMicro microservers will be much in demand for the next six years. The thin margins due to stiff competition require cloud compute firms to go for the most power-efficient microservers for their data server farms.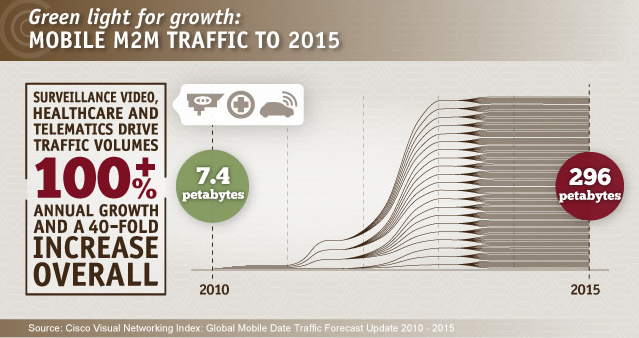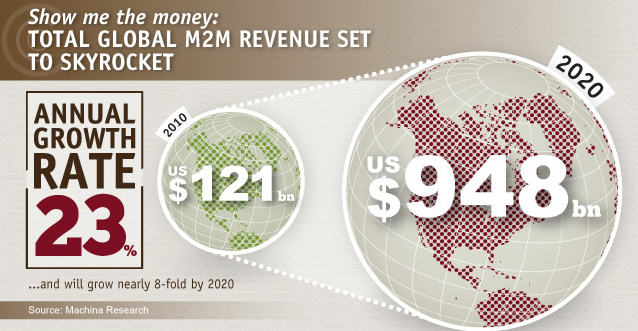 Conclusion
As small as AMD is now, it has the experience, right products, and management to profit from the upcoming M2M explosion. AMD is a buy for long-term investors. History has shown that it can survive the bullying of Intel. History used to glorify AMD with a $40+++ valuation, a $15 forward (31-MONTH) valuation is within statistical probability.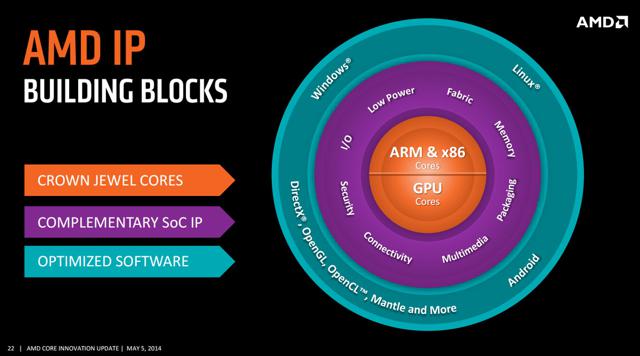 Intel's refusal to surrender to the current supremacy of ARM in mobile products gives AMD the opportunity to thrive in the ARM ecosystem. The $5.4 billion gamble on ATI in 2006 is paying off. HSA and GCN-capable APUs, whether x86 or ARM-based, will eventually find enough industry support.
Disclosure: I am long AMD, INTC. I wrote this article myself, and it expresses my own opinions. I am not receiving compensation for it (other than from Seeking Alpha). I have no business relationship with any company whose stock is mentioned in this article.