In the two years that actively-managed ETFs have been around, there have been funds launched that focus on various asset classes, ranging from equities and fixed-income to currencies and commodities. While equity focused actively-managed ETFs are the most numerous, they certainly haven't seen as much success as funds focused on other asset classes. The graphic below shows a snapshot of the asset class break-up within the Active ETF landscape at the end of July. (Click to enlarge)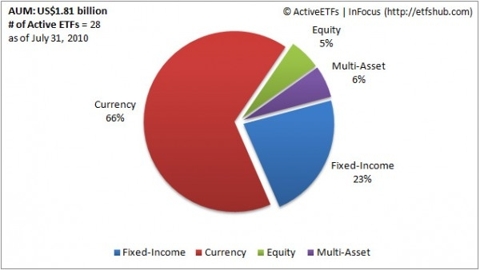 While WisdomTree's currency ETFs have been successful at gathering the lion's share of assets in the Active ETF space, their actively-managed ETFs are essentially seen by many investors as money-market funds. Active fixed-income ETFs had 23% of assets at the end of July, while equity focused active ETFs had a measly 5% share, even though that category is made up 11 different ETFs. Cumulatively, these active equity ETFs held just in excess of $100million in assets. So what exactly has been behind the success of fixed-income focused actively-managed ETFs relative to equity focused products?
Effectiveness of active management in fixed-income securities
The first idea that can explain the relative difference in success rate is that, traditionally, active management is seen to be more effective within the fixed-income market, as opposed to equities. There are more inefficiencies in the bond market for active managers to exploit than in the stock markets, with liquidity differences being one of the factors. As such, fixed-income managers are able to add alpha over their benchmarks more often than not, whereas within equities, active managers have a much harder time outperforming indices.
This has been reflected in the success of PIMCO's three actively-managed bond ETFs, with one being a money-market alternative and the other two funds focusing on the municipal bond market. These funds have been relatively more popular because of the access they provide to PIMCO's active management expertise in the bond market. And have these fund actually been successful at outperforming? Of the three funds, only PIMCO's Enhanced Short Maturity Fund (NYSEARCA:MINT) has been able to beat its benchmark, while the other two municipal bond funds have lagged their benchmarks marginally since inception.
Less impact of daily disclosure requirement in fixed-income than equities
The second big factor is the effect of the daily disclosure of all holdings that is required of actively-managed ETFs. Most active managers, especially equity managers, have been reluctant to meet this stringent requirement because they fear exposing their alpha generating strategies to competitors.
In a recent interview, Patrick Daugherty, who worked behind the scenes on the launch of the first actively-managed bond ETF from Bear Stearns in 2008, shared his thoughts on the effect of the daily disclosure requirement on active managers. He said: "There's no doubt it discourages some of them because sophisticated and active traders whom I speak to, who have been known to do other things that require capital and human resources, have told me that this is the reason they have not gone into this field."
If any equity manager wants to build up a position and exit a position over several trading days, then that move would be visible to outsiders through the daily disclosure of holdings. As a result, traders could potentially monitor the positions being changed and front-run the moves made by the active manager, resulting in sub-par pricing for the fund. The bond market though has a lot more depth compared to equity markets. For example, the municipal bond market comprises of tens of thousands of different issues which means that holdings in different funds can vary extensively. As a result, knowing what bonds a fund holds may be very helpful for an outside trader. Due to this, managers behind and investors in fixed-income funds have been far more comfortable with the disclosure requirements of Active ETFs.
Presence of reputed managers in fixed-income, not in equities
The third and probably most important factor has been the lack of star managers running Active ETFs within the equity space. As most investors would tell you, when it comes to active management, the biggest pull factor is nearly always the reputation of the managers behind the fund and their track record. The fixed-income space has seen several strong and well-reputed managers get behind actively-managed ETFs. One example is, of course, PIMCO which has attracted a lot of assets into its Active ETFs by virtue of its reputation in the bond market, as mentioned earlier. Grail Advisors also recently announced a partnership with DoubleLine, run by the renowned fixed-income manager, Jeffery Gundlach. In the equity landscape though, there has been nothing comparable to attract investors to actively-managed equity ETFs.
The industry is still waiting for a Bill Miller, or an equivalent, to get interested in the Active ETF space.
Disclosure: No positions in above-mentioned names.
Disclaimer: Views and opinions expressed on EtfsHub are those of the author alone and do not in any way represent the official views, positions or opinions of the employers – both past or present – of the author in question, or any other institutions and corporations associated with the author. Neither the information nor any opinions contained or expressed above and elsewhere on EtfsHub constitutes or should be construed as a solicitation or offer by EtfsHub to buy or sell any securities or other financial instruments or to provide any investment advice or recommendations. None of the material above and elsewhere on EtfsHub is intended to endorse or promote any company or its products. EtfsHub shall not be liable for any claims or losses of any nature, arising indirectly or directly from use of the information on or accessed through the site. Please see full disclaimers here.