The share price of Exxon Mobil (NYSE:XOM) is on the rise and has appreciated by almost 14% since February, compared to a 7% gain for S&P 500 Index. Should investors buy into the current uptrend? In this article, I will walk you through my cash flow and valuation analyses which support my conclusion that the other two US oil super majors, Chevron (NYSE:CVX) and ConocoPhillips (NYSE:COP), represent better income investment opportunities than XOM.
XOM recently reported Q1 2014 performance with EPS beating consensus estimate primarily driven by higher-than-expected production in International Upstream segment and improved margin capture on Brent oil price (21.4%). Management also announced a 9.5% raise in quarterly dividend and repurchased $3.9B value of shares in the quarter.
While recent performance was strong, XOM's longer-term cash flow growth profile remains weaker than those of CVX and COP. In my recent articles (here and here), I have performed free cash flow projections for both CVX and COP based on consensus estimates and my fair assumptions. This article focuses on a similar analysis for XOM (see chart below).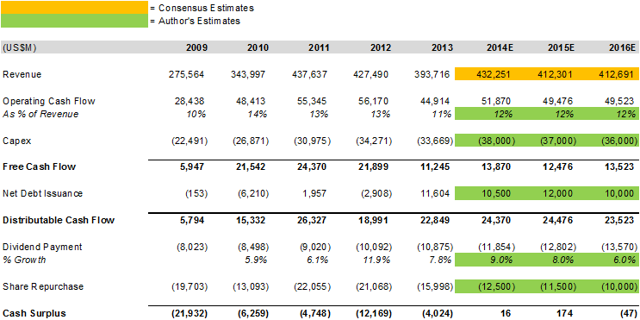 My calculation started with consensus revenues from 2014 to 2016 as XOM has been able to maintain a stable operating cash flow margin (ranging from 10% to 14% over the past 5 years) at an average of about 12%. Based on that, I assumed the operating cash flow margin to stay flat at 12% over my forecast period from 2014 to 2016. According to management's capex guidance from 2014 to 2017, I assumed capex to decrease gradually from $38B in 2014 to $36B in 2016. Given my assumptions, free cash flow was projected to increase from $11.2B in 2013 to $13.5B in 2016, at a CAGR of 6.3%. As such, if future dividend payment is to be completely funded by internally-generated free cash flow, dividend growth would need to slow down from the current 9.5% over the next years due to the free cash flow growth bottleneck (6.3%). In my model, I assumed dividend growth to decrease from 9.0% in 2014 to 6.0% in 2016, and if management decides to continue with its buyback program, the extra funding will need to be generated from additional debt borrowing (managment has no major asset sale plan). Of course, the annual dividend growth rate can be maintained at 9.0% through 2016 as the funding shortfall can come from further debt borrowing, but what I wanted to illustrate here is that the dividend growth at 9.5% is not sustainable at XOM's current state as a result of the slower free cash flow growth prospects. On the other hand, my similar analyses show that both CVX and COP are expected to see much faster free cash flow over the coming 3 years. Although both companies currently still need extra funding from asset sale and/or debt issuance to support their dividend commitments, such needs are likely to reduce over time as the growth of free cash flow is expected to notably outpace the dividend growth, effectively shrinking the deficit. This is the primary reason why I prefer CVX and COP over XOM for now.
Another reason is simply XOM's lower dividend yield and higher valuation. XOM has one of the lowest dividend yields (2.7%) among global integrated oil majors, which has an average yield of 4.8%. In terms of valuation, XOM trades at 6.0x forward estimated 2015 EBITDA and 13.1x forward estimated 2015 EPS, both of which are at a large premium (33% and 13%, respectively) over peer averages. Despite the fact that XOM enjoys above-average return on equity and return on capital metrics, I would not feel comfortable with XOM's large valuation premium given the stock's lower dividend yield and the company's much lower long-term consensus earnings growth estimate (3.7% vs. peer average at 6.9%) (see chart below).

Based on the Gordon growth dividend discount model, at XOM's current annualized dividend of $2.76 per share and 9.0% cost of equity (the CAPM model suggests a 8.0% cost of equity based on 3% risk-free rate, 6% equity risk premium, and 5-year beta of 0.82), XOM's current share price of ~$102 implies a dividend growth rate of approximately 6%. In a similar analysis (here and here), I estimated the implied dividend growth rates for CVX and COP to be about 6.5%. Due to their high yields, preference will be given to CVX and COP.
In conclusion, XOM's recent 9.5% dividend increase is not sustainable over a longer term because of the company's slower free cash flow growth potential. For income investors seeking exposure to US super oil majors, CVX and COP are recommended due to their similar/better dividend growth prospects and higher yields.
All charts are created by the author, and data used in the article and the charts is sourced from S&P Capital IQ, unless otherwise specified.
Disclosure: I am long CVX, COP. I wrote this article myself, and it expresses my own opinions. I am not receiving compensation for it (other than from Seeking Alpha). I have no business relationship with any company whose stock is mentioned in this article.