Stability is the name of the game for investors in a stock like Realty Income (NYSE:O). Thanks to its large monthly dividends (0.42% per month, 5% annualized), the stock has long been a haven for income-focused investors. However, in 2013, Realty Income became seriously overbought and overpriced, leading to a sharp decline in its share price from about $52 to the mid $30s. That being said, Realty Income has recovered, gaining 17% YTD not including dividends.
Q1 2014 Overview
On May 1, Realty Income reported its Q1 2014 results. Below are a few of the key stats for the quarter:
Revenues: $221.6 million, up 26.3%

Net income per common share: $0.23

Normalized FFO: $134.5 million, up 29.7%

Normalized FFO per share: $0.65, up 8.3%

Adjusted FFO: $132.7 million, up 27.6%

Adjusted FFO per share: $0.64, up 6.7%

Same store rents: $131.4 million, up 1.5%

Portfolio occupancy: 98.3%, up 6 basis points from 97.7%

Dividends paid per common share: about $0.547, up 0.7%
Realty Income's overall results were quite good. Adjusted FFO, the key metric for profitability in REITs, grew 6.7% to $0.64 per share, in line with estimates. Same-store rents were up 1.5% largely thanks to rent increases "baked in" into the leases. The company noted that it was realizing higher rents in most of its segments with convenient stores and quick-service restaurants outperforming.
As a triple-net REIT, Realty Income typically pays out nearly all of its cash flow via dividends. Using Realty Income's adjusted FFO of $0.64 per share, the dividend payout ratio improved to 86% from 88% last quarter.
Incremental cash flow increases are also usually transferred over to shareholders via the dividend. During the quarter, the company rewarded its shareholders with a modest increase to its annualized dividend from $2.185 to $2.19 per share.
Operationally, Realty Income seems to be performing well. Both rents and occupancy rates increased from prior-year and prior-quarter levels. The company noted in its conference call that based on square footage the "economic occupancy" is actually closer to 99%. As of quarter end, Realty Income had 4,208 properties with 211 commercial tenants in 47 different industries with about 78% of its rental revenues coming from retail properties.
Realty Income's acquisition of properties should provide a boost for Q2
During the quarter, Realty Income acquired $656.7 million in properties spread across 22 different tenants in 15 industries. The portfolio is rather high quality with 84% of the revenue coming from investment grade-rated tenants. These properties also serve to increase the average lease term with this portfolio at 14.2 years compared to 10.8 years for the company as a whole.
The transaction was funded in part by a 13.8 million equity offering netting the company $529 million. As I noted in a previous article, this acquisition is by definition accretive for Realty Income as the yield on equity (about 5.475%) is less than the initial average lease yield of 7.0%.
Considering that these transactions closed towards the end of Q1, Realty Income should see the full benefit from the acquisitions start to trickle over starting in Q2. Doing some back of the envelope math, assuming the 7% lease yield and factoring in the equity offering, the company could see a benefit of $0.05 to $0.10 towards its full-year FFO.
Given that Realty Income's payout ratio of 86% is already below its long-term average of 90%, this increased FFO may foretell an upcoming dividend hike. The company is due for a sizeable, non-token, increase, with the last major dividend boost coming in early 2013 as a result of the American Realty Capital Trust acquisition.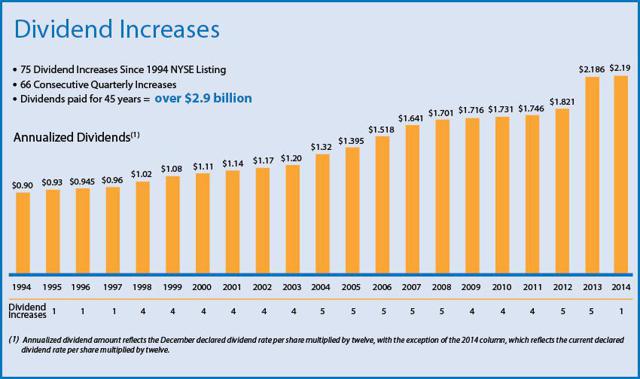 Click to enlarge
Source: Realty Income's Dividend Information
Conclusion
Overall, Realty Income performed well. Its operational performance was robust and FFO growth adequate. Indeed, the stock is already up 10% for those who bought in when it dipped below $40.00 as a result of the recent equity offering.
However, with the Realty Income's valuation hovering above 17x FY FFO, I would wait for a pullback before initiating or adding to a position. In addition, the current yield of 5.00% is likely the minimum required for many REIT investors.
Disclaimer: The opinions in this article are for informational purposes only and should not be construed as a recommendation to buy or sell the stocks mentioned. Please do your own due diligence before making any investment decision.
Disclosure: I am long O. I wrote this article myself, and it expresses my own opinions. I am not receiving compensation for it (other than from Seeking Alpha). I have no business relationship with any company whose stock is mentioned in this article.