By Chris McKhann
Traders are buying calls even as Tesoro (NYSE:TSO) stock has fallen for seven straight sessions.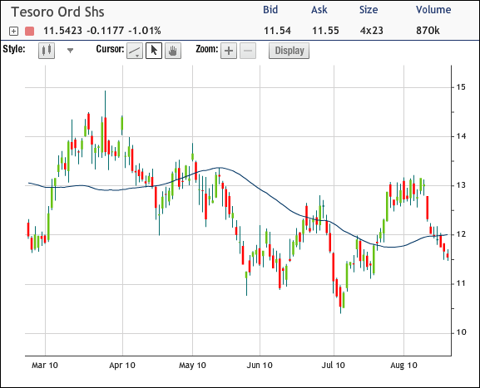 The oil-refining stock is down again today, falling another 1.01 percent to $11.58 in late morning trading. It had been wavering around $13 until August 11 when they dropped 5 percent. Every day since has been a loser, and TSO is now back to levels last seen on July 20.
Calls outpace puts by more than 5-1 today, with most of the volume in the September 13 contracts. One trader bought 2,500 of those calls for $0.12, betting on a rebound in the next month.
Given the recent volatility, it doesn't seem out of the realm of possibility for these puts to profit. Their implied volatility is 39 percent. The 30-day historical volatility is at the same level, which is the lowest for that metric since May.
Disclosure: No positions