Barely a week and a half ago we asked, "Where is the market headed?" in an article published by Seeking Alpha on May 3rd, using data of May 1st. The question's answer of "Up" was provided by an array of leveraged long Exchange Traded Funds [ETFs] that tracked major market indexes.
More properly, the answer came from the actions of market makers [MMs] as they hedged the risks exposed to their firms' capital, required in the process of facilitating the trade orders of their big-money fund clients. The true expectations drawn from their self-protective actions said that there was far more harm to be had from being short those highly leveraged securities than in having net long positions in them.
Their upside target for ProShares UltraPro Dow 30 (NYSEARCA:UDOW) of $116+ has already nearly been reached by Monday's close of $115 ½. Its price range forecast has been advanced by +2½% or a rate that would more than double its prices if continued for a year. Other ETFs used as market illustrations in the article also have had dramatic increases in their forecasts in this interim.
But there are many specialized-interest ETFs with built-in leverages. It is time to look at the better ones of those. We offer our usual table of Market-Maker implied price range forecasts, vetted by comparison with the results of prior forecasts similar to those of today: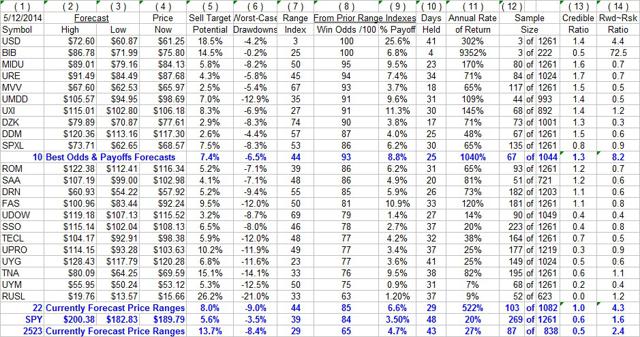 A quick explanation of the less-obvious numbered columns: (5) is the % change between (4) and (2). (12) tells, out of the total number of forecast days available, that sample number of those days with Range Indexes like the present. The Range Index (7) is the percentage of the forecast range (2 to 3) that lies below the forecast day market price (4). Using the prior sample in (12) to follow a standard, simple time-efficient holding discipline, (8) indicates the percentage of them that were profitable, (9) the average net gain on all such holdings, (10) tells how long on average the samples were held, and (11) the rate created by (9) and (10). (13) measures the credibility of (5) given (9), and (14) compares (5) to (6).
Please invest the time and effort it may take to understand the dose that is inflicted by all of those ( )s in the prior paragraph. The data does provide a useful way to compare some not-so-simple, but realistic, investment considerations.
For example, the critical starting point in each is the benefit being offered by each forecast in (5), largest for Direxion Daily Russia Bull 3x Shares (NYSEARCA:RUSL), smallest for ProShares Ultra MidCap 400 (NYSEARCA:MVV). Past experiences of (9) say ProShares Ultra Real Estate (NYSEARCA:URE)'s modest +4.3% is most credible of the group, and those of RUSL are the least believable.
We normally screen out issues that lack adequate prior history or have highly abnormal experiences. In this table there are a few such, included to illustrate how common are those things that reflect surprises to which investors often react. Their reactions are not always in error; sometimes they are the consummation of a prior plan. Each transaction may have both extremes on opposite sides of the trade, or may even have common satisfactions, for different reasons.
What has occurred in RUSL is of interest because it may relate to an apparent shift in market outlook. Here is the daily history of MM forecasts for the past 6 months: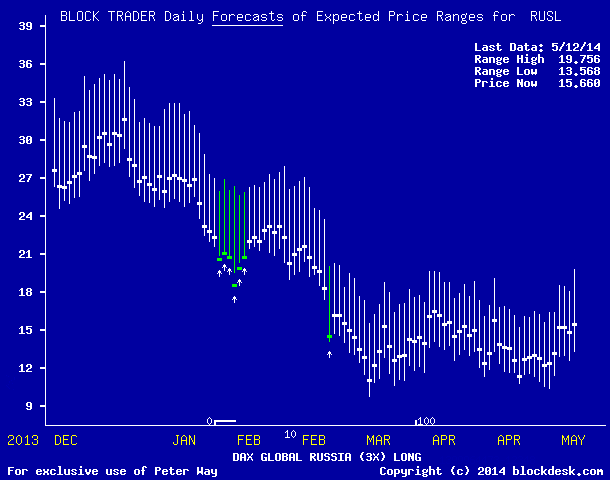 (used with permission)
The vertical lines in the picture are MM price range forecasts, made daily. The most recent four days' outlooks at the right have an increase of about +20% over where they were a week ago.
We have no specific knowledge of what the MMs know, or what their big-money clientele may know. But both groups typically stay close on such international political developments as are transpiring in Ukraine. Major economic disruptions, particularly in Europe, could be created by either side acting rashly. This optimistic jump in expectations hopefully may have hidden constructive implications that will become evident in coming days and weeks.
How believable are the numbers?
Credibility of the forecasts being seen is typically judged by the adequacy of performance of similar past forecasts. But "good" performance can also be overdone, as is seen in the case of ProShares Ultra Nasdaq Biotechnology (NASDAQ:BIB).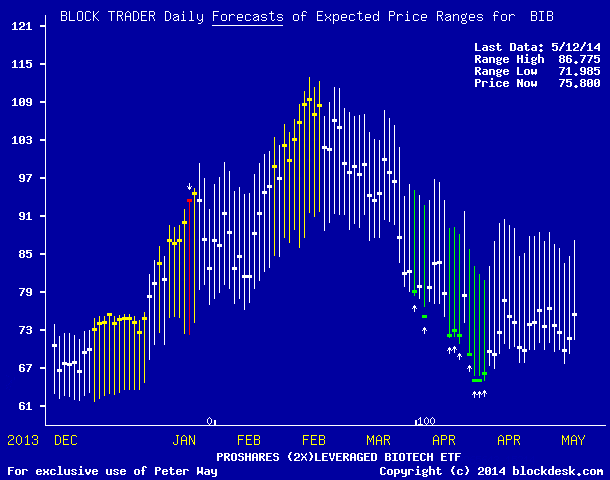 In the performance table above, columns 9, 10, and 11 for BIB reflect the kind of extreme price changes that are far more common than "normal" statistics contemplate. Back in early February this year, there were a few days when BIB prices declined sharply, following an extreme warning in red where the entire price range forecast was to the downside.
The price drop turned out to be temporary and MM expectations basically moved sideways, putting the market quotes down in the bottom quarter of the forecast range, just like it is now - perhaps for a different reason. In February, its price rose quickly to the tops of earlier forecast ranges, triggering position closeouts in our time-efficient strategy discipline.
The average holding period of the three positions was a mere 4 days. While the gain was less than 7%, the rate of return on capital is enormous and distorts the averages in column 11. Without BIB, the top 9 would average 116% and the 22 ETFs would show only a +78% annual rate average.
A similar distortion is present in ProShares Ultra Semiconductors (NYSEARCA:USD) where an apparent shift in expectations may be putting new life into an industry consolidation and recovery that is already at least a year old. The problem here is not a short holding period, but a very limited number of prior experiences. The picture below warns of only 3 such small Range Index closeouts in the past 5 years.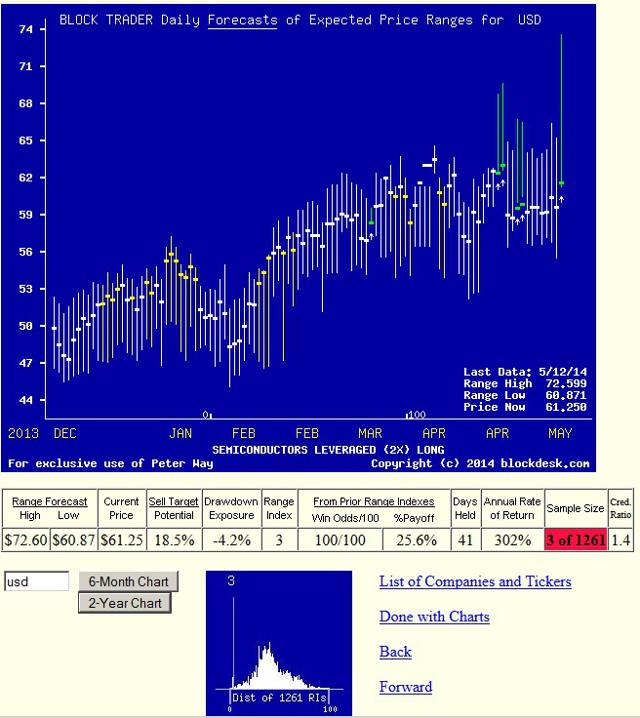 The small blue thumbnail shows how extreme the current Range Index (coincidentally of 3) is, compared to an otherwise unsurprising distribution. If the small sample was being caused by a limited number of observations, as is the case in BIB, the perfect win odds would be less convincing.
At the other extreme of how price expectations develop, consider the case of the Direxion Daily Mid Cap Bull 3x Shares (NYSEARCA:MIDU). Its Range Index is currently 50, meaning that its current market quote is right smack in the middle of its price range forecast. With a full 5-year history of 1261 daily forecasts, one might expect a sample of several hundred prior closeouts. Instead, we have only 80.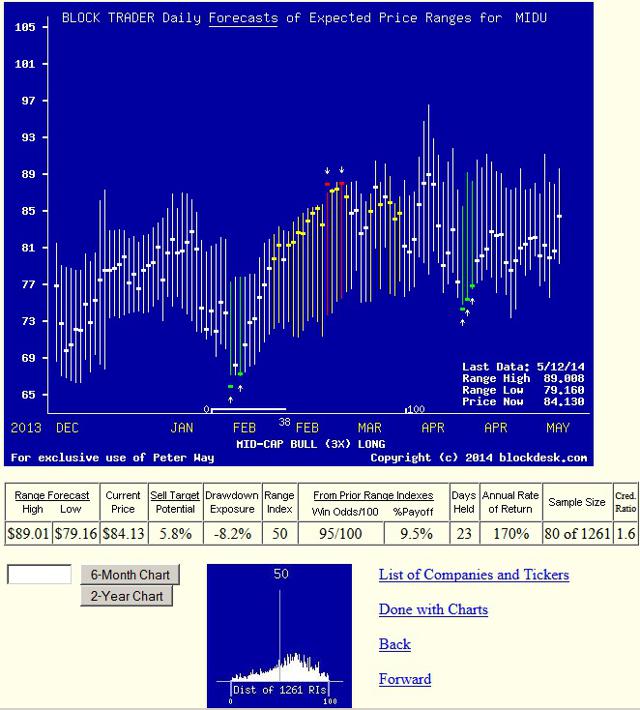 This is an ETF that seems to live most usually out towards its forecast extremes. Please check the thumbnail. This is another example of why value assumptions and future price models just don't work very well based on the "normal distribution" essential to CAPM delusions.
This ETF's market behavior makes it a frequently attractive vehicle for time-efficient wealth-builders.
Conclusions
Several other special-interest leveraged-long ETFs present attractive investment prospects in an environment of a rising market. The fields of Real Estate, Industrials, Financials, are all represented, along with cap-sizes of large, mid, and small. In the present market prospect many portfolio needs can be met, with the extra payoff of non-financial leverage never subject to a margin call.
The caution that should be observed is that inverse leveraged ETFs are the instruments that cause all the legal verbiage and fear-mongering. For good and plenty reasons. Most investors will have little reason to use them. Many have found structured shorts to be other than expected in price performance.
Instead, use and benefit from the leveraged longs, in a holding discipline that sets good targets and time limits.
Disclosure: I have no positions in any stocks mentioned, and no plans to initiate any positions within the next 72 hours. I wrote this article myself, and it expresses my own opinions. I am not receiving compensation for it (other than from Seeking Alpha). I have no business relationship with any company whose stock is mentioned in this article.