Following the high volatility experienced during the European financial crisis, the stock markets and ETFs have remained rather tepid in comparison. Still, more bearish investors are coming out of the woodwork and short equity ETFs are increasing.
There are 61 bearish ETFs on the market right now, and looking at the performance in the ETF Analyzer, it's easy to get a sense of what investors are thinking based on the moves they've made in the last month. ProShares UltraShort Semiconductors (NYSEARCA:SSG) is the leader, up 13.1% in that time. Other leaders are short funds focused on financials, small-aps, oil and the euro [click to enlarge]: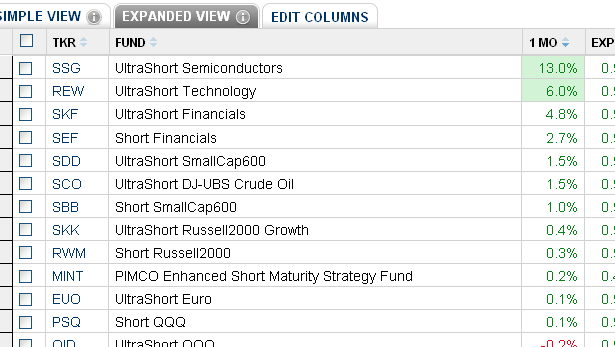 Ever since April, short sellers have been making greater moves in the markets, and short equity ETFs accounted for about two-thirds of trades last week, writes Kathleen Brooks for City A.M. The higher volatility stemming from the eurozone debt problem has increased activity in short/leveraged products.
Leveraged ETFs typically maintain a $2 exposure to an index for every $1 invested, notes Tristan Yates for Investopedia. The makeup of leveraged ETFs also allows management to create and redeem shares as needed, which results in share prices that are basically identical to their net asset value.
However, fund managers have to buy and sell derivatives to maintain that target exposure, which can result in higher expenses and fluctuations in index exposure because of daily rebalancing. As a result, it is unlikely that these types of funds can maintain twice or three times the return of the index for an extended period of time.
Maintaining a constant leverage ratio is very complex, and if the market is very volatile, the ETF may produce some noticeable deviations as compared to the underlying index. When calculating returns, it is also important to note that the leveraged ETF expected returns is before management, interest and transaction expenses are calculated into the mix.