After a brief hiatus, I am back to looking for some more good deals in the market. This week's circular of specials takes us down the Telecommunications aisle, where I will look to identify some stocks trading at attractive valuations.
3. Energy
4. Financials
5. Healthcare
6. Industrials
7. Technology
8. Materials
9. Telecommunications
10. Utilities
The Telecommunications Sector is comprised of companies providing communications services through fixed line, cellular, wireless, high band-width or fiber optic networks. The sector is a small one in numbers, as it contains just 9 of the 526 stocks found on David Fish's Dividend Champions, Contenders and Challengers, or "CCC" List.
Unfortunately, as a result of the small number of options to choose from, I was unable to find five stocks that are attractive at current prices. However, the four that did make the list appear to solid candidates for yield hungry investors. The information listed below was collected from Yahoo Finance and the "CCC" List.

Telecommunications companies are similar in many ways to utilities as an investment, as they have reliable revenue streams due to recurring payments from customers and are generally recession resistant as people will give up other discretionary items before they will give up their cell phones.
Another similarity with utilities are the higher dividend yields, as these companies all pay above average dividends with yields ranging from 4-5%. This combination of attractive yields and reliable, albeit slow growth make them excellent candidates for income investors.
Company Profiles
AT&T Inc. (NYSE:T) provides telecommunications services in the United States and internationally. Its Wireless segment offers wireless voice, data and text as well as local wireless communications, long-distance and roaming services. This segment also provides retail sales of handsets, computers, data cards, and accessories with services to approximately 110 million subscribers.
Its Wireline segment provides data services such as DSL internet access, network integration and managed Web-hosting, as well as local, interstate, and international wholesale networking capacity to other service providers. This segment served approximately 12 million retail consumer lines, 10 million retail business lines, and 2 million wholesale lines.
The company was founded in 1983 and is based in Dallas, Texas.
AT&T is a Dividend Champion, with a 30 year history of dividend growth. The image below, from F.A.S.T. Graphs, shows the payment history over the last decade, with a steady growth of 4.5% annually in the payout. The combination of a high initial yield of 4.8% with continued growth in the payout has returned $6,178 on a $10,000 investment in dividends alone during the period.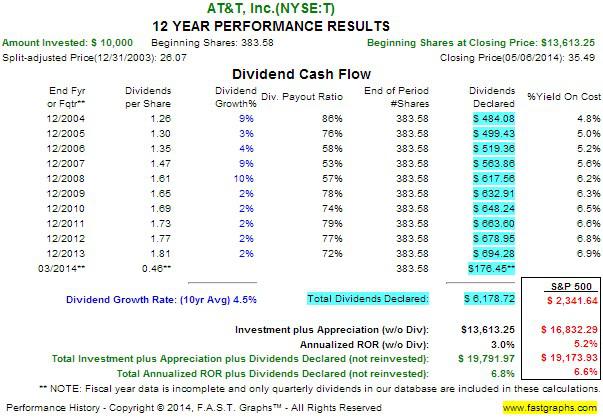 Earnings growth has followed a similar trajectory as they have increased at an annual rate of 5.1%, with adjusted operated earnings growing from $1.47 to $2.50 over the period.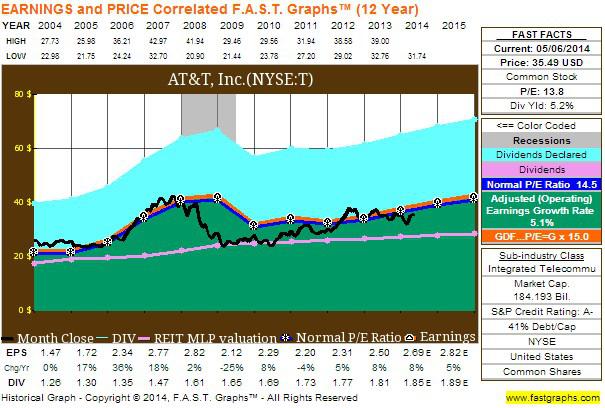 AT&T has long been a staple of dividend growth portfolios and still appears to be a solid long-term hold. While it doesn't provide the high growth of some other options in the market, the combination of a 5.2% yield and projected 5.3% 5 year earnings growth makes it attractive to income and total return investors alike. With the stock currently trading about 5% below its 10 year normal P/E ratio of 14.5, the stock is at an attractive level and could be expected to provide double digit total returns in the coming years.
BCE Inc. (NYSE:BCE) provides broadband communication services to residential and business customers in Canada. The company operates in four segments by offering telephone services, direct-to-home satellite television, internet protocol television services, and local exchange carrier services. It also provides data services, information and technology solutions, and network installation and maintenance. It offers wireless voice and data products under the Bell and Virgin Mobile brands and operates TV stations, pay and pay-per-view TV channels, radio stations and websites. The company, formerly known as Bell Canada Enterprises Inc., was founded in 1983 and is based in Verdun, Canada.
BCE is a member of the Dividend Challengers List as it has raised its dividend for the past 5 years at a CAGR of 25.6%. This rate is distorted somewhat as the increase is coming off of a large cut in 2008 during the financial crisis. However, the company also has shown an impressive CAGR of 6.6% over the 10 year period, even while taking the large cut into account.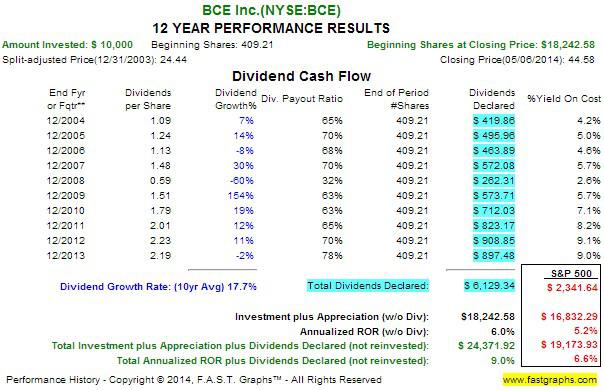 With a P/E of 15.8, BCE is currently trading at a near 10% premium to its normal P/E of 14.4 and appears to be a bit overvalued at this time. However, with a yield hovering near 5% and expected earnings growth of around 4%, the stock is still an attractive hold as an income investment.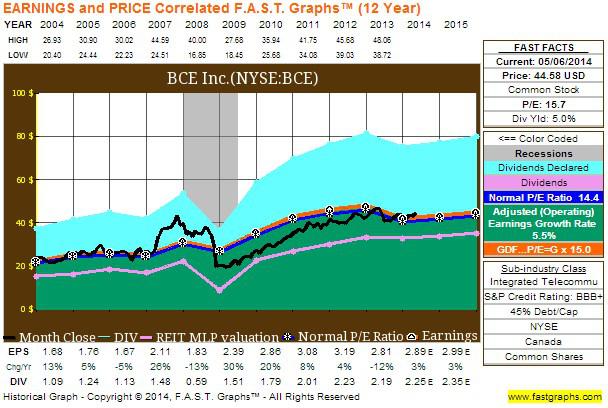 Rogers Communications Inc. (NYSE:RCI) operates as a communications and media company in Canada. It provides wireless voice and high-speed data communication services under the Rogers, Fido, and Chatr brands and also provides digital television and online viewing, high-speed broadband internet access, and cable telephony services for consumers and businesses. Its Business Solutions segment provides voice, data, networking, data centre, and cloud based services for businesses, governments, and other telecommunications providers. Finally, the Media segment operates approximately 50 AM and FM radio stations; operates conventional and specialty television networks; publishes magazines; offers marketing, medical, financial, and trade publications, owns the Toronto Blue Jays and owns the Rogers Centre event venue. The company was founded in 1920 and is headquartered in Toronto, Canada.
Rogers is also a Dividend Challenger, with 9 years of consecutive dividend increases. Rogers has shown the fastest growth of the stocks selected, as it has increased the dividend at a CAGR of 52.3% over the last decade and has rewarded shareholders with a total annualized rate of return of 18.7% over the period.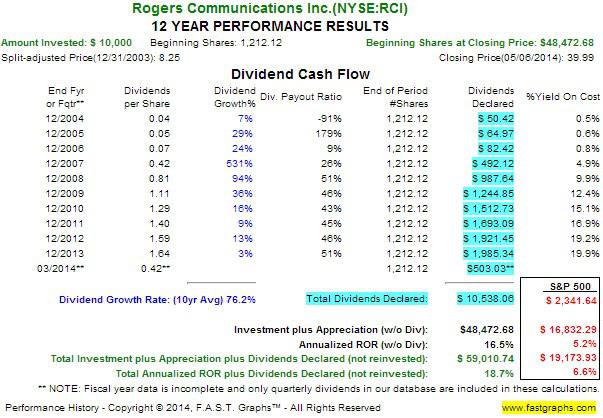 The share price for Rogers has been stagnant since before the 2008-2009 recession as the stock has yet to return to the pre-recession high of $54.28 per share. This has continued since 2012 as earnings have dropped from $3.44 to a projected $2.89 and the P/E has contracted to around 13.1, well below the normal P/E ratio of 20.6 during the period.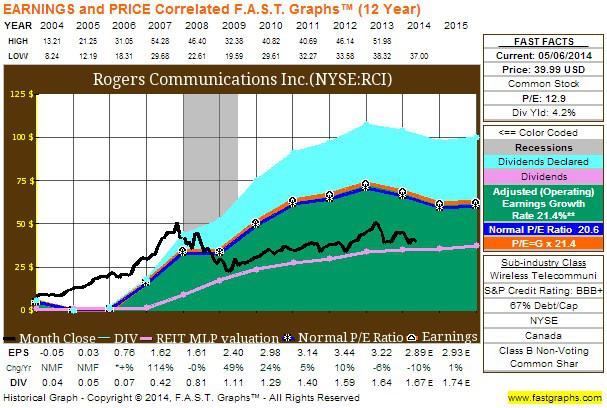 This disparity between historical and current P/E ratios would make it appear that Rogers is a huge bargain at current levels, however when shortening the time frame to the past 5 years, it appears the stock is fairly valued at current prices as the new normal P/E of 13.1 matches the current ratio.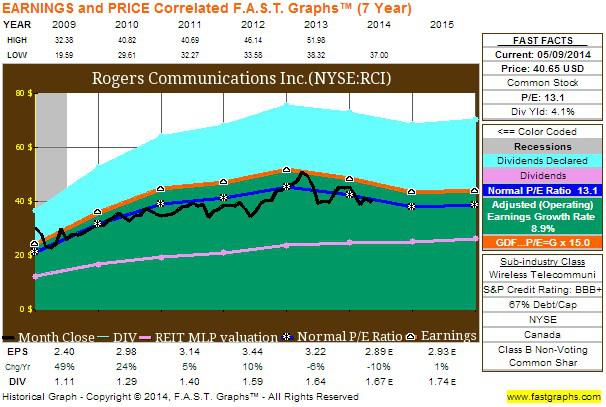 With a 5.5% earnings growth expected to return in the coming years and the stock providing an appealing 4.1% yield, this appears to be a good entry point for the stock.
Verizon Communications Inc. (NYSE:VZ), through its subsidiaries, provides communications, information and entertainment products and services worldwide. Some of the services offered by Verizon include: wireless voice and data; text, picture, and video messaging; multimedia applications; video services; high-speed internet access; and networking products and solutions. The company was formerly known as Bell Atlantic Corporation before changing its name to Verizon Communications Inc. in 2000. The company was founded in 1983 and is headquartered in New York City.
Verizon is a Dividend Challenger, with 9 consecutive years of dividend increases. Verizon is the slowest dividend grower among today's selections, as it has an average rate of increase of just 3.2% during the period.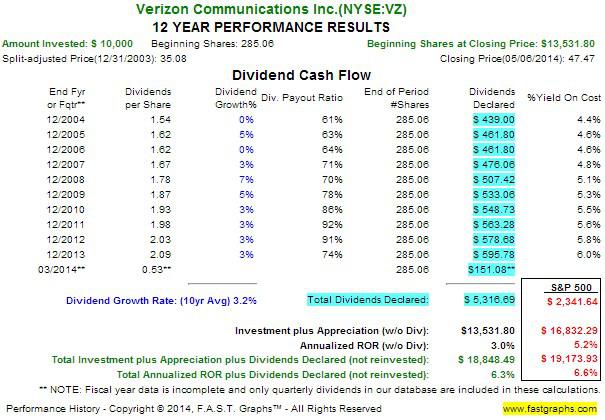 It appears that this long period of mediocre increases could be nearing an end however, as analysts are projecting more robust growth ahead. The company's earnings rose by 27% in 2013 and are expected to increase another 25% this year to $3.55. With a dividend of $2.12, this equates to a payout ratio of just under 60%, which would be the lowest in the last decade.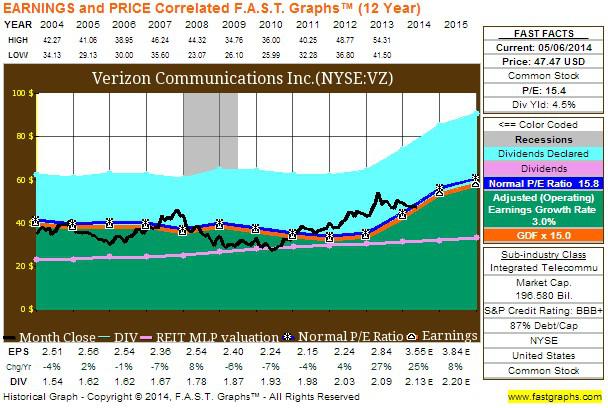 Analysts are projected earnings growth over the next 5 years of 6.6%. With the stock trading at just 13.4 times the expected 2014 earnings, the stock is at an attractive entry point. As the payout ratio drops and growth picks up, investors could expect dividend growth to at least match earnings growth going forward.
Summary
The Telecommunications Sector may lack in numbers, but it doesn't lack for quality investment opportunities among them. The selected stocks all have credit ratings of BBB+ or better and all provide investors with dividend yields at above market rates of 4% or higher.
While these types of investments are generally thought of as "widow- and-orphan" stocks, they can also provide above market total returns for long-term investors. The combination of steady, mid-single digit earnings growth and 4%+ dividend yields can provide annual total returns of greater than 10% for those willing to be patient. I don't currently own any of these companies, but after doing my research on them, I can see why they would be S.W.A.N. investments.
Next up for Article #10, the final installment in the series, I will be looking for more "Blue Light Specials" in the Utility Sector of the market.
Disclosure: I have no positions in any stocks mentioned, and no plans to initiate any positions within the next 72 hours. I wrote this article myself, and it expresses my own opinions. I am not receiving compensation for it (other than from Seeking Alpha). I have no business relationship with any company whose stock is mentioned in this article.
Additional disclosure: I am a Civil Engineer by trade and am not a professional investment adviser or financial analyst. This article is not an endorsement for the stocks mentioned. Please perform your own due diligence before you decide to trade any securities or other products.