It hasn't been that long yet, but I continue to be impressed with Satya Nadella's "new" Microsoft (NASDAQ:MSFT).
Aside from giving the company an entirely new look and feel from when Mr. Ballmer was at the helm, some of the initiatives that Mr. Nadella has already implemented seem to be paying immediate dividends for the company.
Investors seem to agree with me, as well - there's definitely been an infusion of confidence in the company's stock since Mr. Nadella has come in.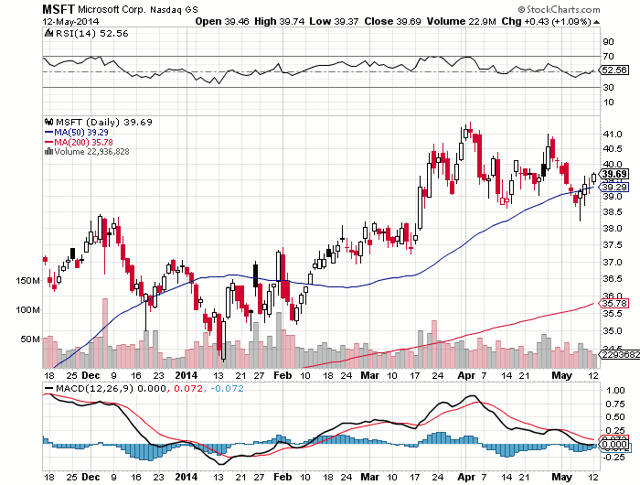 Click to enlarge
Microsoft's TechEd event held this week has done well to reaffirm what Nadella has already told us: Microsoft is going to be a company that is focused on cloud and mobile.
Seeking Alpha reported yesterday:
Office iPad app downloads have hit 27M in 5 weeks, Microsoft exec Julia White stated at the company's TechEd conference. The software giant previously announced downloads for the long-anticipated and generally well-reviewed apps topped 12M in a week.
Microsoft is also rolling out several new features for Azure for the second time this spring (previous). Among them is ExpressRoute, a solution that (via service provider partnerships) allows Azure servers to directly connect with enterprise servers without touching the public Internet.
ExpressRoute yields improved performance for hybrid cloud deployments - Microsoft has been trying to use make strong hybrid cloud a differentiator relative to Amazon Web Services (more focused on public cloud services).
Also announced: 1) An Azure anti-malware solution for cloud services and virtual machines. 2) New encryption, data loss prevention, and disaster recovery options. 3) A simplified cloud storage solution that allows multiple virtual machines to share the same file.
Microsoft's Azure revenue rose 150% Y/Y in the March quarter, but the company hasn't given a specific sales figure. Synergy Research recently declared Azure to be "pulling away" from other rivals chasing Amazon, but its estimated sub-10% share remains well below Amazon's ~30% share for now.
The fruits of Nadella's open minded thinking are already visible in the amount of Office iPad app downloads that the company has disclosed. This would never have taken place with Ballmer at the helm and arguably this is exactly what Microsoft needs: a new perspective, open-mindedness, and a bit what could be considered "outside the box" thinking - by Microsoft's terms, at least.
And, while Azure doesn't have "blowout" momentum behind it yet, Microsoft is focusing its efforts in the right direction with cloud. The company is out ahead of the adoption curve and will remain there as long as they can continue to execute.
Additionally, I'm loving the fact that Microsoft is now finally looking to use Xbox as an avenue into monetizing consumer's living rooms. I had been writing about this for the past year or so, claiming that the Xbox could essentially be the company's secret weapon:
The one opportunity that I always thought Microsoft had in the ecosystem area, however, was to leverage its Xbox. Xbox is, essentially, an easy way for Microsoft to find its way into your living room, if it's not already there. Once there, why make consumers go out and buy a set top box, too? Why can't the Xbox just play quarterback for your home ecosystem? I've been harping on this point for the better part of the last year, my readers know.
Microsoft is coming off of an earnings report issued just weeks ago that beat on both lines, and did well to impress me enough to open a long position in the company through ITM calls.
(click to enlarge - source Microsoft.com)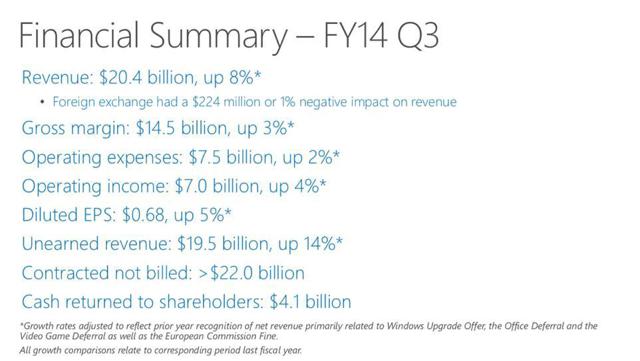 Click to enlarge
Further, the company's balance sheet is a gem, with tons of equity in the company and billions in cash that the company continues to return to shareholders. Microsoft could be a case study in how to build a foundation of stability to run your company off of.
The target price that I continue to look for with my Microsoft position is $45. If the company continues through this quarter in the fashion that it has so far, and the macro market indices continue to hold up, I think we could see $45 before year's end.
I continue to be bullish on Microsoft for the long term, as well, and hold my position accordingly.
Best of luck to all investors.
Disclosure: I am long MSFT. I wrote this article myself, and it expresses my own opinions. I am not receiving compensation for it (other than from Seeking Alpha). I have no business relationship with any company whose stock is mentioned in this article.