Pengrowth (NYSE:PGH) turned in an outstanding first quarter. On May 5, 2014 I issued an article projecting the quarter at $125 million of cash flow.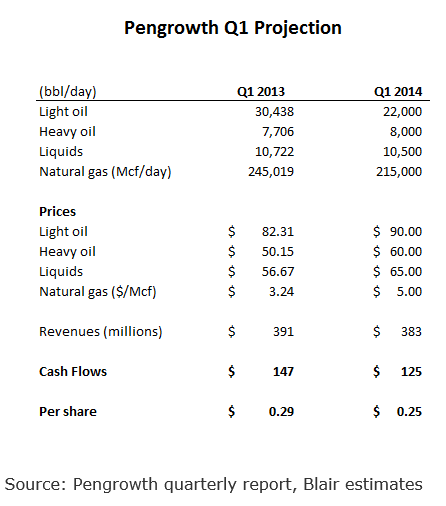 The results beat my projection on virtually every line with a slight miss on heavy oil prices and natural gas production.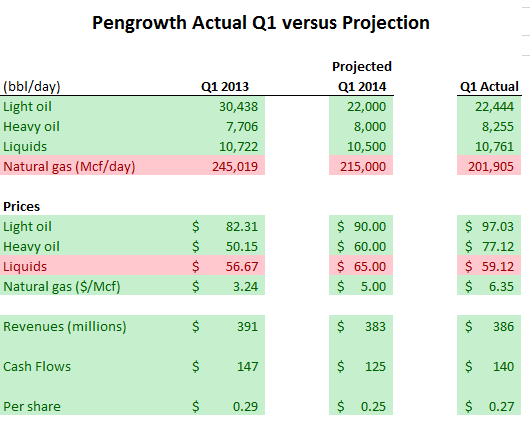 Source: Pengrowth earnings report
Actual cash flow was $140 million from production of 75,000 Boe/day, a bit better than I had expected. Revenues of $386 million were a slight beat to my projected $383 million with the better than expected cash flows arising from a richer mix of light oil and good expense controls. Cash flow per share of $0.27 beat my projection by $0.02. Capital expenditures of $234 million in the quarter included $127 million to complete 54 wells at Lindbergh.
Lindbergh is proceeding well. Pilot production of 1,780 barrels of oil per day at a steam-to-oil ratio of 2:1 is outstanding. Pengrowth reports that three quarters of the capital needed to bring Lindbergh into commercial production had been expended or committed by April 30, 2014 and the project is on track for first steam before year end and first commercial production in 2015. This is very encouraging. Major projects like Lindbergh have a history of being delayed and of capital costs running well over initial estimates and it's encouraging to see this one on track. Pengrowth has applied for permits to build out Lindbergh to 30,000 barrels of oil a day and expects to report on progress by its June 2014 annual meeting.
I see Pengrowth on track to become a premier holding as a sustainable dividend paying oil & gas production company with a sound balance sheet, stable and growing production and a bright future barring a major decline in commodity prices. Assuming Pengrowth continues to execute well, 2015 should show the beginning of a sizeable increase in production and cash flow which will ultimately lead to higher profits and higher dividends.
I am long 160,000 shares of PGH.
Disclosure: I am long PGH. I wrote this article myself, and it expresses my own opinions. I am not receiving compensation for it (other than from Seeking Alpha). I have no business relationship with any company whose stock is mentioned in this article.