(Editor's Note: Investors should be mindful of the risks of transacting in illiquid securities such as POFCF. Petrofac's London Stock Exchange listing PFC.L offers better liquidity.)
The oil & gas exploration space has valuations that vary widely with an average PE across the sector of 55. As you can see from the chart below, several oil & gas sectors are trading on PEs above 40x and high price-to-book ratios: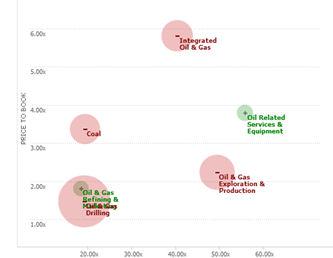 (Source: Investopedia)
Yet if we look much closer, particularly within the Oil Related Services and Equipment sector, there are some fantastic opportunities. One of those opportunities is Petrofac Ltd. (OTCPK:POFCF), which is based in the U.K. and has consistently outperformed the market over the past five years.
Petrofac: The Business
Petrofac Ltd. is a leading oilfield services company that operates globally through two divisions: Engineering, Construction, Operations and Maintenance, and Integrated Energy Services.
The ECOM division designs, builds and operates oil and gas facilities. They have major contracts in the UK, Turkmenistan, Oman, Algeria, Iraq and Abu Dhabi. The Galkynysh gas processing facility in Turkmenistan is the world's second largest gas field.
The IES division does joint ventures with partners in major oil and gas production projects.
Geographical Spread
Sales are concentrated in their onshore engineering business, which represented 55.7% of sales in 2013.
Petrofac has several key projects in the Middle East, including the Asab oil field in Abu Dhabi and the $1.2 bn Khazzan CPF gas project in Oman. Petrofac won a $2.9 bn share of a joint venture to develop the Upper Zakum oil field. Last week, the business secured approval for a $538.5m, three-year contract for management services for Rumaila field in Iraq. The business is uniquely positioned to profit from the growth in capacity currently under way in Southern Iraq.
Recent Trading Update
On Friday, shares in Petrofac plunged 15.2% on an unfavourable trading update warning that the company's 2014 net profit would fall by 11% to between $580m-$600m. I intend to argue that Petrofac's business position is unaffected by this profit warning. Petrofac is a stunning value at current levels with plenty of scope to continue rewarding shareholders.
Why?
The recent update announced a delay in the Greater Stella Area gas project. What is interesting is that this update significantly affected oil and gas producer Ithaca Energy, which owns a 50% stake in the field and relies on production to turn a profit.
However, Petrofac has only a 20% interest in the oil field and gets significantly more revenue from other sources while this particular project is delivered into 2015. They also still get paid for their engineering and contract services. This is evident in the list of projects and completion dates below: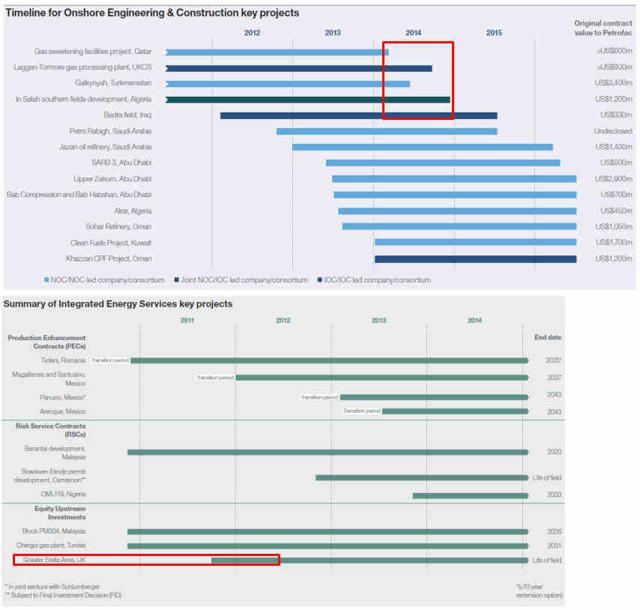 (Source: PFC Interim Update 2013)
Petrofac has several key onshore projects that finish in 2014 (Top), adding to the bottom line and delivering for 2014-15. The Greater Stella Area setback in the UK (Bottom) does not have a long-term impact and is more than offset by other key projects.
Rock Solid Fundamentals
Petrofac continues to be a high margin, high profit business. With ROE of 29.4% for 2014 and FCF of $3.04 per share (PFC.L), this is a cash generative business. These figures are more impressive when they are viewed against the competition: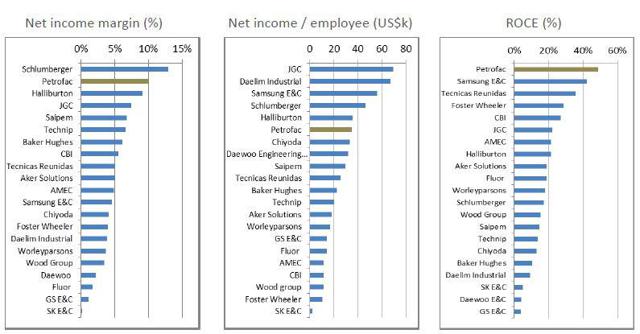 (Source: PFC Annual Report 2013)
ROCE is a useful measure for capital intensive businesses. Petrofac has the best ROCE relative to the competition, which demonstrates an extremely efficient use of capital while taking debt and other liabilities into account. In addition, the business is second only to Schlumberger in net income margin. Schlumberger trades on a PE of 18.87 and has a market cap of $130 bn.
Petrofac is trading at a 15% discount to last week and sits at a Forward PE of 10.6. The business is a fantastic bargain. Factoring in the recent update, the estimated EPS for 2014 is now between $1.61-$1.66 (PFC.L), while the forecast EPS for 2015 is significantly higher at $2.33.
To put that into perspective, look at French oil services company Technip, which is mid-table on all of the above measures. Technip specialises in offshore oil platforms and has very similar fundamentals and a similar market cap, but currently trades on a PE of 18.6.
While the increasing need for upstream CAPEX is a significant drain on exploration and production companies, Petrofac stands to benefit from this trend. Once production has peaked, oil fields can see a 6% decrease per year. Petrofac foresees a 5% annual growth in CAPEX levels, as producers seek to offset the decline in production. The graph below shows the overall forecast CAPEX spend for upstream businesses: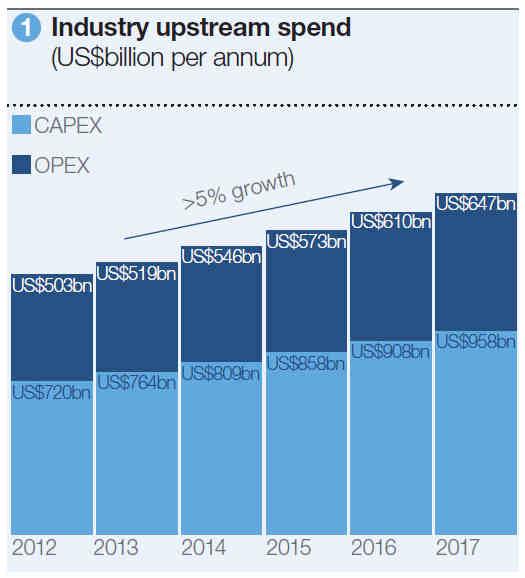 (Source: PFC Annual Report 2012)
Petrofac stands to benefit as a service provider that does essential work to improve production volumes at mature fields.
Dividend & Insider Ownership
In addition, the dividend is covered 2.5 times, and is still on track to grow to a yield of over 4% in 2015 while maintaining a payout ratio of 38%.
The CEO, Ayman Asfari, is a beneficial shareholder owning 18.2% of the business. He has a major stake in the performance of the business with options geared towards long-term EPS growth.
Record Order Backlog
To make the case even stronger, Petrofac has strong order visibility. They recently announced that they have hit a record order backlog of $18.6 billion, which has increased 24% year-on-year. See below: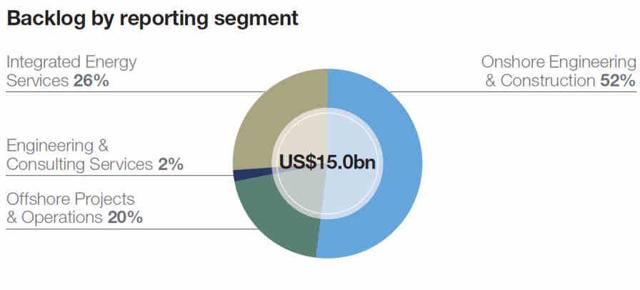 (Source: PFC Annual Report 2013)
Even more promising is that over 58% of the order backlog is in On-shore operations where they currently make 76% of net profit. The management population have no interest in playing the "hit the numbers" game. Management has been transparent with shareholders. They are interested in strong, long-term growth in revenue and profits, so shareholders are in safe hands with clear visibility over the future for the business.
Downside Risk
For the reasons I have outlined above, the downside risk is limited. However, the business does have exposure to country specific risk. As we saw in January 2013 when a group of armed terrorists attacked the In Amenas gas facility in southern Algeria, the areas this business operates in are still susceptible to attack by terrorists in parts of Africa and the Middle East. Following this attack Petrofac was forced to shut down operations at its In Salah gas compression facility for five months due to safety concerns.
With new contracts agreed in Oman and Iraq, there is still the possibility of further attacks at other facilities that can slow down or halt operations.
Recommendation
Petrofac is a solid 'Buy' given the strong financial position of the business, its dedication to delivering shareholder value, and the record order backlog. Following the re-rating, six analysts currently have a buy recommendation on the stock, with five rating it outperform, and seven rating it a hold. Once the key projects are closed off in 2014 and new projects begin, the market will re-rate this top notch oil services business.
That is why Petrofac rightfully earns the title of Oil Services Play from the UK.
Disclosure: I am long POFCF. I wrote this article myself, and it expresses my own opinions. I am not receiving compensation for it (other than from Seeking Alpha). I have no business relationship with any company whose stock is mentioned in this article.
Additional disclosure: I am also long TEC.PA
Editor's Note: This article discusses one or more securities that do not trade on a major U.S. exchange. Please be aware of the risks associated with these stocks.