Details: BreitBurn Energy (BBEP); Basic Materials - Oil & Gas Exploration; $16.50
Recommendation: Buy BreitBurn with $22.50 Target; $15 Stop Loss
Thesis: BreitBurn Energy is a relatively unknown name, trading with an $878.75M market cap that offers a 9.3% dividend yield, and trades 8.9X free cash flow, making it one of the cheapest oil exploration stocks in the industry on a cash flow basis. It trades less than 200,000 shares a day on average, but there has been increased activity in the past two weeks. Shares have tripled since the 2009 lows, but are still trading 50% below 2007 highs around $30.
Overview: BreitBurn Energy engages in the exploration and development of oil and gas properties in the United States. Its assets consists of crude oil and natural gas reserves primarily in the Antrim shale in Michigan, the Los Angeles Basin, the Wind River and Big Horn Basins in Wyoming, the Sunniland Trend in Florida, and the New Albany Shale in Indiana and Kentucky. The Company had 668 Bcfe estimated proven reserves as of the end of 2009, 91% proved developed, with a presence in 6 states (See Appendix). The Company sees gas as under-valued and is pursuing acquisitions.
Fundamentals: BreitBurn shares trade 15X earnings, 0.66X book value, and 8.9X free cash flow with a 9.3% dividend yield. It has an EV/EBITDA of 7.25. In terms of price/book and price/free cash flow the stock is one of the top 5 valuations in an industry group that has more than 80 components. Profit Margins are near historic highs, while Debt/Equity is near a historic low. The Company has 85% of oil production hedged, and upside participation in 35% of 2010 production (See Appendix for Details). 2010 production guidance is split with 47% oil and 63% natural gas. With a coverage ratio of 1.4, dividend distributions are safe and recent credit facilities protect distributions for the long term.
Analyst Coverage: BreitBurn is only covered by 5 Street Analysts: Citi, Deutsche Bank, RBC, Morgan Joseph and Wells Fargo. Shares were raised to Outperform at Wells Fargo on August 12th, and started a Buy at Morgan Joseph in early May.
Industry and Macro Analysis: BreitBurn is obviously exposed to energy prices, although hedged, and with Oil near support at $75 and Natural Gas not far from $4 support, the industry trend is positive as land drillers outperform offshore drillers due to recent developments in the Gulf of Mexico. BreitBurn as a great mix of assets, and the longer term view for oil prices remains bullish, despite global growth slowing, as emerging market demand continues to rise. One concern here is that there is the potential for new tax laws that will make high yielding stocks, such as the MLPs, less attractive to investors. However, the value is here for price appreciation, and the healthy dividend still offers added value, so it is by no means a major concern.
Technical: BreitBurn shares are consolidating after breaking out at the $15.50 level that acted as resistance for 4 months, although downside was also limited at that time. Shares would break out at $17.20 of this consolidation pattern and target a move to 22008 highs near $22.50, a suitable short term target.
click to enlarge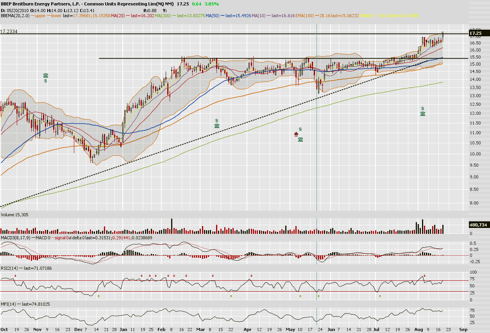 Short Interest, Ownership and Options Analysis: Short Interest has fallen from 0.28 million shares in June of 2010 to just 0.09M shares, although not a name that generally shows much short interest. The name is also very quiet in the options pits, but in the past month there have been a few buyers in September and December $17.50 calls. Only 30% of shares are held by Mutual Funds and Institutions, while 42% of shares are held by Insiders and 5% Owners. Baupost Group, one of the smartest shops out there, owns 14.95% of shares outstanding, nearly 8.5M shares, while Quicksilver (NYSE:KWK) owns 17.73M shares of stock.
Recent News and Upcoming Catalysts: The Company announced in early June that its key Florida operation, Sunniland Trend, well was completed and production came in at more than double the expected rate. Results from a second well at Raccoon Point Field are expected in August. Also, the company is exploring joint ventures for its Collingwood Acreage, which does not fit into the MLP structure.
Trading Strategy: The strategy is rather simple here with the recommendation to Buy BreitBurn Shares at $16.50 or Better, an initial $22.50 Target, and a $15 Stop. If shares appreciate in the next month I will consider selling call options against the position.
Disclosure: Long BBEP at $16.50